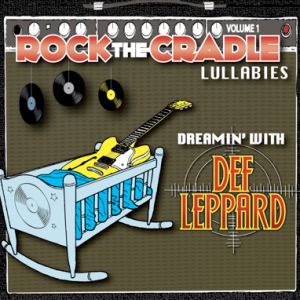 In 25 words or less:  Stripped bare away from the layers of Mutt Lange production, these versions highlight the great melodies at the very core of these songs.
Now here is an interesting concept to say the least – a series of CD releases titled Rock The Cradle that involves creating lullaby renditions of popular songs from legendary rock groups.  In the first of the series, comes lullaby renditions of Def Leppard's greatest hits.  Unlike other similar releases, the creators of this series are striving to incorporate members from the featured band on each album, in this case Def Leppard guitarists Phil Collen and Vivian Campbell provide all guitar work.
Soooo, what exactly is this all about exactly?  Presented on this album are 12 Def Leppard tracks, done instrumentally aka lullaby style, with the guitars of Collen and Campbell providing the vocal melody.  When I say guitars, let's be clear, this is lullaby style so it's very restrained mostly acoustic/semi-acoustic guitar playing, don't expect any flashy electric guitar pyrotechnics or blistering solo's!  As far as the track listing goes, I am not quite sure how much input the band had into this release.
Stripped bare in the way that these songs have, as naked as could possibly be, away from the layers of Mutt Lange production and avalanche of backing vocals, the likes of Hysteria, Love Bites, Photograph, Animal, Foolin display what truly great melodies lie at the very core of these songs.  And that for me personally was the major interest in listening to this release, to hear some of the songs that revolutionised hard rock in the 80's, in a very, very unique way.
This is definitely one for the true die-hard Def Leppard fans, aspiring songwriters seeking some tuition in melody, or parents looking for some soothing music to rock their babies to sleep, or maybe in fact themselves!  Actually, I needed this CD for my recent 24 hour flight to Europe, it would have been ideal for some soothing shut eye music!
So the burning question – who will be next in this series?
Track listing:
1. Pour Some Sugar On Me
2.Hysteria
3.Photograph
4.Love Bites
5.Foolin'
6.Have You Ever Needed Someone So Bad
7.Bringin' On The Heartbreak
8.Too Late For Love
9.Stand Up (Kick Love Into Motion)
10.Promises
11.Animal
12.Rock Of Ages
Essential Information
Musical Style: Instrumental Lullaby Music
Released: 28th June 2011
Label: eOne Music / Riot! Entertainment
Website: www.defleppard.com
Check it out if you like: Def Leppard & Elevator music