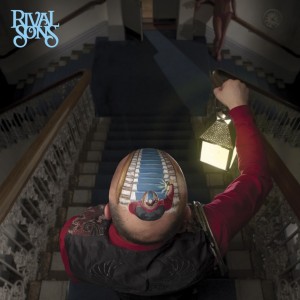 In 25 words or less: If you love classic rock, you will love Rival Sons, that's all I need to say.
Well from the outset, it must be said that the Rival Sons are indeed a collection of little contradictions that prove you should never judge a book by it's cover.  Firstly, this, the Los Angeles based bands third release is put out by Earache Records, most famous for extreme thrash, metal, grindcore and the like…Rival Sons sound nothing like this.  Next up we have the fact that the band is from Los Angeles, the band certainly sound like they are from anywhere but Los Angeles.  As for their Storm Thorgerson (Pink Floyd, Led Zeppelin, Muse) designed cover…well, I haven't quite got in my own mind how to interpret that.  But one thing that isn't a contradiction is the fact that this most highly anticipated album is certainly bound to deliver on the expectations.
Clocking in at just a touch over 30 minutes, for lovers of all things classic rock, these 10 songs are likely to be some of the best things you have heard this side of the 70's.  Where the likes of the truly god awful Wolfmother failed, Rival Sons have a soulfulness and authenticity that shines through in these songs, made all the more believable by the fact that this album was written, recorded and mixed in 20 days…you can't make this kind of album if it's not in your musical DNA to being with.  Coming with this not suprisingly then is a truly live sound and honest rawness throughout.
Pressure & Time has a real soundtrack feel, or perhaps the feel of the type of album you would listen to on a roadtrip, check opening track All Over The Road….crank it loud and let those rollocking fuzzy distorted guitars kick those eardrums.  The groove of the bassline inYoung Love mixed with John Fogerty'esque swampy vocals sounds like a bastard child of The Doors meets Credence…but I will end it there even trying to name check obvious influences.  They are littered throughout these songs, but the beauty is that never does it feel like this is anyone other than Rival Sons.  If it's not the swagger and groove, or the driving guitar riffs, it will be the addictive simplicity of the chorus's that make this album so damn hard to stop listening too.  So hard in fact that I am ending this review right here and now and getting my groove on.
USA has Rival Sons and The Black Crowes, Northern Ireland has The Answer, Australia has Electric Mary, Sweden has Graveyard….it's certainly a good time for classic rock lovers all around the world!
Track listing:
1. All Over the Road
2. Young Love
3. Pressure and Time
4. Only One
5. Get Mine
6. Burn Down Los Angeles
7. Save Me
8. Gypsy Heart
9. White Noise
10. Face Of Light
Essential Information
Music Style: Rock N Roll
Released: Out Now
Label: Earache / Riot! Entertainment
Website: www.rivalsons.com
Check it out if you like:  Fuzzy classic Rock and Fucking Roll