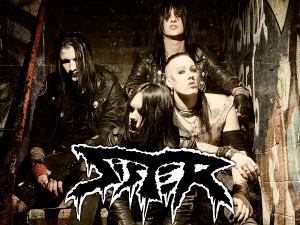 For all you Swedish sleaze rock loving people out there, then Sister are a band you need to get onto pronto, that is, if they haven't already found you!  With their debut album Hated  dropping a few weeks ago, Sister are armed and ready to join the likes of Crashdiet and Hardcore Superstar leading the charge of the Swedish sleaze movement that's invading ear drums worldwide…including right here in Australia!  The Soundwave Festival 2012 Facebook page certainly experienced that recently with an avalanche of support for bands like Sister, Crashdiet, Hardcore Superstar, Crazy Lixx to be added to next years lineup.
Raw, sleazy, loud, heavy and addictive…that's what you can expect from Sister and Hated.
Hey Rikki, thanks for taking the time to chat with May The Rock Be With You in Australia!  First things first, to help introduce the band to our readers, can you give a bit of an explanation of what Sister as a band is all about and stands for?
We've been playing together since about 2006.  There's been a few member changes in that time, I started playing about 4 years ago and our guitarist has only been in the band for 2 years.  We just started out basically as we all listen to the same music and we had the same goal.  Now it's really easy to be in this band as we are all really focussed on what we want to do.  There's a lot of bands here in Sweden so we have to push a bit extra to get what we want as there is a lot of bands out there playing similar styles of music.
What have you tried to do to differentiate yourselves from the rest of those bands in Sweden you mentioned?
Well it just came natural basically, it wasn't anything we had planned as such to look the way we do.  I think also our music has gotten a bit heavier through time.
A month or so ago you released your new album Hated, when did you first start working on that and how long did the recording process take all up?
It was funny as we had some interest from different labels, some really big, but nothing really came through.  We decided pretty much exactly one year ago that we wanted to do a new record in the autumn, with or without a label.  That didn't really matter, we were just focussed on doing something.  Then Metal Blade contacted us and everything fitted into our time plan and they gave us pretty much total freedom to do what we wanted.  So we started recording in December and we had discussed how you can do a lot of the recording yourselves these days.  We worked with Martin Sweet from Crashdiet and Calle Faldt from Deranged who we worked with on the EP.  So we knew we could record in their studio and then we knew we could put all the money on the mix, that's the main focus to get a good sound.
Speaking about the mix, you worked with Tobias Lindell in mixing the Hated album who is one of the bigger name Swedish mixers/producers at the moment…how was it working with him?  What did you say to him as far as the sound you wanted for this album?
Well we thought we would have to give him a lot of direction with the sound we were after, which was basically a live sound, to keep that punk edge.  He pretty much nailed it with the first shot, we changed a few little things, but basically from the start he knew what we wanted and it turned out perfectly, he really knows what he is doing.
What is the songwriting process in the band, is this a few key players, or shared?
Lestat our guitarist is pretty much the main songwriting person.  He comes to rehearsal with some ideas for songs and then we arrange it together and finish the song from there.
When writing a Sister song, what are some of the key ingredients that must feature in a musical sense?
Well it just comes naturally and everybody knows what they want.  When we are preparing the songs, we all fight for sometime as everyone thinks they are right.  Then when we are all calmer we can focus a bit more, but it's a lot of talking and fighting in rehearsal when we are writing.  We all have pretty strong personalities in this band haha!
One specific song I was interested to find a little more out about…Would You Love A Creature, what inspired that song both musically and lyrically?
Actually, that was a song Lestat did before he joined Sister and it was a pretty personal song, so he wasn't convinced he wanted it on the album.  But we convinced him that we really thought that song would add some diversity.  We didn't want a typical power ballad or 80's ballad.  We just kept it simple with 12 string guitars and our singing.
Do you have any specific songs off the album that were your personal favourites to sing whilst recording?
The fav songs for the whole band I think is Bullshit & Backstabbing and Hated.  But after hearing the album now 5,000 times, for me it's also Spit On Me and Too Bad For You which is a bit more of a Rancid, punky song.
Are you guys planning on releasing a video clip anytime soon for any of the songs off the album?
Actually, we haven't told anybody yet as it's maybe not official, but I will tell you now, we are hoping to record a video this month hopefully.  But what song it's going to be, we will keep that a secret haha!  It's going to be a massive video coming out soon and I think it's really important these days to have a video.  Even if you don't have as much music on TV, like in Sweden there is nothing right now.  So it will be good to have that on the Internet as we are such a visual band.
What are the musical influences in the band, do they vary greatly?
We pretty much listen to everything.  I listen to everything from Credence to Pantera.  This week I have listened to a lot of Vains of Jenna which is a cool band from Sweden, but they have had some changes and haven't heard much since Lizzy left the band.  But of course we find inspiration in a lot of music really.
Sister started back in about 2005 and you have largely been an "underground" band up until now when you signed with Metal Blade records.  It must be awesome knowing that your album is being distributed pretty much worldwide through Metal Blade!
Yes it's a really good thing with them as they are a global label so you get that chance to be exposed all over the world.  I don't why exactly, but the last few weeks there seems to be a focus on Australia which seems to be a really cool country.
Here in Australia, Swedish rock, particularly sleaze has a cult following…Hardcore Superstar toured a few years ago, as did the Deathstars and later this year, Crashdiet are coming out, so yes it's certainly a country where the Swedish sleaze bands are starting to get more of a following.
I actually have an Australian friend from Melbourne and they say that it's a pretty good scene over there with a lot of people into hard rock.  Of course you have bands like AC/DC and Airbourne that are from there, but theres the whole interest in sleaze rock too.  It would be a great place to play one day.
You have a bunch of cool shows coming up later in the year, one in August playing with WASP, DAD, UDO, Hardcore Superstar and a bunch of others, then you have a tour in November/December with UDO and Sister Sin.  Is heaps of touring your plans for the rest of 2011 now the album is out?
Yes we want to tour asses off right now.  We could go out on tour and never come back!  We want to focus on Europe for now or maybe then head over to America or Australiaaaa!  So let's hope we can expand all over the world.
Definitely, you will have to get in contact with Martin Sweet (Crashdiet) after they have been out here to Australia and hopefully they will have had an awesome experience with lot's of people coming out for the shows.
I am really envious of them, I didn't know they were heading over to Australia.  Maybe next time Scott we can do an interview in Melbourne, Australia haha!
Done deal Rikki!!
Essential Information
From: Sweden
Band Members: Jamie – Vox, Rikki – Bass, Lestat – Guitar, Cari – Drums
Websites: www.sisteronline.net
Latest Release: Hated – (2011, Metal Blade/Riot! Entertainment)