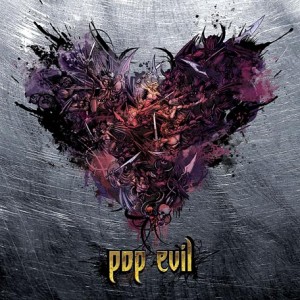 In 25 words or less: If you love modern American rock you will lap up War Of Angels, if you don't love, then move on…
So who are Pop Evil exactly, well, these rockers from Michigan have just released their 2nd album War Of Angels.  With their name representing the melodies and hooks present in a lot of the bands songs (Pop) and their dirty, rollocking had rock riffs (Evil), it's a pretty accurate assessment of what to expect aurally from Pop Evil.  Having been on a major label for the release of the first album, frustrated by the continued delay in releasing War Of Angels, a few months back the band showed just how much that record contract meant to them by ripping it up on stage in front of thousands of fans.  The result, We Are Angels now being released by eOne Music.
Let's get one thing stated up front, if you are one of those haters of modern American rock/metal that is likely to be played as an opening theme song in WWE or a sports program, and you have no respect for bands such as Papa Roach, Puddle Of Mudd, Theory Of A Deadman, Fuel, Drowning Pool, Hinder, insert your own here……etc, then Pop Evil definitely aren't going to change your views on this style of music.  If however you give a tick to all the above, then you might have just found your new favourite band.
Opening track Last Man Standing is exactly that kind of anthem I described above, with crushing modern rock riffing and with lyrics such as "we're going head to head, can you handle it, I'm taking you down, I'm the last man standing" it would be no suprise to hear that this song has already been all over UFC, NHL and Nascar.  Another pedal to the floor rocker Bosses Daughter features Motley Crue guitarist Mick Mars on songwriting duties and has one of the albums killer chorus's.  Epitaph is a rollercoaster ride through 80's and 90's metal riffing, with a Rage Against The Machine like breakdown.  Meanwhile, producer Johnny K (Airbourne, Disturbed, Sevendust, Machine Head) has helped to give some serious balls to the "Evil" side of this album.
Where the band really excel however is their Pop side with the album featuring some soaring melodies and hooklines that should be all over radio.  Look no further than the likes of Monster You Made, Let It Go Next Life and Purple, sure these songs aren't anything we haven't heard already, but Pop Evil do what they do equally as well.
War Of Angels musically isn't likely to change your life, but if like me, you know the music you like and are comfortable in those shoes, then Pop Evil are definitely a worthy addition to your collection and I can guarantee at least a couple of these songs will be stuck in your head!
Track listing:
1. Last Man Standing
2. Epitaph
3. Broken & Betrayed
4. Monster You Made
5. Let It Go
6. Boss's Daughter
7. Daisy Chain
8. Purple
9. Black & Blue
10. Next Life
Essential Information
Musical Style: Modern American Rock
Released: Out Now
Label: eOne / Riot! Entertainment
Website: www.popevil.com
Papa Roach, Puddle Of Mudd, Fuel, Drowning Pool, Hinder etc