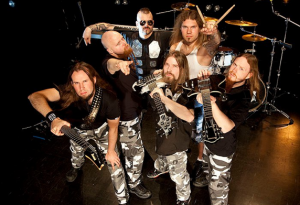 "We had the chance to play on the actual battlefield in Poland where we sung the song 40:1, exactly 70 years on the hour of the battle. That was really magical, there was about 10,000 people that came to see the performance…"
Swedish epic power metal superstars Sabaton are soon set to release the first ever live album, World War Live: Battle Of The Baltic Sea in August via Nuclear Blast. Recorded during the magic night aboard the Sabaton Cruise 2010, differen't versions of the release will also include additional live songs on a bonus CD, as well as a DVD recording the band did at their first Rockstad: Falun festival in 2008.
Having toured heavily in the time after their last studio release, Coat Of Arms, the band recently played one of their pinnacle shows, supporting Iron Maiden in Stockholm in front of 60,000 people. With further relentless touring ahead in 2011, the band is set to enter the studio thereafter to start work on the next studio album.
We chatted to Pär Sundström about the upcoming live release as well as an insight into the live Sabaton experience!
Hello Par, thanks for taking the time to do this interview with Australia!
This is cool as I think it's the first interview I have ever done with Australia. Unfortunately we have never been to Australia and nobody from Australia has ever really shown strong interest in the band before.
Well then, I can actually say that I have seen Sabaton perform before in Stockholm in 2008 at Klubben when you played with the band H.E.A.T.
Oh you were there, well the world is interesting and small sometimes haha!
We are here to talk about your upcoming CD release – World War Live, Battle Of The Baltic Sea, firstly can you tell me about the actual performance that features as the main CD release….it was on an actual cruise wasn't it, the Sabaton cruise!
Yes it was in December last year. Actually, when we were planning the tour last year, we knew we needed to get from Sweden to Finland some how. That tour was in the winter in December and taking the northern parts in December is risky for tour buses and trucks, because of all the snow up there. So the only option was to go on the ferry. So instead of just travelling as normal passengers, we got the idea we will book out the whole boat and invite our fans to watch us play on the boat. So they came and the boat was absolutely fully packed and it was a magical night. It was recorded, as was the whole tour. We figured out after a little while that we had the equipment with us to record every show, so we did. We didn't have any plans until after the tour was done where we got the idea that maybe we should do a live album.
So was that the standout show from that tour?
It was a special show as there was no setlist, there was just improvisation, so yeah this show was a little bit different. On the boat you obviously can't build our normal stage set with flame throwers. So there's absolutely nothing on the boat other than the 6 people in the band and 2,000 head bangers. There is basically very little lighting as well, that night was all about the music and the intensity between the crowd and the band.
Is what made it onto the CD the full show, or did you leave some songs out?
No, no it's not as we couldn't fit the whole show onto a CD. There are some songs cut out and there was also a high sea and storm during the show, so sometimes it was a little hard for our drummer to sit still. The rest of us and even the crowd were falling at some points as well. You can hear at some points in the recording the bass drum rolling away haha!
You also have a bonus DVD can you explain a little where this took place?
That show was the start or our own festival. At the time, that was basically meant to be the release party for our album Art Of War. It however became something else and now our festival has became this 3 day event with people from over 20 countries coming and we now book many international bands. This show on the DVD was just the start of that festival and captures the energy of a Sabaton show. We recorded that show then with the intention of releasing a DVD soon after, but we didn't have the means back then to release a DVD. So we had that footage lying around and felt it was a shame as for us it was a very special show. So we wanted to release it and now was the right time along with the live CD. We have 5 studio albums and it's now good to have out a live DVD and CD.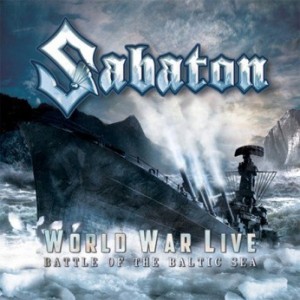 I have to ask, the opening of the live CD is your intro 'The March To War', which you have used as your intro for a few years now, is it still a pretty magical feeling when this Intro is playing and you see the crowd getting more and more excited for Sabaton to storm the stage?
Yeah it is. Actually we have 2 intros. Normally we also play The Final Countdown by Europe, the whole song. We know that intro is 4 minutes, so that's 4 minutes before The March intro goes, so we can do those last things like go to the bathroom, warmup, check tuning or whatever. The crowd gets happy when they hear The Final Countdown as most people do, even though they might say they don't haha! Then our intro kicks in, which we have had for about 3 years now. I think it's a good idea to have the same intro as it's a relaxing feeling for us that nothing has changed, we know what to do and how we should react. Also the crowd recognises it and knows the show is about to start for real. You still have when KISS is going on stage "Alright Stockholm, you wanted the best…." you hear that and know that now it's time to raise your fist and scream! So I like that feeling, we all do, that's why want to stay with that same introduction.
You have had the opportunity to play with some of the worlds biggest metal bands such as Iron Maiden in front of 60,000 people and Scorpions, then you also have memorable gigs in the bands history such as in Poland…do you have a special performance that is your favourite?
Lately it was very cool to play with Iron Maiden, it was a massive crowd and we had a big crowd to see us. In Sweden, Sabaton is very popular, even though Iron Maiden is a lot bigger band, we still can pull our fans through the gate. So we had a fantastic time at that show. I also have to say when we had the chance to play on the actual battlefield in Poland where we sung the song 40:1, exactly 70 years on the hour of the battle. That was really magical, there was about 10,000 people that came to see the performance and the Chief of Cabinet for the President came. That was very special.
Have you commenced work yet on a new studio album?
We have a little bit. We always work in new songs when we have a bit of time, but we have been on tour quite intensively since we released the last album. At the moment ww have about 2 weeks home so we are working now. When we are home from America in late October, we will be working hard on the new album and the plan is to release it in May. We already have a lot of ideas, but concerning the topics and lyrical themes we have nothing decided yet. The only thing is we want to take it in a little different direction than we have before.
You recently released re-issues of your albums with bonus tracks and other cool stuff, how have fans responded to this? It's been a big year for them!
That was all part of a big agreement when we signed to Nuclear Blast. We wanted to make all the old albums available world wide, but that couldn't be with the old record label. So we had to buy the rights to our old music, so if you sign the wrong deals when you start, that's how you end up! That was pretty costly to buy back the rights, then we got it licensed to Nuclear Blast who got it out around the world. I hope in a few years this turns out to be a good thing.
You have a busy year ahead of touring for the rest of the year. You are heading back to the USA again, this time playing shows with Evergrey, how do the Americans respond to Sabaton?
I think they respond perfect. We have done a few festival gigs in the past and then earlier this year we did the tour with Accept. That was a great package, Sabaton and Accept, the music fits perfectly. We could easily tell from those shows the crowd liked Sabaton. We just need to test it on a wider audience and see how it works, but I have a good vibe about America. I think it's going to work out just fine. We just need to push it like we pushed Europe. We have done a couple of hundred concerts around Europe and played in every country you can imagine there. Then next we have to do the same thing in Australia!
I guess the unfortunate thing for us in Australia is that we are so far away, but there certainly isn't a shortage of people who love metal music! Hopefully one day…
Well there were actually plans already and dates booked for Australia. When we announced the World War Tour, I wanted to play everywhere. We had gigs booked in Asia, Australia, New Zealand and Africa, that was the plan. Unfortunately some of the promoters withdrew and made the whole thing impossible. It wasn't the Australian promoter who withdrew, it was just impossible if we didn't have the other shows. We were to play a show in Tunisia but that became unstable with riots and stuff and the promoter didn't want us to go at that time.
Well thanks Par for your time and hope you enjoyed your first ever Australian interview. It's been great chatting, hopefully I will either see Sabaton again, either here in Australia one day, if not at Rockstad Falun or a Sabaton Cruise!
Thank you, I hope to see you one day soon!
Essential Information
From: Sweden
Band Members: Joakim Brodén, Oskar Montelius, Daniel Mullback, Daniel Mÿhr, Rikard Sundén, Pär Sundström
Websites: www.sabaton.net
Latest Release: World War Live – Battle Of The Baltic Sea (2011, Nuclear Blast/Riot! Entertainment)