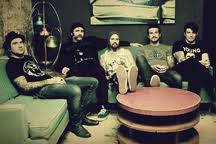 "I love The Damned Things because I get to sing a lot more which I love doing, but then playing shows with Every Time I Die is unparalleled, the energy there, you can't ask for a better interaction with crowds than we get when we play club shows…."
Every Time I Die frontman Keith Buckley is certainly going to be a busy man on the upcoming Soundwave Revolution tour.  Aside from performing with the band he has been fronting for over 13 years, he will also be singing with The Damned Things the rock project featuring members of Anthrax, Fall Out Boy and fellow Every Time I Die bassist Josh Newton.  Chatting to us during a break in recording the brand new Every Time I Die album, Keith updates us where the band is at with the new album as well as sharing an insight into the contrast between performing with Every Time I Die and The Damned Things.  Read on….
Hey Keith, thanks for taking the time to chat.  So first things first, you guys have started working on a new album, how is the writing/recording going so far?
It's awesome.  It's different definitely because we are all going through everything at the same time, where normally it's very compartmentalised.  One guitarist will do all their stuff, then another guitarist will do their stuff, but this time we are all sitting around in the same room and vibing off each other, so it's going well.
Obviously easier than said than done to get you guys in the same room given the touring committments for The Damned Things…
Yes!  All the lyrics for this record have been written on the tour bus with The Damned Things.  It's completely different than sitting in my house writing in the winter!  Normally we write in the winter, but this time it was summertime and I was in a different country with a different band, so it was definitely in a completely different headspace.
With yourself and Josh obviously having been busy with The Damned Things, had the other guys been working on bits and pieces?
That's kind of how it all came together.  They were writing in Buffalo and sending things through to me via the Internet.  I would get the songs and put vocals to them, but I had no way of sending it back to them so they are hearing 16 songs for the first time.
How far advanced are you guys so far, how many songs have you recorded?
Well, you know we've done the very basic framework for almost all the songs, we have maybe two or three left.  Then we will go over and layer it and get some of the dirt out.
I have noticed that there has been some secrecy surrounding the producer you have been working with for this album, has that persons identity any closer to being revealed?
Yes there is a veil of secrecy surrounding it and for some reason I have been instructed not to say.
Where are you recording at the moment, it's in California right?
Yes we are, so there you go, there's a clue, you can narrow it down, we are in California haha!
Reflecting on your previous album New Junk Aesthetic which was your first on new label Epitaph, how better placed do you think the band is heading into the new album, than say on past releases?
We are definitely in the best position we have been in because it's the first time we have recorded without Ratboy.  This material is something we wrote with a whole new level of enthusiasm and recorded with a much higher level of professionalism, it's changed the game. Ryan is far more technical, more inventive and an overall better drummer.
Have there been any key influences, either in a musical or lyrical sense that have influenced the album so far?
I think this time time around, mentally I have been in a different spot. Since the last record, I got married, The Damned Things started, I toured and there's a whole lot of new things on the plate.  Whereas with the old stuff, the last record and the record before that, I could go back and look at it and say I am revisiting an old idea, lets see if I can say it a bit differently.  This time we came in with 17 songs and there are still things I didn't even touch on.
How would you compare the material for the new album to your past releases?
It is something different.  You know, when you change drummers it affects the rhythm section.  I don't even know if it's comparable, I just know that it feels better and it feels fun.
I just wanted to also ask a couple of questions about your involvement with The Damned Things….I guess firstly, how have you found the contrast and experience between the two bands?
I found it very difficult for a while too balance the two.  It was like getting you scrotum caught in the zipper, it threw everything off and you couldn't get past it and everything was all screwed up and then finally you cleared that point before everything finally melded together a little bit smoother.  There was a time when we first started where I couldn't get the schedules worked out at all.  Everything was all happening, everything was all bunched up like the scrotum and we just couldn't get past it.  Now I've cleared the scrotal area and everything seems to be falling into place.  It is busy with one tour after another, but it's started to work out.  The Damned Things are on break whilst Every Time I Die records, but we meet up again when both bands do Soundwave.
After 12 or so years with Every Time I Die and now having the experience with The Damned Things, how has it made you view Every Time I Die ?
It's moonlighting, but I don't know which one is the mistress haha!  You appreciate them both for different reasons.  I love The Damned Things because I get to sing a lot more which I love doing, but then playing shows with Every Time I Die is unparalleled, the energy there, you can't ask for a better interaction with crowds than we get when we play club shows.  They both have something that draws me to them, but every time I get on stage with Every Time I Die, all bets are off.
You are headed out to Australia in September for Soundwave Revolution.  You have been out to Australia before with Every Time I Die, how have you found the reaction in Australia to the band?
The people in Australia are some of the most extreme people I have ever come across, pretty much at any festival.  I'll use the guys in Parkway Drive as an example of a very small demographic, but those guys are insane, they are like hardwired to completely get everything out of life at all moments.  They're either surfing or skydiving or cliff jumping, everything they do at any moment, it has to be extreme.  I find that pretty much par for the course with pretty much anyone in Australia, everything is always on the right side of the gauge, 100% all the time.  It's awesome to play shows over there.
So both The Damned Things and Every Time I Die are performing at Soundwave, have you had that experience of playing with both bands on the same festival?
No I've never done that before.  I don't know who has, there's no way I will be the first at Soundwave, but I am curious to find out, because I want to know who else has talked themselves into a corner like I have!
For you personally, how do you find playing in two very different kind of bands and the contrasting crowd that each one brings?
It's almost like The Damned Things are a more graduated version of what I am used to.  People that go to shows now are just so young.  Every Time I Die doesn't really appeal to the 15 year old girl crowd, which I don't want the band to, none of us do.  But you play a Warped Tour and you are playing in front of that demographic some of the time because people migrate between stages and whatever.  I think we are pretty well locked into the 18 to 30 year old male category, that's what we are shooting for and I think we've got that.  When I see like 15 year old girls freak out over people in bands, it just blows my mind because it was never like that until kids were given so much power via the internet.  When you play at Warped tour, you are not a multi-platinum selling pop band, so to see these little girls and kids freak out over a hardcore band, it's just wild to me.  It's funny because now that I am with Scott Ian in The Damned Things it's like older people are freaking out, 40 year olds freaking out over Scott Ian, which is insane.
You are going to be out here for over a week, what are you looking forward to most about being back in Australia?
It's gods country haha!  I'm an aethiest, I don't mean that literally, it's just beautiful.  I just love being out there and exploring the beaches and stuff.  There will be some time for sightseeing whilst we are out there and it's perfect weather and it will be cold where I live at that time of year, so I get to catch some sun.
Have you had a chance to check out the rest of the Soundwave Revolution lineup, any bands you are personally looking forward to checking out or playing with?
Yeah obviously Van Halen, Danzig I've never seen before. Four Year Strong, we are good friends with those dudes who always put on a good show.  Also Panic At The Disco, I like that band a lot, the whole vibe around that band is really cool and I like the look of that band a lot, I know they have some great production and stage presence.  I'm definitely going to see as much as I can.
How do you find the festival experience, taking your music to the bigger stages combined with the festival type environment, in comparison to the smaller club shows which you mentioned earlier as having lot's of energy?
I love playing festivals because as a fan of music it gives me the chance to see acts that I will probably never get to see and to say we are playing a festival with Van Halen is incredible.  Personally playing though, I would rather play an intimate club setting.
Thanks for your time Keith, hope the recording goes great and see you out here in September!
Awesome, thanks so much!
Every Time I Die are hitting Australia with The Acacia Strain & The Word Alive, check all the tour details right here….
The Damned Things will be playing at Counter Revolution, check the details right here…
Essential Information
From: USA
Band Members: Keith Buckley – Vocals, Andrew Williams – Guitar, Jordan Buckley – Guitar, Josh Newton – Bass Guitar, Ryan Leger – Drums
Websites: www.everytimeidie.net
Latest Release: TBA – (2011, Epitaph Records)
You can catch  Every Time I Die on tour with The Word Alive and The Acacia Strain
FRIDAY 23 SEPTEMBER
BRISBANE, THE HI FI- 18+
www.oztix.com.au
MONDAY 26 SEPTEMBER
SYDNEY, MANNING BAR – 18+
www.oztix.com.au
THURSDAY 29 SEPTEMBER
MELBOURNE, THE ESPY – 18+
www.oztix.com.au / www.espy.com.au
SATURDAY 1 OCTOBER
ADELAIDE, FOWLERS LIVE – Lic A/A
www.moshtix.com.au, www.venuetix.com.au & outlets
MONDAY 3 OCTOBER
PERTH, AMPLIFIER BAR – 18+
www.moshtix.com.au