Now into it's 9th year, this year the annual Whole Lotta Love – Led Zeppelin Celebration will arguably  see it's biggest performance, with an impressive lineup of performers and shows in nearly every capital city.  Under the direction of the shows mastermind Joseph Calderazzo, those attending can expect to hear well over 2 hours of Led Zeppelin classics performed in ways never heard before, with particular focus on the Led Zeppelin IV album, which is celebrating it's 40th anniversary this year.
May The Rock Be With You chatted to one of the featured vocalists, Jeff Martin (The Tea Party, 777) about his involvement in the performances and how Led Zeppelin has influenced him as a performer and through his music career.
About The 9th Annual Whole Lotta Love, Led Zeppelin Celebration
In 2011 and in celebration of the 40th anniversary year of Led Zeppelin's seminal album Led Zeppelin IV, the show boasts a spectacular line-up of guest vocalists including international rock legend and The Tea Party front-man Jeff Martin, Steve Balbi (Noiseworks), Simon Meli (Sway/The Widowbirds/Oohlala), Zkye (*not performing in Perth) and Natasha Stuart.
Joining this stellar line up to deliver over 2 ½ hours of Zeppelin magic will be an exceptional powerhouse 9 piece band, including Strings, under the creative direction of Joseph Calderazzo, to sensationally recreate over 20 of the finest songs ever recorded, including; Black Dog, Rock and Roll, Immigrant Song, Battle of Evermore, Kashmir and the timeless Stairway To Heaven.
With an epoch defining fusion of musical genres, Led Zeppelin influenced generations of musicians and legions of fans and went on to become one of the biggest bands in the world, producing 9 studio albums, 3 live albums and selling a staggering 200+ million worldwide, yet toured Australia only once in 1972. Rolling Stone described Led Zeppelin as "unquestionably one of the most enduring bands in rock history".
About Jeff Martin
Jeff Martin was raised in Windsor, Ontario and started playing the guitar at age 8. He formed his first band at age 11 and decided, then and there, that this is what he wanted to do with his life. In high school he was challenged by an older student to learn a blues-inspired Led Zeppelin song which inspired his father, a blues fan, who turned him on to the blues standards. Jeff caught on quickly and could frequently be found jamming with professional bands from the Windsor Detroit area while still in his teens.
During his teens he was also given a copy of The Beatles' Sergeant Pepper's album and his imagination was captured by the instrumentation of Within You Without You. Jeff developed a fascination with eastern tunings and instruments, a preoccupation he later indulged with great success as a member of the seminal Canadian band The Tea Party, and now currently The Armada with Wayne P Sheehy.
"I'm very much looking forward to being a part of the upcoming ' Whole Lotta Love Led Zeppelin Celebration' concerts. Jimmy Page once told me I was the sorcerer's apprentice. I look forward to doing him justice. Love is the law, love under will. "  Jeff Martin 777
Hey Jeff, thanks for chatting to May The Rock Be With You.  So just quickly, you are in Canada right now aren't you, in the midst of playing some shows with The Tea Party, how does it feel to be back playing as The Tea Party again?
Yes we have three shows under our belts now and it's been fantastic.  It's been a great feeling playing with the boys again.  Over here, as you can imagine it's big news, so it's been good.
Are there any plans to maybe bring The Tea Party back to Australia at some point?
I've been talking to the boys about it and we are all very busy individually with what we have to do and I'm still very committed to my band 777 and Jeff has his thing and Stuart has his thing.  It's definitely something we are very fond of and to be playing the music we made and being back on stage, it's very powerful.  So yes it is definitely something I would love to bring back over to Australia.
So you now call Australia home, where you have lived for a few years, how have you settled into the Australian way of life?
Absolutely, you know it's home.  It always was home for me ever since I first landed there in 93/94 with The Tea Party and it was overwhelming.  The lifestyle I am very suited to and I have a beautiful home outside of Byron Bay…it's kind of hard to live in Canada isn't it!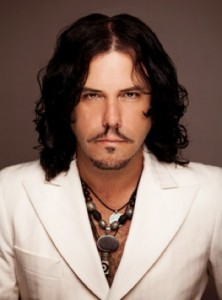 So we are here to chat about the upcoming Whole Lotta Love, Led Zeppelin Celebration.  How did you personally get involved in this?
The producers of the show have been wanting me to do it now for about the last four years.  But it was always my schedule that meant it couldn't be realised.  But now there came a time where I had an opportunity to do it and commit to it properly.  You know, there's not that many degrees of separation between what I've done writing with The Tea Party or 777 to Led Zeppelin.  For me I will be quite comfortable and quite excited to be playing with some great musicians and making a lot of people happy.
Whilst it's termed a celebration I guess some people could call this a tribute, cover band  etc…do you also see it as a celebration to describe the show and what it aims to achieve?
Yes definitely, it's cream of the crop musicians getting together and celebrating what I consider to be the greatest band ever in rock n roll.  It's going to be done with a great amount of care and respect.
Had you worked with any of the fellow band members previously?  
Yes it will be the first time for me. Darren Evans one of the percussionists is a very dear friend of mine from Byron Bay, we have known each other for quite some time.  But other than that, no.
Have you had much exposure to the setlist as yet and what's being included? 
I got to choose the songs, I had first choice haha, so that was cool.  I think probably except for the one acoustic song, the rock songs I have picked are more darker and mysterious.
Has much license been given to you in terms of putting your own stamp and personality into the songs?
Yes absolutely.  Obviously myself and Robert Plant are very different singers, so my vocal approach to these songs will be different.  The guitar work will remain the same.
So you will also be playing guitar as part of your performance…
Oh, yes!
As far as singing Led Zeppelin songs, as you no doubt have done so many times, do you have any personal Led Zep favorites?
Well I got into Led Zeppelin because of the guitar playing, Jimmys guitar playing was always very dangerous.  The compositions and the layering that he did and then trying to do that live and the way that he played live, he was always on the edge.  That's something that I have always respected.  I think I have picked the songs that I wanted to play more for the guitar playing, than vocals.
Can you remember the first time you heard Led Zeppelin, what was your reaction or memories of that?
I would of been going into my first year of high school and I had been playing guitar since I was about 7 or 8 years old.  So I went into my first year of high school with a reputation that proceeded me, I was kind of known as being the young guitar slinger.  I was very much into new wave music at that time like the Psychedelic Furs and all that stuff, but my Dad turned me onto the blues at a very young age.  Even though it wasn't cool to be listening to blues, I loved it and that's where I first became the closet blues guitarist.  If you wanted to get girls at the dance, you don't go in there saying say I am a blues man, you are listening to The Cure and all that stuff.  One of these stoner rocker guitar players that was a couple of years older than me in high school, came up to me with a dare, challenge, throw down whatever you want to call it.  He had a cassette tape, which was the solo from Led Zeppelin's Heartbreaker, he basically said something to the effect of "if you are such a good guitar player, then learn this".  So I took it home with me and put it into the cassette player and started listening to it and my first impression was, well this is just blues, but it's heavier and sloppier, this guitar solo, but it's quiet fast, but for me it was very easy as it was all blues.  I still remember, listening to it in the basement of our house and my father coming home from work and I hear his boots, but I didn't get a chance to turn the stereo off quick enough because I was learning the song and my father comes down the stairs, doesn't say a word to me, goes to the cassette deck, rips out the cassette and throws it on the ground, then puts in BB King and goes, "that's the blues boy, you play that".
Correct me if I am wrong, but back in the mid 90's did The Tea Party support Page and Plant?
Yes that's correct and that was when my friendship with Mr Page began as well.
Did you ever play/perform together either on that tour, or otherwise?
Well we have never performed together, but obviously I have spent time at Jimmy's house and we have played together.  At that time he was interested in the demos I was doing for Transmission, so there was a lot of interaction you know.  As you know, he said that "I was the sorcerers apprentice".
Last year I think it was, you were also involved in a similar production but for The Beatles.  How do you find being involved in these productions and the appreciation it gives you for the songs of these iconic bands?
It depends you know, it gives me an insight into how the other musicians are interpreting the music because its likely to be very different too how I would do it or have done it in the past.  As I said earlier, I find that these productions are done with a great amount of care and respect.  It's an expensive ticket and people are coming to see the best.  So I just appreciate the involvement.
What is it about Led Zeppelin that you personally think has stood the test of time?
I think the music is timeless because of the integrity.  I think it's timeless as well due to Jimmy Pages production of the band, it doesn't sound dated.  I think also it's timeless because it is still music that is a little bit dangerous. It's dangerous in the sense it doesn't have to go over the top in a Marilyn Manson kind of way, you know what I mean, it's just real.
You can catch Whole Lotta Love at the following dates and venues:
Wednesday 14 September – Enmore Theatre, Sydney
Book at Ticketek.com.au or 132 849
Thursday 15 September – Enmore Theatre, Sydney
Book at Ticketek.com.au or 132 849
Saturday 17 September –  Palais Theatre, Melbourne
Book at Ticketmaster.com.au or 136 100
Thursday 22 September  – Concert Hall, QPAC, Brisbane
Book at qpac.com.au or 136 246
Saturday 24 September  – Burswood Theatre, Perth
Book at Ticketek.com.au or 132 849
Tickets On Sale NOW