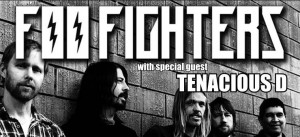 FOO FIGHTERS WITH SPECIAL GUEST TENACIOUS D & F**KED UP.
Official Press Release – The Frontier Touring Company are not just delighted, they're damn well besides themselves with giddy excitement, to announce what is arguably THE biggest rock concerts of the summer.
#1 chart-toppers the Foo Fighters are returning to Australia and New Zealand for stadium shows and they're bringing some pretty awesome friends in tow: none other than Tenacious D!
With over 15 years of experience, as documented in the band's recently released DVD Back And Forth (Sony) and as headliners of the world's most prestigious venues and festivals, Foo Fighters have become arguably the premiere live American rock act the world over. Their upcoming stadium tour will surely remind their Australian and New Zealand fans just how the band has achieved its mastery of the live element as Dave Grohl, Taylor Hawkins, Nate Mendel, Chris Shiflett and Pat Smear lead these colossal crowds in singalongs of such classics from their multi-platinum, 6 time Grammy Award winning catalogue as 'Everlong', 'The Pretender', 'Learn To Fly', 'All My Life', 'Best Of You', new staples 'Rope' and 'Walk' and more.
For their recently released seventh album, Wasting Light (Roswell Records through Sony), Foo Fighters returned to basics, recording in frontman Grohl's garage with producer Butch Vig and churning out 11 prime examples of the trademark mix of melody and brawn that has made them one of the most beloved bands on the planet. The press were quick to stamp their approval, including a 4 star lead review from Rolling Stone who praised the albums 'fuzz-box brawn, mosh-pit hurrah choruses and iron-horse momentum' and hailed it as 'the best Foos album since the first two'. The sentiment was echoed by the public as Wasting Light debuted at #1 in 12 countries, including the RIANZ and ARIA album charts, where it occupied a place in the Australian Top 10 for over 2 months.
It's no secret that Australia and New Zealand love the Foo Fighters and the sentiment is 100% reciprocated. Upon hearing of the natural disasters that affected Queensland and Christchurch earlier this year, the Foos were quick to donate their time and raise over $1 million for the relief funds:
"The Foo Fighters blitzed Brisbane's Riverstage last night and no one at the venue will ever forget it…when 10,000 people punch the air and sing along with a song like 'Generator' that's a lot of joy in the air when 10 weeks ago there was misery." Courier Mail
"Gigs like this don't come around very often…This was one of those heart-pumping special shows that you know you're lucky to be at." NZ Herald
If the Foo Fighters tour wasn't already exciting enough, no event can legitimately lay claim to the biggest rock concert of the year without including the band behind the "best song in the world". Oh yes, we're talking about the one and only Tenacious D aka. Jack Black and Kyle Gass who last blew fans away with their 2007 tour of Australia and New Zealand.
Jack Black's theatrical vocals and lyrical narrative coupled with Kyle Gass' manic guitar skills will shred stadium crowds to pieces and take them on a sonic voyage to rock heaven and back, delivering an audience primed for the Foo Fighters to take the stage.
Though it seems this line-up could not possibly get any better, Frontier Touring are not done yet. Stay tuned for further announcements to hear who else will be rounding out this spectacular bill!
Australia and New Zealand make yourself word perfect for every Foos and D tune out there and you just may be worthy of what is set to be one of the biggest – and best – rock concerts of the year!
Special guests – Tenacious D & F**ked Up!
Tour dates
Perth
Monday 28th November
NIB Stadium
www.ticketmaster.com.au
Melbourne
Friday 2nd December
AAMI Stadium
www.ticketek.com.au
Melbourne
Saturday 3rd December
AAMI Stadium
www.ticketek.com.au
Adelaide
Monday 5th December
Adelaide Oval
www.ticketek.com.au
Sydney
Thursday 8th December
Sydney Football Stadium
www.ticketek.com.au
Brisbane
Saturday 10th December
Metricon Stadium, Gold Coast
www.ticketmaster.com.au
New Zealand
Tuesday 13th December
Western Springs Stadium, Auckland
www.ticketmaster.co.nz
More Info: www.frontiertouring.com