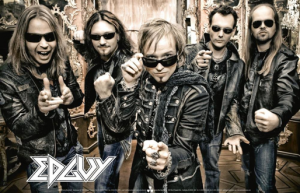 "I remember one girl that was singing on the album didn't want to sing it as they were bad words, so she denied to sing the bad stuff haha!"
Age Of The Joker, the new album from German metal masters Edguy due out on August 26th is sure to be one of the most talked about metal releases in 2011, as most Edguy albums seem to be these days.  Since their last album Tinnitus Sanctus was released 3 years ago, Edguy has toured the world and Tobias Sammet has released another Avantasia album, a double album no less.  OnAge Of The Joker, the band have increased the trademark Edguy "epicness", with every song taking a differen't twist and turn.
Edguy guitarist Dirk Sauer called in for a most enjoyable chat as we delve into the depths of the bands new album, Age Of The Joker.
Hey Dirk, thanks for taking the time to chat with May The Rock Be With You, it's been about 3 years since the last Edguy release, obviously you guys have been busy touring the world in that time and Tobi has been busy with Avantasia as well.  When did you first kick off the writing and recording for Age Of The Joker?
Well we started in late summer last year after some festivals and touring so we started working on it then and had half of the songs finished. Then Tobi started on the Avantasia tour in December I think it was and when he came back, we continued again.  Actually it all went pretty smooth this time which meant we could enter the rehearsal studio early, 1st of April I think we started recording.  The recording itself didn't really take that long either as we were well prepared and the turn out was pretty good I guess.
So after 9 studio albums now, would you say you guys have got your studio processes now settled?
I think that it's never easy to do an album, but what we tried to do on this album and our last few was to get a live sound that we have when playing, onto the record somehow.  I think especially in the late 90's, early 90's bands generally tried to record albums a bit clinically.  When you tour a lot, you get this rock n roll feeling, these days everyone's recording with pro tools, which we do as well, but albums can be so perfect these days and too much editing and drum samples and all that stuff which makes it a little bit dead in my opinion.  I think a record has to sound human.  We did a natural drum recording this time with no sample drums or any of that stuff, we also recorded rhythm guitars at the same time to get a live feeling.  This helped to let the album have a little air to breathe and makes it special in my opinion.  Especially these days when everything sounds so technical and many productions sound so compressed and limited and pumped up to be loud. It's a bit weird, if you listen to older records they are just good without the opportunity to use all that technical stuff. They just recorded records and made good music, which should be the aim of any record in my opinion.
I have been listening to the album all day and I absolutely love it, one of the noticeable things for me was the musical variety within the songs and from song to song, was this something you guys really focussed on with this album?
No not really, we did that on the last record as well.  It's been always like a challenge where you don't want to stay on the same path all the time and try to create some new elements or arrangements or use different instruments in the music, but it still has to have the typical Edguy trademark.  That's what we did pretty good on the album I guess.  It's always a matter of identity I would say.  I don't know, a lot of people complain we don't make the music like we did 10 or 12 years ago, but of course you want to do something new to make it interesting for yourself and the band.  It wouldn't make sense to repeat the same because then people would complain that these guys always do the same album.  So it's always a challenge to do something new, but on the new one, the whole band is happy with the turnout.
Just like you said, we added some new things, take for example Rock Of Cashel which is very Irish influenced, but it's typical Edguy and that's what counts.  I think especially with the last few records we found our own identity and it's not like "ahhh they sound like this band or that band".  You can hear that it's Edguy and it doesn't sound like Iron Maiden or Helloween or whatever.  Of course those bands are our roots and these are the bands we grew up with and was the music we loved, and we still do.  I think especially in recent albums we have found our own identity and it sounds like Edguy.
Additionally, every song seems to have a real "epicness" to it…
Yes that's right and it's not something that you can really plan, it just turns out that way.  I thinkBehind The Gates To Midnight World is an epic track.  We don't sit down and say, ok we are going to do 3 epic tracks, 2 double bass tracks, 1 ballad and 4 mid tempo songs.
Were there any key lyrical themes that Tobi focussed on with this album?
No there isn't any concept or anything.  This is about what he is collecting during his life and stuff.  But I am pretty sure he didn't meet Robin Hood (refering to the opening track Robin Hood) haha…but he has obviously watched the movies.
On the bonus disc, you have a couple of tracks in particular that I wanted to ask about – Aleister Crowley Memorial Boogie and the Slade cover, Cum On Feel The Noize…can you explain the choice of the Slade cover especially?
Actually we did that song on the last album recording session but we didn't finish it really as we lost the time to finish it, but we said lets keep what we have got as we might use it one day.  This time we were looking for some cool tracks for the bonus CD and this was one of them.  We found the song and re-checked and wondered how we didn't use it the last album.  We are not really a band who records songs we don't release, usually we never do it.  But this one we said this time we are going to use it.  It's always hard, I think we have recorded 14 songs now which is way too much for a record.  But on the other hand, like I said before we are not the band that will say lets save these 4 songs until whenever.  Nuclear Blast didn't want to do an EP, so we said ok, let's do like a package.  In total I think it's now something like 17 songs.  I think the album is good value for the money, it's hard to sell CDs these days and as a band you have to make up your mind about how you can make your album attractive so people will buy it and I think we made the right choice.  I pretty much love albums when I buy them that have something special on them or it has great artwork or a booklet, that's what I like and that's what we like so we try to give value for money to the people.
I have to say at this stage my favourite track is Fire On The Downline with it's massive chorus and real melodic hard rock vibe…how was this song to record?
I was actually thinking myself that this song is going to be my favourite live track.  I think this song is the perfect live song.  I love the riffing, the chorus is awesome, it would be a cool mid tempo song for, I don't know, people jumping and singing along with the band and all that kind of stuff.  Also my girlfriend loves that song a lot and she's not really a metal head so that's a good sign! But theres no real story to tell about the recording.  For us it's like the same procedure as every three years.  Of course you are curious because you don't know how it will turn out.  But the basic thing is the same, you go there and try out ideas and like I said earlier, this time everything went really smooth.
Listening to the track Two Out Of Seven, I had to rewind the outro because I thought I was hearing things haha…."what the fuck suck my cock, I'm only a 7 outta 12, when I wank at the bank, I'm 10 outta 10 my friend" haha, who came up with that idea?
Haha, actually, the first time I heard that was after the choir session.  I think they came up with that ending spontaneously.  I remember one girl that was singing on the album didn't want to sing it as they were bad words, so she denied to sing the bad stuff haha!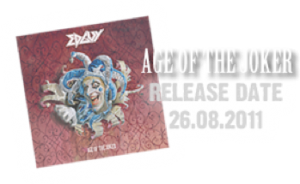 The album is titled Age Of The Joker, I personally am always intrigued by learning the stories behind album titles, so is there anything you can share about choosing Age Of The Joker…
Actually the title came up after we had already started work on the artwork.  That was a funny story actually.  We didn't really have a clue how the new album should look so we looked around on the Internet and the fact we had this joker thing on Mandrake and some older stuff and t-shirts and things, it lead us to thinking maybe we should do something with the joker theme again.  So we checked the Internet for some cool joker pictures and we found a painter in the USA who was doing play cards and they were done pretty good, so we went to his website and he had some really cool drawings.  So we said, hey let's just ask the guy if he would be interested in doing something for us.  We thought that the art he does is really cool, so he might have done albums and stuff before.  So we got in touch with him and it turns out he was a 65yo guy in the USA who had never done artwork for an album before.  Actually from the first communication he was so cool.  He did a few sketches to start with and we've been blown away through the process how it eventually came out as it's so cool!
What are you playing as far as guitars go these days Dirk, any endorsements you would like to give some advertising time too haha?
Well actually theres nothing really special that we are both using.  Both of us use Gibson guitars, I am a Flying V man and that's been my main instrument for 10 years I guess, because I like the shape, feel and sound.  Amp wise, we use different things in the studio, but live it's basically Marshall setups.  There's no real need for tonnes of equipment or effects and you can have a pretty good sound with an easy setup.  That's what's cool for me as we've been touring a lot and you see so many bands with shitloads of equipment and nobody really cares.
Was there anything really specifically in the recording process that you changed up as far as guitars are concerned for the new album?
One thing that was really interesting this time was the lap steel guitar on Pandoras Box which was something new and we thought about how we could do that part of the song and we thought of a lap steel, but nobody owned one.  So we borrowed one and Jens had 2 or 3 days for rehearsing which is not much time as that guitar is a completely different cup of tea in comparison to normal playing.  But it turned out pretty cool and I think that was one of the big challenge things on the new album.
You have toured Australia quite a few times now, what have been some of your favourite memories of playing in Australia?  Hopefully we will see you again next year perhaps?
The last tour was special as we had the chance to be there on New Years Eve.  I've had a lot of New Years Eve's in my life and they are usually the same, you hang out with friends and drink lots of beer and it's cold and dark and winter.  But this time it was special as we left Germany in the deepest winter and then we arrived in perfect weather.  It was so nice to hang out in the Sydney Harbour, it was packed with people and we had horrible jet lag, but we couldn't miss New Years Eve.  The rest of the shows were awesome, Perth was a really nice place to be and touring Australia is always special in my opinion.
Hopefully we will see you here again soon.
Yes I sure hope so!
I see you have a show playing with the Scorpions in Germany this weekend, who you also went on tour with last year.  It must be a pretty amazing show when the Scorpions and Edguy play together?
Yes it's awesome.  It was an honour to be asked to be special guests on their farewell tour of Germany.  They are such nice people and have achieved so much, but they are still cool and very down to earth.  It's am honour to open up for them and I hope they extend this farewell tour for a few more years as they are still kicking ass in my opinion.  They are the same age as my Dad haha and it's still cool to watch and learn from them.  You get a chance to talk to them a lot and hang out backstage and they tell a lot of stories from the early years and its a very cool experience and also funny.
We were hoping they will hit Australia on their farewell tour, but haven't heard anything concrete about that yet.
Well I am sure they will.  Maybe we can join them if they do it haha!
Do you have any last words, before we wrap up this interview?
Thanks for all the support over the years and I hope you like the new album.  If you do, just buy it.  I hope we can be back soon for some shows, and if we do, show up and party with us!
Essential Information
From: Germany
Band Members: Felix Bohnke – Drums, Tobias Exxel – Bass, Jens Ludwig – Guitar, Tobias Sammet – Vocals, Dirk Sauer – Guitar
Websites: www.edguy.net
Latest Release: Age Of The Joker – (2011, Nuclear Blast/Riot! Entertainment)