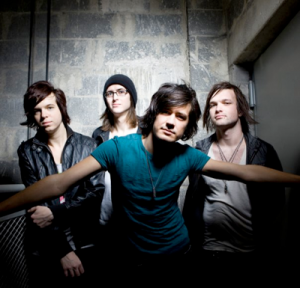 "It's the best situation for us to come over and meet the fans and new people who have never heard of our band.  Soundwave have so far been amazing at taking care of us, I've never been part of a Festival that has been so organised.  So we are extremely thankful and couldn't ask for more really…"
For pop rock band This Providence, whilst their albums may be reasonably well spaced apart, they at least can't be accused of not seeking perfection in the writing and their craft of delivering pop rock goodness.  With their 2009 release, Who Are You Now going some way to establish the band, chatting with bass player David Blaise it's clear that the band certainly realise the importance of their yet to be recorded follow up album in further establishing the band worldwide.
Heading to our shores in September for Soundwave Revolution, it's now time for the band to start conquering Australia.  Check out our interview with David Blaise below.
Hey David, thanks for taking the time to chat with May The Rock Be With You?  So where do you find you today?
I am in Los Angeles, California sitting in the sun, having coffee, so it's pretty good!
First things first, I have to ask how do you describe This Providence, both the band and the music…
This Providence is just a pop rock band, we take a lot of influence from Oasis and Jimmy Eat World. We are an honest pop rock band, we have our fun dancy songs, but we try and keep our lyrics with meaning and integrity.
So in September you are headed out for your first trip to Australia, for Soundwave Revolution.  What has the response been like so far to the news from both the band and your Aussie fans?
We have always wanted to go to Australia, our singer was from there originally and it almost felt like our second home you know.  On Twitter we constantly get people asking us to come over there, but it's not really a realistic thing, so for us to come over as part of the Soundwave Revolution is just amazing.  It's the best situation for us to come over and meet the fans and new people who have never heard of our band.  Soundwave have so far been amazing at taking care of us, I've never been part of a Festival that has been so organised.  So we are extremely thankful and couldn't ask for more really.
You are going to be out here for a over a week, what are you looking forward to most about being in Australia?
It's always been one of those places I have really wanted to go to.  It's just amazing, the atmosphere looks insane and the beaches, I live in Los Angeles and we have beaches, but they are nasty haha.  So I am not sure if we have too much time, but I would love to go and explore in general.  Not necessarily the touristy stuff, but landscapes.  From what I know it's very relaxed and I think that's awesome as in America it can kind of be crazy sometimes. It's just going to fun to head to another country to kind of take a vacation, but we are also playing shows, it's probably the best situation I could have asked for.
Have you had a chance to check out the rest of the Soundwave Revolution lineup, any bands you are personally looking forward to checking out or playing with?
I know Van Halen are playing and when I saw that, that's like one band I have to see every night, that's just going to be unreal.  There's a bunch of bands from our label Fuled By Ramen that are going to be playing, so it's a cool thing we are not going to be alone over there, with our label mates as we know all those guys already.
Being your first time out here, what have you heard about what you can expect from Soundwave and the Aussie This Providence fans?
We obviously can't tell how many are down there and what the response is going to be exactly, but we get enough people Tweeting us telling us we need to come to Australia.  Actually our drummers brother lives out there and he actually heard some other people, without them knowing he was related to someone in the band, talking about the band.  So that was kind of a surreal experience…so it made us believe enough that we should be going to Australia and playing as there's some kind of request for it, I'm not sure how much exactly, but its got our attention and were coming to play.
What can your fans expect from your set at Soundwave Revolution, how would you describe the This Providence live experience?
It's a fun rock show, it's a lot of energy and I think what's different about us to some other pop rock bands is we don't use tracks.  Everything you see on stage is what's coming out, it's definitely an honest and real performance.  I hope that we win over a lot of people as an actual rock band, with no gimmicks, what you see is what you get.
Your singer Dan Young is Australian born, has he mentioned anything specifically at this point about coming back to Australia to play at Soundwave Revolution?
Yes, he is a very proud Australian and he has family out here and he has his cousin doing merch for us.  He's excited, he has never played a show over there so he doesn't know what to expect either but I am glad we have a little bit of a guide in Dan to show us around.  He also said to watch out for spiders and snakes, of which I am terrified of both, so I am looking forward to coming across a funnel web spider or a huntsman spider, I've been busy YouTubing haha!
How do you find the whole festival experience, taking your music to a bigger stage, compared to playing the smaller more intimate venues, particularly given when a festival such as Soundwave Revolution is largely dominated by a lot of heavier top bands?
I think I favour festival shows sometimes over club shows as it's just a bunch of bands playing in a field and you get to meet as many people as you want.  If you are out there all day, you are going to meet as many people as you can. As far as fan interaction it's great. I think we hold our own too, I'm not too worried about the heavier lineup.  We did the Warped tour and that was a heavier lineup and I think we have enough rock songs and a good enough performance live that we can turn heads and maybe surprise some people that we are not just a pop band.
I am sure that the whole recording and writing process for Who Are You Now was a massive learning experience for the band….were there any key learnings you are wanting to maybe capitalise on with the follow up?
The writing process is definitely a little different this time.  We've actually been writing with other people and producers, Dan was just in Chicago writing with the singer of The Academy Is, so we've been trying to get new perspectives on writing and I think that's a way of growth as a songwriter, just seeing how other people write in different ways and kicking old habits.  So that's something we haven't done before and I think it's working to get those different perspectives on writing and lyrics and making this record as strong as we can make it.  Kind of putting our pride aside and not just saying, I don't want to hear anyone else's opinion on the record.
So it's been over 2 years since the last album was released, has this been largely taken up with touring, or has there been some downtime as well?
We've had a year off to work on the new album and we are still working on it.  We have about 30 songs, but we still want to keep writing as this record is going to define us and this is one of the big shots we're going to have, so we have to make it perfect, at least what we think us perfect.
I have a clothing line I've been working on and now that I haven't been touring I've been able to work on it a little more.  It's been awesome, it's http://makebelieveclothingco.com/.  Everyone has been doing stuff, our drummer has been doing photography and Dan has been writing with other bands helping them write songs.  So yes we've got other things going on, but the focus is always This Providence.  We are finally getting back on track and hopefully we will be in the studio by the end of the year.  It's definitely been a process, but we just want it to be perfect and we'll take as long as it takes.  That's been the hard thing for the fans as a lot of bands can come out with an album in 6 months, but for us in order to make an album we are very proud of, it's going to take a little more time.
Essential Information
From: USA
Band Members: Daniel Young – Vocals, guitar, Gavin Phillips – Guitar, David Blaise – Bass, Andy Horst – Drums
Websites: www.thisprovidence.com & www.soundwaverevolution.com
Latest Release: Who Are You Now (2010, Fueled By Ramen)
You can catch This Providence on the following Counter Revolution dates:
SATURDAY 24 – BRISBANE, THE RIVERSTAGE
SUNDAY 25 – SYDNEY, BIG TOP LUNA PARK
FRIDAY 30  – MELBOURNE, FESTIVAL HALL
SUNDAY 2  – ADELAIDE, JUBILEE PAVILION, SHOWGROUNDS
MONDAY 3 – PERTH, CHALLENGE STADIUM