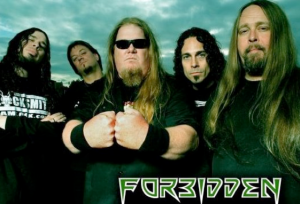 "A lot of great bands didn't get the recognition they deserved.  We could be thrown into that category, but we should be thankful for the recognition we did get!  It at least got us to the point today where we can do what we are now doing!"
One of the pioneers of thrash metal, Forbidden, are hitting Australia for the very first time in a few weeks and you can be guaranteed they will be hitting Australia hard!  Having recently released their long awaited 5th album Omega Wave after a ten or so year hiatus, Forbidden will be playing 6 shows here in Australia.
We chatted with one of the founding members, guitarist Craig Locicero about their upcoming Australian tour and new album Omega Wave.
Hey Craig, thanks for taking the time to chat with May The Rock Be With You.  How are things going right now, you have been pretty busy out on tour and that doesn't end in the next month or 2..
Yes first when the album came out we had the US tour with Revocation, then we broke off and did some headlining dates, then we did 70,000 Tonnes Of Metal, then we took a little break and got ready to do a couple of different festivals in Norway and Germany.  Then the next round of stuff coming up we have a local show here, the only one for the year and that's next weekend.  Then we have one show in Finland, then Australia, then we go back to the UK again for Bloodstock, then Czechoslovakia, then in the works for another US tour and then another European tour after that! So that's a lot of shows haha!
So first things first, in a few weeks you are headed to Australia for the very first time for a bunch of shows, one of which is headlining the "High Voltage Festival" in Melbourne.  A few years ago, I guess touring Australia with Forbidden is probably one of the last things you would of expected to be doing in 2011?
It's something I always wanted to do, but 3 or 4 years ago I didn't even expect to do anything with Forbidden, 4 years ago more directly.  I was more than happy not to be reliving the past and moving forward and it didn't bother me, and it still wouldn't have bothered me, but I think the time was right for us to come back.  Essentially it started with a few reunion shows and everyone telling us to record another record and I resisted, resisted and resisted. Somewhere along the line of getting the right guys in the band and having a full lineup, the temptation and inspiration started to hit me and it finally came in the summer of 2008 when I started to write the new record.
So how did the Australian tour come about and what are your expectations of your tour here, have you been conscious of a strong Forbidden fan base down here?
Well, there's a guy Francis Smyth who works with the band COG who has been a friend of mine for a long, long time.  He has said for years, Australia is Twisted into Form, the continent.  He said a lot of these people love Forbidden Evil, but if you ever get to Australia, it's Twisted into Form, that is their album.  I found that interesting, but there's something about that album that hit people the right way and the amount of people who write in.  We have always been a cult band, so I expect to have more of that kind if enthusiasm when we get there and more specifically geared towards Twisted.  Which is funny, but it's all good to me and they also really seem to love Omega Wave and are really, really into that.  I never know what to really expect and I try not to make myself think a certain thing will happen.
So is the setlist going to be geared more to what you have heard about the Australian fans as you mentioned above?
Probably not, because it seems so far crowds have been happy and the setlist we have been playing lately is really, really strong.  You know, it's like about a third of each record, not includingGreen and Distortion at the present time as those albums are not readily available.  You are really only making a couple of people happy when you are playing those songs!  That's a shame as there's some good songs there, but to take 5 to 10 minutes out of your set to do it, when you could make everyone happy by playing songs off Forbidden Evil, Twisted into Form and Omega Wave, we never walk away with people disappointed.  I think it's a very strong grouping of songs.  I think we might grab a few more from Twisted to throw in the set though.
What personally kept you occupied in the years that followed Forbidden's demise, you were pretty busy weren't you?
Oh yeah, I never stopped.  Once the band broke up I decided I wanted to go in a different direction and find whatever my voice was in there, because I had been playing metal for so long and towards the end I think that Green was a strong record and it was an angry record, but I think it was lacking in real inspiration because we didn't really know where we were and where we were sitting in all this stuff.  I felt like it wasn't necessarily going through the motions, but I wasn't being true to myself.  Really for Distortion, there were points where it was like what are we doing here?  There was so much questioning going on, so I needed to get out of that.  So I stated ManMadeGod which was very experimental at first and I didn't care and I wasn't trying to get a record deal, I just wanted to experiment and look into other kinds of music.  You know, head a bit more into my rock background.  Once we found a great singer, we got a record deal, which was 2002, which was a really, really big one with American.  That album unfortunately, before it ever really got to go anywhere, because it got a lot of really great reviews and radio play, but our singer wasn't really a people person and was forcing me to make a decision.  Do I want to keep doing this and continue fighting with him?, or do I just want to fold it up?  So I folded it up and then started Spiralarms and kind of took the same approach of not trying to make anything happen and just make music for ourselves.  Ironically, we extremely close to getting a record deal that would work in this day and age and then doing the Forbidden thing at the same time and recording in between it all.  So I've still got lots going on, then there's also Demonica as well with Hank Shermann from Mercyful Fate, which is a metal thing with really great Hank style riffs.
So how difficult was it in the last few years to get a lineup confirmed, write, record and then release Omega Wave and then plan to tour the world?  Were there times when you thought it wouldn't actually all come together?
One thing I don't lack is a leap of faith in the band and in myself, which is how you have to operate in this business.  I mean we didn't sign a record deal until the last song was written, but that was by choice.  We had a few on the table and obviously Nuclear Blast is the right label for this band.  We knew that, but didn't really tell them that haha!  It will never be like this again as the timing was in some ways perfect.  Everything finished at the right time, the window was exactly where I wanted it to be in terms of getting the album done.  At the same time, putting it out at the end of last year is not the most ideal time for a band that's been away for that long.  Luckily the label really believes in the band and loves the record.  We have a video that's yet to come out, we just finished a few weeks ago.  We have three or so cover songs we want to put on as b-sides to singles so there is a lot of life left in this album yet.  It's kind of only just hit the small side of the scope.  If we can survive each other and given how we know each other, we will be just fine.
How has the lineup settled in, has that been a pretty seamless process, or has it had some ups and downs?
Well any band will have it's ups and downs, but it's been mostly ups.  Certain days everyone is going to go through their shit, but that's like any band.  It's definitely a band that obviously is not generating massive amounts of revenue to keep everyone pacified.  You better do it because you love it and luckily we do!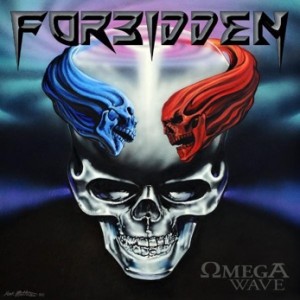 What has been the response to your new album, Omega Wave, from the fans?
So far it's been positive, very positive!  I think at first it might have been a little but like "it's not likeForbidden Evil, or its not like…" but for the most part and even more so as time goes along, people are realising how strong a record it is.  It just keeps growing in that respect and once the new video comes out and it hits YouTube and all that, I think you will see a pretty big upswing of people looking into the album and taking it seriously.  It seems like the only people who don't like the record are the ones who don't listen to it!  Everyone who does seems to love it.  It's certainly not a record with any throwaway songs, in my opinion theres nothing overtly weak on this album.
Can you give a bit of an insight into the songwriting process for the album.  As you had only just really put together a lineup as such around that time…
It always starts with my riffs and that's how it usually translates.  But in this case, thus was a different writing process because I needed something to focus on as subject matter for the album.  You know Russ and I had talked about it and said we are just going to jump full fledged into topics of conspiracies and paranoia and look at the whole Barrack Obama thing and his hypnosis over the world and going to take that and run with it.  Then the riffs followed after that.  The first 2 songs written were Adapt or Die and Hopenosis and that was right off the bat before we even had Steve Smyth around, so that was the direction right there.  But Steve did contribute a lot when he got in there and Russ always has his contributions towards arrangements and when it comes to lyrics he and I write everything together and all the melodies and that stuff.  We spent a lot of time at my house putting that together.  Nobody knew exactly what it was going to sound like.  It's weird saying that, but nobody knew except for me!  I was the point guy for everybody, I knew what Steve was doing, I knew what Russ was doing and I had a good grip on what it was all going to be and everybody else was like, I hope this really works.
Now you also co-produced the album Craig, how did you find that experience?
Yes I did, well I have co produced all of them but this was the first time I got my name listed.  Actually, Forbidden Evil I didn't, I did my tracks and bounced, because I was a kid, I was 18.  So I've always been involved with that, but I know a lot more about production and getting performances now.  Tim, who is my singer in Spiralarms, we've been producing our stuff for five years and learning the ropes of how to record and he has become a really good engineer as well as a producer.  So it was a pretty seamless transition for us, everybody else was new to it and hadn't worked in the studio as much as Tim and I had.  Steve probably had the second most recording experience given his days with Nevermore and Testament.
So at this point, is there any intention to release a follow up to Omega Wave?
Well depending on what day you catch me I will have a different answer.  I would say it's more than likely, but for me personally I just have to be inspired and I hope everyone at the end of this thing can stand each other enough to give it another shot and write a great record.  I think that the next one could even be better with the knowledge and touring we have done.  We've done over 100 shows in the last year and we've got a heck of a lot more ahead.
With the extensive touring you have recently done and about too…how much have you observed the demographic of people who turn up at a Forbidden gig in 2011?  Is there a distinct younger generation into the band?
Yes big time!  If you have an all ages show, you are going to see a tonne of kids and they know every word.  They've discovered the band through the Internet or their parents or however it might be, but they are really passionate about it and it blows my mind.  Every time I see them out there singing the songs I think wow, something translated.  That's a really rewarding feeling for all of us.
You originated in the Bay Area during the halcyon days of thrash in the 80's and coming up next week there is the Bay Area Thrash Fest, which you are headlining, what kind of scene exists in the bay area for Thrash these days?
Well there's no comparison to the 80's, there's no comparison to everything when it was new.  The first time it came around, it will never be that again.  The scope of what we were writing about back then was pretty much good, evil, bad, the devil, or a particular war, it wasn't the same bunch of influences you have now.  Now there's so much more subject matter and people are a lot less naive, yet they're a lot less experienced in great music as a background.  All they have is newer stuff these days.  If you go back to our era, they don't have all the stuff that influenced us such as Black Flag, Saxon or whatever, it's just a whole different era.  Missing The Beatles in their life, stuff like that.  This stuff made us what we are, the stuff that we listened to and the experiences we had.  Now if you try and emulate it, you are missing a piece of the puzzle.  It's not their fault, it's just a product of their influences.
All these years, how does it feel to hear of bands and who cite the band as being such a big influence and recognition in media of releases such as Forbidden Evil and it's standing in the thrash genre?
Well sometimes it's good to be old haha!!  Luckily I started when I was 15 doing this stuff so I am younger than most.  But if you are around long enough, eventually people are going up recognise what you did, if it mattered to people along the way.  A lot of great bands didn't get the recognition they deserved.  We could be thrown into that category, but we should be thankful for the recognition we did get!  It at least got us to the point today where we can do what we are now doing!
Essential Information
From: USA
Band Members: Russ Anderson – Vocals, Craig Locicero – Guitar, Steve Smyth – Guitar, Matt Camacho – Bass, Mark Hernadez – Drums
Websites: Forbidden Official Facebook
Latest Release: Omega Wave – (2010, Nuclear Blast/Riot! Entertainment)
Catch Forbidden in Australia at the following shows…
SAT 30TH JULY- THE PRAGUE, MELBOURNE
SUN 31ST JULY- THE ROSEMOUNT HOTEL, PERTH
WED 3RD AUGUST- ENIGMA BAR, ADELAIDE a
THURS 4TH AUGUST- JUBILEE HOTEL, BRISBANE
FRI 5TH AUGUST- THE BALD FACED STAGG, SYDNEY
SAT 6TH AUGUST- THE CORNER HOTEL, MELBOURNE- HIGH VOLTAGE FESTIVAL