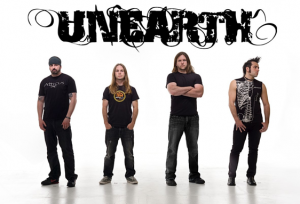 "We just try to make it look like it's going to come crashing down at any minute you know, its out of control, just mosh mayhem off stage and you'll see us having a good time and hopefully that translates to the people viewing it."
Unearth have just unleashed their new album of pure Metal, their fifth studio album and their first in three years entitled Darkness In The Light and it's heavy!  They're also heading back Down Under as part of the spectacular Soundwave Revolution festival tour in September and October.  We had the chance to talk to guitarist Buz McGrath about the new album, their prospective new drummer, their appearance at Soundwave Revolution and about his love of twitter.
Buz…
Firstly congratulations on the new album, it's so heavy!  I love it.
That's great thank you.
Explain to me where the title 'Darkness in the Light' came from…
You know it probably just came from one of the lyrics that was rattled in Mr Trevor Phipps' head, I guess it could mean different things to a different person, like for me personally it's like with my life when everything seems good and bright there's always something looming in the background that kind of fucks up your whole plan.  So that's kinda what the meaning is that I get from it.
How did the songs come together for this new record?
Well basically just Ken and I throwing together riffs, Ken did a lot of demoing of songs and then I would go over to Ken's house and show him a riff and a new programmed drum beat for it cause we didn't have a drummer at the time of writing it which was a new experience.  So we just built the songs up that way and pretty soon they started coming together just like a puzzle does and the next thing you know we had a record and when we recorded the drums for it we told Justin Foley that 'look, these drum beats were written by us so they may not be the best drum beats' but he really put his stink on it and added a nice touch the record.
There are some killer riffs and solos on this album, what's your method of creating the perfect guitar part?
You know sometimes you accidentally stumble upon it, for me, to be in a room with an amp and just riffing out whatever comes in your head.  It may not even be riffs, just noting around and next thing you know you stumble upon a pattern that you think that sounds tasty, let's refine that and see where it goes.
What is it that sets the new album apart from previous efforts?
Well I think for one, the drums definitely have more flavour than any of our other albums and just the song writing is the best that we've been able to do.  So it's on a nice level there and I think the songs are just way catchy and they stick in your brain meat for a long time.  Like when I was just rehearsing and stuff I was thinking man I just can't get this song out of my head, like it haunts me.
One word I saw used to describe it was 'honest' would you consider that be a fair assessment?
Honest?  Yeah I guess so.  I mean how is an album honest?  I guess it's honest to our sound, we didn't try and change anything or try to do anything that we didn't want to do to make the album sound a certain way I guess.  But yeah I guess that's a fair adjective in this case to describe it, most of it anyways.
You worked with Adam Dutkiewicz from Killswitch Engage as producer on the album once again, did he bring anything different to the table this time compared to the previous albums he's worked on?
Um, you know, vocally he may have but as far as guitar wise, we have a formula that has been working for us with him and we just stick to that, I called him the Dr Dre of metal, he comes in and he's got that, you know he makes things happen, he takes the songs and he has no emotional attachment to anything so its good to have him come in and say 'This doesn't work' and 'This is going to be great' and 'We've got this all done.'  So he's the sixth member of Unearth, or the fifth member in this particular albums case.
You've toured Australia a few times, how do the metal crowds here in OZ differ to those around the world?
People wear flip flops and they're more attractive people, metal fans around the world are pretty ugly folk but I think Australia just has some handsome men and beautiful women down there so I guess that's one of the things that immediately noticeable, and people are just in party mode, they come out and its all over the top and they rage, it's awesome.
You're of course heading back down here to Australia for the Soundwave Revolution shows in September / October, what can people expect from your show this time around?
We just try to make it look like it's going to come crashing down at any minute you know, its out of control, just mosh mayhem off stage and you'll see us having a good time and hopefully that translates to the people viewing it.
You're in some amazing company on the tour, anyone in particular you're pumped to see?
Obviously Van Halen which I've never seen before that's going to be interesting, but other than that, a lot of friends bands are playing, like Whitechapel, The Acacia Strain, Times of Grace, Every Time I Die, just to name a few of the bands we've grown up with over the years and just get to hang out with and play some shows together.
So basically it's one big party for a few weeks?
Yeah.
Drummer wise, at the moment you're out with Justin Foley, will he be coming to Australia with you?  
No he's going to stop short there, he's doing the Mayhem festival tour of the States and he's doing the Europe run with us and then from there he goes home and we go to Australia and guy by the name of Nick Pierce from Seattle Washington area is coming in to start playing, he may be our new guy its still kind of the try out mode right now just to feel him out but I think he's a rad drummer, got tonnes of skills, he's hungry, he's an animal, that's kind of what we're looking for.  I mean we played a couple of shows with him already; he did great so it's looking good.
Is he from any other bands or just a new guy?
Not really any notable bands, he played with a band called The Faceless briefly and he played on kind of a local band and that was it, he's kind of under the radar right now.
As a guitarist, who would you sight as some of your biggest influences?
Definitely, In Flames, you know that really influenced the sound of my riffing, Yngwie Malmsteen is something that I chase after, the sounds that he makes with the guitar maybe not so much his over the top persona but his guitar playing touches me in weird places.
The scalloped frets always freaked me out, I could never understand that…
Yeah I think it kinda makes it harder to play, it just keeps bending it out of tune but hey it's cool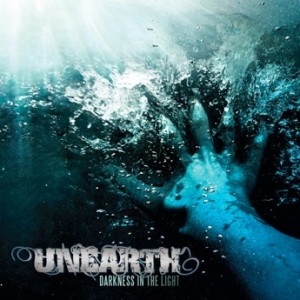 Speaking of harder to play, you play an 8 string for a while.
On the last record yeah there was a couple of songs with the 8 string, that was a lot of fun
Is it hard to play?
No not really, I picked it up and sat on the couch for an hour with it and thought this thing is a lot of fun, it's like playing a snowboard, it's awesome.  I haven't broken it out for a while, I break it out every once and a while, it's a fun guitar to play low, slow death metal on you know.
So what's the string set up?  It's a low B but what's the one below that?
It's a G, well it's F# but I took mine and tuned it up to G.  So it's like G, I don't know, whatever else comes after that ha ha
What are your thoughts on the metal scene these days?
You know, a lot of people still keep paying attention to genre labels, like it's Metalcore or it's Deathcore, it's like whatever, people being divided over it.  I think its all metal and even if it's a kind of metal that you're not into, I think people should support all things heavy.  I used to hate on all these bands that were coming up with these silly haircuts and doing just a weird style, but you'd hear they were heavy and you'd be alright, they're playing heavy, they're making heavy go forward, so I back it.  Even if the song isn't that great, as long as it's heavy.
Unearth has been a band now for 13 years and this is your fifth album, looking back over this time, has there been a stand out moment over your career that you can share with us?
I think for me, the fact that we're still here doing it, we were at a photo shoot a while ago when everything was starting to start up I was looking around like, 'wow, we're here doing this somehow' and that was to me, this happened a few weeks ago and I was proud that we were still here and people still care enough to wanna be here to play for people.  But as far as an event goes, or a show, I remember playing Ozzfest '04 that was a really big thing and touring with Slayer was definitely a milestone for sure.
Now the album has just been released, what's the reaction been like?
It's been great, it's overwhelming.  I can't believe how many people have contacted us about how they feel about the record.  On one hand I'm nervous because it's like, well I'm not nervous but it's like this thing seems to be going pretty well, but on the other hand I'm like maybe I'm just over reacting, maybe it's just because people were this excited last time but I just didn't because there wasn't so many social media outlets that we have.  Like with people posting on the facebook and twitter and I didn't really pay attention to that last record, so I don't know if people are as psyched for this one or more excited. I'm thinking they're more excited, from all the reviews I've been getting and friends calling me and this and that.  It's an exciting time.
You talk about social media and a few years ago it was nowhere as big as it is now, how much of a difference has that made on the band?
I mean, its such a great tool, just to get to people and you can respond to people easily especially through Twitter, you don't have to write a long explanation.  You know, someone hits you up and you've got time, you can respond to fans.  It's a direct link between bands and the fans that want to know what's going on and then you have a buddy that may be in another band that has 20,000 followers or his buddy's band or however many and they retweet to that and messages can just get sent definitely a cool and beneficial to all.
I follow you on Twitter and it's just cool to see what you get up to.
Yep, I follow like a lot of other dudes I know in bands and friends but people that you don't get to see all the time, maybe once a year you cross paths, and you just check in on what they're doing like 'oh cool, Jamie is in Romania playing a show' and he posts a pic and it looks really cool.
Then you can follow Charlie Sheen and don't care what he does a month later.
Ha ha yeah everyone was on his nuts for two seconds and then he just disappeared, its hilarious.
Lastly, do you have a message for your fans out there?
Just have a good time, all the time.
Thanks Buz, see you at soundwave in September.
Sick, thanks man.
Essential Information
From: USA
Band Members: Trevor Phipps – Vocals, Buz McGrath – Guitar, Ken Susi – Guitar, John Maggard – Bass
Websites: www.unearth.tv
Latest Release: Darkness In The Light – (2011, Metal Blade)