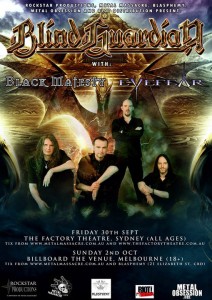 The biggest Power/Melodic Metal band in the world is returning to Australia for two shows only! Performing to an all age show in Sydney for the very first time ever on Friday 30th September 2011 and then heading to Melbourne for their last show in Australia on the 2nd of October 2011, this will be MUST SEE experience and a compulsory event on your calendar.
Performing tracks off their recent smashing chart topping album, 'At The Edge Of Time' and playing the fan favourites stemming back from 1988 until now, there is no other live show like BLIND GUARDIAN. Supported by Australia's premiere power metal band, 'Black Majesty' along with Australia's premiere Power/Prog act, 'Eyefear', coincidentally marking that acts new album release, this will not be another live show where band members stand around a stage, this will be an experience that will be etched into your memories forever and a day.
If you missed them last time around, DO NOT miss them this time; you may just miss your last opportunity to see BLIND GUARDIAN in Australia!
Tickets On Sale Now: www.metalmassacre.com.au
Sydney
Friday September 30
The Factory Theatre
Melbourne
Sunday October 2
Billboard The Venue
Monday October 3
Billboard The Venue
More Info: www.blindguardian.com
Tickets: http://www.metalmassacre.com.au/