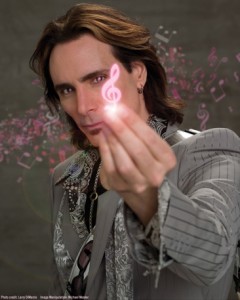 Thump Music is proud to be able to bring STEVE VAI to Australia for the first time to present a series of master classes. Thump Music places a lot of effort into choosing the perfect artist to teach, train and empower musicians to be the best at what instrument they love and play.
Steve Vai has been a standout guitar player for so long now and is known by all guitarists on many various levels. As a Grammy award-winning guitar virtuoso with career sales of over 15 million records, Steve Vai's sheer breathtaking facility on the guitar is acclaimed in the rock world and beyond. Starting with his groundbreaking Passion and Warfare album in 1990, and throughout the years since, Vai has consistently used music as a microscope peering into the human spirit. Vai's virtuosity has earned him honorary doctorates from Berklee College of Music, Musician's Institute, and over a dozen Grammy nominations.
While Vai clearly had what was needed to make indelible impressions during his stays with Frank Zappa and David Lee Roth, it's as a solo artist that he's made his most precious contributions. Each of his solo releases is unique, compelling, and even when looking darkness square in the face, genuinely uplifting. His latest live album and DVD project, Where the Wild Things Are is a major achievement from a musical alchemist of the highest order. In addition to his recording career, Steve is involved with many worthwhile organizations. He is a former Trustee for NARAS (National Academy of the Recording Arts and Sciences), is on the board of Hollywood Arts, and works closely with his own Make a Noise Foundation, raising money for music education.
Steve will be carrying out a full master class clinic in 5 states in OCTOBER 2011. In each clinic Steve will be teaching for over 2.5 hours, which is amazing value.
Steve will be covering all spectrums of taking your guitar playing to the next level from advice, techniques, practice tips and answering questions from the customers. Any guitar player knows that you pay a high price to get a lesson with a well-trained guitarist. Well Thump Music is giving you the opportunity to learn from one of the best in the world.
Tickets are limited and once we have sold out then sadly we cannot assist any further so we encourage you to lock in your seat ASAP and rest assured you wont miss out on the Vai advantage.
Untitled from Thump Music on Vimeo.
Here is information on the clinic tour;
 Dates and Information;
1. Brisbane – Thursday 13th of October 2011 – Evening Clinic – Starting at 7.30pm and Ending around 10.30pm
2. Sydney – Saturday 15th of October 2011 – Midday Clinic – Starting at 12.00pm midday and ending around 3.30pm
3. Melbourne – Monday 17th of October 2011 – Evening Clinic – Starting at 7.30pm and Ending around 10.30pm
4. Adelaide – Wednesday 19th October 2011 – Evening Clinic – Starting at 7.30pm and Ending around 10.30pm
5. Perth – Thursday 20th October 2011 – Evening Clinic – Starting at 7.30pm and Ending around 10.30pm
Pricing for tickets is the following;
General Admission = $80 INC GST each ticket for over 2.5 hours of teaching.
You can purchase your tickets through WWW.THUMPMUSIC.COM.AU
At each clinic we will have product giveaways and prizes that will blow your mind so expect to come and walk away with more then just a load of great information.
All clinics are alcohol and smoke free. Please read through terms and condition of ticket sales.
Spread the word to all musicians in Australia, as this tour will be one not to be missed.