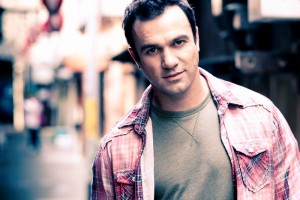 SHANNON NOLL PRIMED FOR EXCLUSIVE ALBUM PREVIEW SHOWS
"A Million Suns" album released 14th October
Album preview live dates 11th – 29th October
To co-incide with the release of his fourth studio album "A Million Suns", Shannon Noll will deliver his first full live band dates in years, playing a few select shows to give fans a taste of his new material, including brand new anthem, 'Switch Me On'.
The "A Million Suns" album preview shows kick off at his local, the Brass Money in Cronulla, on 11th October.  He rolls in to Sydney's The Basement on 14th October, on to Cessnock the night after, then heads on to SA and QLD, winding up with two shows in Melbourne on 28th and 29th October.  Joining Shannon on his first visit to Australia is Canadian singer songwriter Tim Chaisson, who is bound to impress fans with his beautifully crafted guitar based pop offerings, from the album "Broken Hearted Beat".
With 'Switch Me On' already a top 20 airplay hit (source: The Music Network), Shannon is understandably excited about playing his new album material live for the first time, saying today, "I just can't wait.  From day one, I have played hundreds of shows each year, so slowing down to write and record this new album – it goes against the grain!  I love this bunch of songs and can't wait to share them with people."
"A Million Suns" features the craftmanship of Executive Producer Bryon Jones, who was responsible for production on Noll's first two albums, and includes offerings from songwriting collaborators Lindsay Rimes, DNA and hit-maker Adam Reily.
SHANNON NOLL
New Single – SWITCH ME ON – available now
NEW ALBUM "A MILLION SUNS" released 14th October
www.getmusic.com.au/shannonnoll
 "A MILLION SUNS" ALBUM PREVIEW LIVE DATES
with special guest, Canada's Tim Chaisson**
Tuesday 11th October: Brass Monkey, Cronulla
Tickets: www.brassmonkey.oztix.com.au / 1300 762 545
Friday 14th October: The Basement, Sydney
Tickets: www.moshtix.com.au / 1300 GET TIX (438 849)
Saturday 15th October: Cessnock Supporters Club, Cessnock
Tickets: 02 49332655
Thursday 20th October: The Governor Hindmarsh, Adelaide
Tickets: www.thegov.com.au / 03 8340 0744
Friday 21st October: Castle Hill RSL, Castle Hill
Charity event – Lyceum Room – special 20 minute acoustic set
Booking & Information: datscakes@netspace.net.au or russell@pes.com.au
Saturday 22nd October: The Tempo Hotel, Brisbane
Tickets:  www.oztix.com.au or 1300 762 545
*Venue: 07 3252 4344 (note album pre-order offer not available via venue direct)
Friday 28th October: Trak, Melbourne
Tickets: www.ticketmaster.com.au / 136 100
Saturday 29th October: York on Lillydale, Mount Evelyn** (support act to be announced)
Tickets: www.ticketmaster.com.au / 136 100
Venue: 03 9736 4000
**About Tim Chaisson
Canada's Tim Chaisson is preparing for his first visit to our shores, landing next month to launch his album 'Broken Hearted Beat' with live shows, alongside support slots with Shannon Noll and two dates at the Sydney Blues & Roots Festival.
With three solo albums under his belt and the independent musical gem 'Broken Hearted Beat' with his band Morning Fold, Chaisson is on a fast rise to dominating his genre. A quick glimpse of his achievements over the past two years reveals an enviable onslaught of accolades: a performance at the 2010 Winter Olympics, awards for Songwriter of the Year, Entertainer of the Year, Pop Recording of the Year and Group of the Year and a nomination for the East Coast Music Awards' 2010 Pop Recording of the Year.
'Broken Hearted Beat' will be released locally on 7th October via ABC Music, featuring the lead single 'Slippin Away', a radio and television staple in Canada. Chaisson lands and heads straight to legendary Sydney venue the Brass Monkey on 11th October for a very special album preview show with Shire resident Noll, before playing later that week at the same venue with Canadian rockers The Trews. Taking in dates in Brisbane, Sydney, Melbourne, and Adelaide, Australian music lovers have a wonderful opportunity to discover this gifted and engaging young musician.
Further Tim Chaisson tour dates
Thursday 13th October: The Brass Monkey – Cronulla (NSW)
With The Trews
(02) 9544 3844 or www.oztix.com.au or www.brassmonkey.com.au
Wednesday 19th October: Wheatsheaf Hotel – Adelaide (SA)
Ph: (08) 8443 4546 www.wheatsheafhotel.com.au Tickets: www.oztix.com.au
Tuesday 25th October: The Brass Monkey – Cronulla (NSW)
(02) 9544 3844 or www.oztix.com.au or www.brassmonkey.com.au
Saturday 29th October: Sydney Blues & Roots Festival – Windsor (NSW)
www.sydneybluesfestival.com.au
Sunday 30th October: Sydney Blues & Roots Festival – Windsor (NSW)
www.sydneybluesfestival.com.au