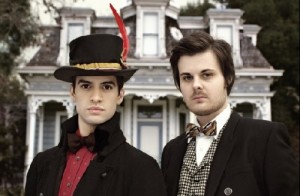 Take 40 Live Lounge, presented by Debit MasterCard welcomes Las Vegas pop rockers for an exclusive live acoustic performance
Australia's premier live music event, Take 40 Live Lounge, is thrilled to announce that global superstars Panic! At The Disco will tear up the stage for the fourth in a five gig series, on Tuesday 27th September, presented by Debit MasterCard.
The Grammy Award-nominated Las Vegas outfit will showcase tunes from "Vices & Virtues", their first album as a duo, including the smash hit "The Ballad Of Mona Lisa" and catchy new single "Ready To Go (Get Me Out Of My Mind)". Dynamic front-man Brendon Urie's trademark soaring vocals and energetic on-stage charisma promises to deliver a memorable show, and is set to raise the roof when he belts out the band's breakthrough single "I Write Sins, Not Tragedies".
Take 40 Live Lounge presents a second-to-none live experience to music lovers, featuring some of the best local and international acts on the music scene in an exclusive and intimate live setting, including the likes of Jessie J, Washington and Jason Derulo among others. Debit MasterCard cardholders will be presented with a unique opportunity to win tickets to attend the one-off performance, with fans able to access the footage post-event via online and television broadcasts, with specific details to follow.
With an international platinum-accredited album under their belt, Panic! At The Disco have well and truly established themselves as one of the most compelling acts on the global music landscape. Their distinctive sound combines elements of rock, jazz, pop, punk and everything in between, with the band's third studio album "Vices & Virtues" displaying an intriguing new side without sacrificing the identity that they've built up over the past seven years.
Die-hard Panic! At The Disco fans can head to Take40.com now for the chance to win tickets to this exclusive Take 40 Live Lounge performance, presented by Debit MasterCard. The competition is open to all Debit MasterCard cardholders over 16 years – but be quick to nab a ticket!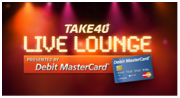 Please contact Commonwealth Bank, Westpac, Bankwest, Bendigo Bank or ME Bank to apply for a Debit MasterCard.