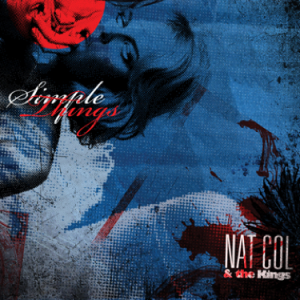 After a break from touring to work on their Latest Release, Simple Things, Nathan Cavaleri's band, Nat Col & the Kings are taking off on another journey to dominate the East Coast. The ever growing Simple Things Tour, will see Nat Col & the Kings perform 7 impressive shows to kick off the launch of their newest release.
Nat Col & the Kings packed their bags and embarked on an adventure to conceive their latest musical creation. They headed for an Australian landmark in the music world – The Grove, originally owned by INXS's Gary Beer, is located in a remote part of the central coast and has been home to many musicians and their creative surges. For Nat Col & the Kings it was somewhat of a retreat, as they ate, drank, slept and most importantly they played music (most of which was done in their pyjamas). Nonetheless this is where they captured the magic that is now their second EP, Simple Things.
Simple Things will be released to iTunes and www.nck.fm on 25 August 2011.
Keeping the music as real and raw as possible is something that Nat Col & the Kings are continually delivering through their songs. This latest instalment is no exception as this powerful release takes Nat Col & the Kings to a whole new level. Engineered by Josh Telford (Eskimo Joe, Butterfly Effect, New Empire), this five track EP is raw, rootsy and by all means sleazy. It features debut single from the EP Can't We All Get Along and also includes a sweet yet epic introduction The Audio Boffin, which is dedicated to the late Greg Clark, the legendary sound guy that brought Nathan and Col together. Also featured on the EP is Sunshine, a powerhouse track that was demanded by diehard live followers as it showcases a dual between keys player Lachlan Doley (Jimmy Barnes, Powderfinger) and Nathan. As for now, there is no rest for Nat Col & the Kings as they go straight from the studio on to the road to kick off their second national tour to promote Simple Things.
For a short documentary about the band and their new EP visit www.nck.fm.
For live rehearsal footage and behind the scenes footage, visit Nat Col and the Kings' YouTube Channel at www.youtube.com/natcolkings.
Nat Col & the Kings is the combination of guitarist Nathan Cavaleri, who has toured with BB King and jammed with everyone from Michael Jackson to Diesel, and former Screaming Jets Drummer Col Hatchman. With two individually amazing artists, from very different musical backgrounds, it is clear that together as Nat Col & the Kings, Nathan and Col are making their own rules as they continue to grow their own style and sound that has some solid influences from their own musical backgrounds and their guests on stage.
Their first national tour saw Nat Col & the Kings headline some amazing shows and share the stage with some of the world's greatest artists at Byron Bay Bluesfest. With each of their performances exceeding their last, they received nothing but positive reviews as they continued to take the east coast by storm. Fans are sure to be anything but disappointed with what Nat Col and the Kings latest edition is set to deliver. Be prepared to be blown away with what is shaping up to be a solid list of shows on Nat Col & the Kings' second national tour, including a performance at the Queenscliff Music Festival and the 2012 Summernats.
Click here to download the Nat Col & the Kings EPK
Nat Col & The Kings Tour Dates
FRIDAY 2ND SEPTEMBER
SANDRINGHAM HOTEL NEWTOWN, NSW
FRIDAY 9TH SEPTEMBER
BALLINA RSL, BALLINA, NSW
SATURDAY 10TH SEPTEMBER
BEETLE BAR, BRISBANE, QLD
FRIDAY 23RD SEPTEMBER
TORRUMBARRY HOTEL, TORRUMBARRY, VIC
SATURDAY 24TH SEPTEMBER
THE TOFF, MELBOURNE, VIC
SUNDAY 25TH SEPTEMBER
NIGHTHAWK BLUES, MENTONE, VIC
THURSDAY 29TH SEPTEMBER
LIZOTTES, NEWCASTLE, NSW