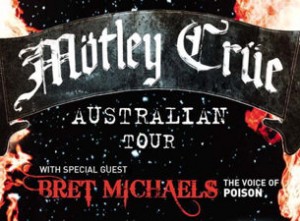 McManus Entertainment is thrilled to announce hard rockin' metal giants, Mötley Crüe, are hitting the road.
Featuring the original line-up of Vince Neil on vocals, Mick Mars on guitar, Nikki Sixx on bass and Tommy Lee on drums, Motley Crue are coming back to Australia in September.
"This is going to be a rockin' gig!  The amount of e-mails I have received from fans begging to put on a show like this has been overwhelming. The fans spoke, we listened and it's going to rock!  To have all these guys on the one bill is huge! Australia, get ready to rock," said promoter Andrew McManus.
Mötley Crüe have sold more than 80 million records worldwide and are most famous for their hits 'Dr Feelgood', 'Girls, Girls, Girls', 'Kickstart My Heart', 'Smokin' In The Boys Room' and 'Shout At The Devil'.
You've been warned Australia … Mötley Crüe are back! And this time they're bringing Bret Michaels with them. Bret Michaels first rose to fame as lead singer of metal band Poison, one of rock's most iconic and enduring bands. Poison, along with Mötley Crüe, defined the fast, gritty and glamorous rock scene of the '80s. Poison have sold more than 30 million records worldwide and have given us the hits 'Nothin' But a Good Time' and 'Every Rose Has Its Thorn'. Bret Michaels is also the star of the 'Rock of Love' TV series and 2010 'Celebrity Apprentice' winner.
Doc Neeson will also be appearing with Mötley Crüe and Bret Michaels. As the voice of The Angels, Doc Neeson has had major success with singles including 'Am I Ever Going To See Your Face Again', 'Take A Long Line' and 'Shadow Boxer'.
Guaranteed to be one explosive night of rock – don't miss out!
Brisbane
Wednesday September 21
Riverstage, (18+)
Sydney
Friday September 23
Entertainment Centre
Melbourne
Saturday September 24
Rod Laver Arena
Tickets On Sale Now
More Info: www.ampresents.com
TICKET PRICES
BRISBANE
Feelgood Pit (Front GA section) – $166
Wild Side Pit (Back GA section) – $136
SYDNEY
Feelgood Pit (GA Floor) – $166
Gold Reserve – $166
Silver Reserve – $136
MELBOURNE
Feelgood Pit (GA Floor) – $166
Gold Reserve – $166
Silver Reserve – $136
Proudly presented by MAX, Triple M and Australian Guitar Magazine. Tickets on sale now.