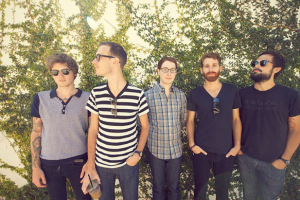 "The best thing I could say is that a lot of people who come up to us say "I was 15 when you put out your first record and I loved it, now I am 20 and in college and I love the new record and I feel that I have matured with the band", that's a huge compliment for us."
For California based Hellogoodbye, the last four years following the release of their debut album Zombies! Aliens! Vampires! Dinosaurs! in 2006 sure have been eventful to say the least.  Changes to the band lineup and most notably a protracted process to get themselves off of their old record label effectively meant the band had been sitting on a finished record, waiting for the moment it could be released.  That record is Would It Kill You, which is due for release in Australia on 1st July, but has already been wowing other parts of the world with it's sublime indie power pop.
Having already experienced a Soundwave Festival in 2009, the band are returning to Australia in September for Soundwave Revolution.  We chatted to Joe, the bands keyboardist about the new album Would It Kill You and the upcoming visit to Australia.
Hey Joe, thanks for taking the time to chat with May The Rock Be With You!   So where are you right now, are you still out on the Warped Tour?
Yes we are, today we have a day off in Texas and it's about 106 degrees fahrenheit out here so it's a little warm!
Well I think here in Melbourne it's about half that right now!  So how is the Vans Tour going?
It's going really good thanks.  We are on the fourth day and it's certainly been very hot, which is to be expected given it's summer over here.  But it's been going really well, been meeting lots of people and having lots of fun, which is what's great about the Warped tour.
To me personally, I have always associated the Vans Warped tour with heavier and punk styled bands, how do you find Hellogoodbye fits in with the Vans Warped festival?
Yes, you are very right and that was a concern before we jumped onto the festival.  We wondered will we make any sense on this tour now?  Well it turns out that we still do.  I feel that a lot of the attendees weren't even aware we had a new record out, so it's been good to tell them that we do.  We are meeting plenty of people from other bands that are pretty like minded so it's been cool and there's some other bands playing on our stage that aren't so heavy, so we fit nicely amongst those.
The band has been to Australia a couple of times and are heading back to Australia again in September for Soundwave Revolution, have you personally been out to Australia before/with the band?
Yes, I did Soundwave 2009 with the band and that was incredible.
What were some memories from that?
We had a great time, I just loved Australia, it was my first time there and we are very excited to come back.
Have you had a chance to check out the rest of the Soundwave Revolution lineup, are there any bands you are personally looking forward to checking out?
Most exciting for me will be to see Danzig, I grew up a Misfits fan so that will be surreal to be a part of.  Of course the main headliners such as Van Halen which will be another surreal moment to be part of.  Then there's also Panic At The Disco who we have met a few times and they are a pretty good band, so am excited to watch them as well.
Van Halen was certainly the announcement that snuck under the radar of a lot of people, particularly to think that Australia beat the European and USA festivals to the punch!
Yes that's going to be incredible.
How have you found the songs from the first album and the new ones fitting together in a live sense?
On this Warped tour we have about a 30 minute set, so we have been playing 3 old and 5 new songs. We pretty much do the same ratio, so if we have about a 40 minute set at Soundwave we will probably play 4 old and 6 new.  So we mix in the ones we feel are the most loved of the old ones and from the new ones, the songs we feel will go over the best.
The music of Hellogoodbye isn't something that I would consider ideally suited to the larger, festival style format.  How do you find that transition from translating the songs and your performance from a smaller, more intimate style venue, to the larger festival stages?
I like the festival style because it's a change of pace and you get to see a lot of bands.  But for our stuff and our songs, I like the smaller club shows as you have more time to set up and sound check.  We also have a lot of little instruments with us that don't always get the best sound when you are at an outdoor venue and doesn't really translate that well.  So ideally for our band it's the smaller more intimate venues, but it's a lot of fun to be part of the festival style shows!
You have a new album "Would It Kill You" about to be released here in Australia, 4 years after the last album…is that how long it took to write/record, or did you have other factors at play?
That was exactly the reason.  The record was written not long, about a year or 2 after I had joined the band, so we had everything going, but getting off our previous label was a really long and expensive process.  We didn't know whether it would actually happen, but it finally did and then it was a matter of who is going to put it out, who will do it the fastest and we cranked it out as fast as we could.  So it was done and ready to go, but was just being held up with legal "stuff".
This release has also been put out on the bands own label Wasted Summer?
We felt that would be the best thing to do, to release it ourselves.
Compared to the debut release, I am sure many will say the sound on the new album is almost as though it's a new band, was this a conscious decision or did it just occur naturally?
It's been great.  The best thing I could say is that a lot of people who come up to us say "I was 15 when you put out your first record and I loved it, now I am 20 and in college and I love the new record and I feel that I have matured with the band", that's a huge compliment for us.  Maybe the next album, when it comes out in a year or two, will be seen the same way.  We don't ever plan on making the same record twice, we want to constantly mature as a band and hopefully our fans mature along with us.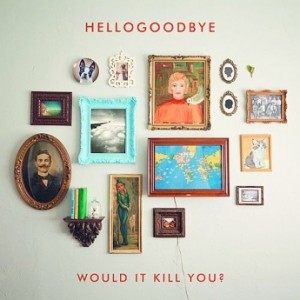 Can you give a brief insight into the songwriting process for the new album, whilst Forrest sounds like he remains the main songwriter, did the rest of the band get involved in the songwriting for this album?
Some of them we did yes.  Some songs were totally finished before we even had a chance to hear them and that's the way the Forrest wanted them to be.  But some we had a lot to do with, I wrote the lyrics for one song and about another four we wrote together.  We headed up to Big Bear Mountain in California and had a little songwriting retreat and brought some guitars and recording gear and worked on some songs to finish off the record.  We have been doing a similar thing as well with some newer songs that are yet to be recorded.  Forrest will always be the main songwriter, but we've been collaborating a little more of late.
With the current band members coming together in the last few years, how did you find the experience of your first recording experience together?
That has been really good.  Andy who plays guitar for us now, had worked with the band since 2006 doing merch and odd jobs whenever he could.  Everyone has pretty much always been friends, I have known Forrest for a while and we all have very similar musical tastes and mentalities and personalities.  So as a band I think it has been a little more cohesive than in the past.
Were there any key influences/themes in the writing, recording etc for this album and the sound/style you were aiming to achieve?
The general theme of the record was about getting old and growing up and coming to terms that you are no longer a teenager and you are definitely closer to midlife than you are to being 17 haha!  So I think that was the main theme.
With the musical shift of the new album, have you found it has attracted a new demographic to your fan base?
Yes there's definitely been a bunch of new fans.  We have had lots say to us we weren't into you guys with your last album, it wasn't really our thing, but this new one, I love it!  That's also a huge compliment as it means you are winning and converting new fans, which is nearly as important as maintaining your existing fans.  With this record there seems to be a lot more college age fans in their mid 20's who now enjoy the band.
Aside from the Vans Warped and Soundwave Festival shows, have you got much other touring on the horizon in 2011?
Well we have the Warped tour to finish off, then we are doing our own headline shows with a band called Fake Problems who are going to be supporting.  After that we have a show with Paramore in Hawaii which is pretty exciting and then a few other college shows and one offs.  Then it's off to hit Australia, which is pretty exciting!
Well our time is up, so thanks for taking the time to chat and hope you have a great time at Soundwave Revolution in September!
Thank you very much and we shall see you there!
Essential Information
From: USA
Band Members: Forrest: Vocals & Guitars, Travis: Bass, Joseph: Keys, Mike: Drums, Andy: Guitars
Websites: www.hellogoodbye.net & www.soundwaverevolution.com
Latest Release: Would It Kill You –  (2011, Shock – Australia)
You can catch Hellogoodbye on the following Counter Revolution dates:
SATURDAY 24 – BRISBANE, THE RIVERSTAGE
SUNDAY 25 – SYDNEY, BIG TOP LUNA PARK
FRIDAY 30  – MELBOURNE, FESTIVAL HALL
SUNDAY 2  – ADELAIDE, JUBILEE PAVILION, SHOWGROUNDS
MONDAY 3 – PERTH, CHALLENGE STADIUM