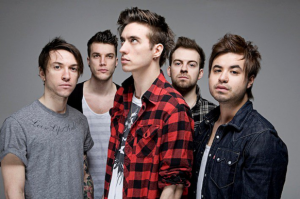 English band Young Guns in only two years have been on a whirlwind ride that not many bands get to live these days.  An EP and debut album followed by countless touring including spots at The Reading & Download festivals and now they have just been added to the amazingly monstrous Soundwave Revolution tour coming to Australian shores in September and October.  They are out to show the world they can play with the big boys and if their debut album All Our Kings Are Dead is anything to go by they just may be able to do that, with song after song of catchy rock tunes and stellar reviews from all around the world.  This is one band you should be checking out now if you haven't already.
We got to chat to Young Guns front man Gustav Wood about the band, their influences, what we can expect from them when they get to Australia for Soundwave Revolution and just what it was like opening for Bon Jovi.
For those that aren't aware of your story, can you give us a little detail as to how all of you came together to form the band leading up to the release of your first EP and start this whirlwind?
Yeah yeah sure man well basically I grew up in the centre of London, totally removed from all the other guys.  The other guys grew up outside of London in a place called Buckinghamshire. They all grew up in a local music scene playing in bands and I was never exposed to anything like that because I grew up right in the centre where things were quite different.  But through a mutual friend like six or seven years ago I ended up meeting some of the guys, we became good friends and they needed a bassist for the band they were in at the time.  I'm not a bassist but I can play guitar so they said 'well fuck it, why don't you just join and it'll be a laugh' and I said yeah sure.  Over the years line ups changed, musical styles changed.  We didn't really know what we were doing just learning to be a band, playing shows to nobody in the middle of nowhere as you do and things just kind of evolved over time.  People came, people went, line ups changed, sound changed, style changed you know what we wanted to so at the time too, piece by piece things progressed and three years ago Simon joined on the bass, I'd moved to vocals long before that and that was kind of the missing piece of the puzzle man.  We all just clicked chemistry wise, we wrote the EP in a couple of weeks, printed a couple of hundred copies and just used it as a tool to get shows and things kind of just snowballed really and it kind of took us all by surprise really and we've been holding on and trying to do as much as we can with it since then over the last couple of years.
Your debut EP Mirrors was met with rave reviews and led to the recording of your debut album 'All Our Kings Are Dead.'  Did you feel a lot of pressure going in to record a full length album after something like winning a Best Newcomer award with Kerrang?
Yeah definitely I think it was primarily though, we'd been taken a back from the response to the EP and just kind of ran with it.  We took every show that was offered to us, we did every bit of press that we could, we did everything we could to push this thing forward and that was brilliant but then people were starting to be like, great, well this EP is good but its four songs, where's your album, and we were thinking shit we've been so busy playing shows and stuff that we don't really thought about that yet, things move so fast in music now.  And our schedule was already getting booked up for the next half a year or so, so we kind of wiped five or six weeks from the calendar towards the end of the year in 2008 maybe 2009 and for 24 hours a day just sat down and wrote as much as we could.  Wrote the whole record in five or six weeks and then finished writing the record and went straight out on the Kerrang tour and then the day that finished we went in the studio, set up the drums and started doing the record.  It was very very very quick and because of that there was a lot of pressure and a lot of expectations. I mean we've always operated under a lot of expectations from ourselves and because of that there's always pressure and there's always a demand for things to be as good as they can be.  So there is always pressure from the outside, from press, from fans and stuff but we put so much on ourselves as a group anyway that it all kind of pails in comparison with that.  And it's good to have pressure you know, pressure is basically people wanting to hear your record, that's kind of what you strive for as a band so its important to be mindful of that and just appreciate it you know.
Your album has just been released in Australia yet has been out for some time elsewhere around the world, how has the reaction to it been?
Well its been phenomenal. I mean our only goal for the record was just to allow us to continue to do what we were doing and hopefully its progressed, and the reviews were fantastic, the response from the fan base has been brilliant and it definitely seems that we're blessed. I mean you know, we know that we can do better, for sure and I hope the second record is our chance to do that and I hope it is, but fundamentally we're proud of that record, its done an awful lot for us, I mean hey, we're coming over to Australia.  That record is allowing us to get on a plane and fly to the other side of the world to play for people.  It can not be understated how monumental that is for us you know, it's a total wish fulfilment and we owe that record a lot and we're pretty stoked about it.
As you've mentioned you're heading down here for Soundwave Revolution but you have supported and played on festivals such as Reading with some of the biggest bands in the world and you're about to be at Download festival in the UK, it seems like you've just been non stop since Mirrors took off, when do you see a chance for you to slow down?
I don't know you know what?  That the fear, the thing that always strikes me as funny being in a band and having a small degree of success is that you grow up thinking 'oh man if I was in a band and we're doing well it would be so great and everything would be wicked'.  The funny thing is, the better things go the more you just freak out that it's going to stop and I guess that's always the way when you're in love with something that you do.  So, the answer is I hope it never slows down, but I guess it's bound to at some point.  We're just holding on at the moment and trying to enjoy every moment that's arrived, that's kind of the only MO we have is to enjoy it you know, and to take every opportunity that comes our way and hopefully bigger and better things will happen but you never know…
Speaking of opportunities you had the chance to open for Bon Jovi last year at the O2 Arena, how was that?
Ha ha that's right yeah, there are no words, I mean that was the most surreal thing I've ever done and will probably ever do. No matter what happens to us in the future I think that will always be right up there.  I mean at that point we were still playing headline shows to a couple of hundred people a night all club shows so to go from that to playing in front of 20,000 people, we're supporting Bon Jovi it was a little hard to take in to say the least.  It was a brilliant experience and I think it was also a real catalyst for us because it was the first really large show that we'd done and I think it really helped us break the seal, after that we did a few more and we were able to settle into the role quite easily because we'd had that taste already.  But yeah man, they're kind of a band that has almost transcended being a band and it's become a piece of pop culture almost and to play a gig and to go upstairs and watch the headliner band and have that band be playing Livin' On A Prayer is a pretty weird experience.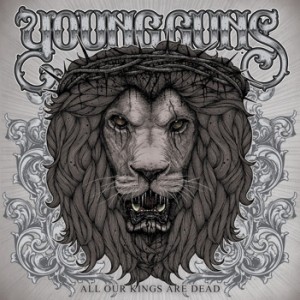 Did you get any words of wisdom from the band?
Oh fuck no, we didn't even see them. I mean they had quite a busy day anyway, but their crew were really good to us, we were taken very good care of and in that respect we got taught a lesson in humility but no in terms of meeting them as dudes, sadly that didn't happen.
Now as I mentioned, you're headed to Australia in September to play on the Soundwave Revolution bill, have you been given any warnings about the Australian crowds?
Um, no warnings are you going to give me a warning?
We're a bit crazy; we love our music down here so it's going to be a bit insane.
That's a good thing, that definitely suits us, we're kind of as a band, our goal live is to really create an atmosphere and have each show be memorable and have an energy to it you know.  I've only ever heard positive things about Australian crowds and I'm hoping we can do something pretty special together.  It sounds good though I'm beyond stoked, its just such a trip for us to be coming over we can't believe it.
Have you seen who's on the bill with you? ha ha
Yeah ha ha it's a joke isn't it?  It's so good, I never thought we'd be able to say that we're kind of touring with Van Halen but there you have it.
You'll also be sharing the bill with 'We Are The Ocean' who were one of the first bands to take you out on the road, how important were those shows with those guys?
Yeah, they're friends of ours from out this way.  That was 2009 and we'd just put out the EP and that was one of our first quote unquote proper tours, we'd done headline shows and kind of the touring circuit but never hit the larger venues, they had their first album out at the time and they were very gracious in giving us half the tour so were out there for a couple of weeks and that was a really great experience.  I suppose because of that we really owe them a lot so yeah that was really good fun, they're really good dudes and its going to be fun reconnecting with them on the opposite side of the world
Wreaking havoc you mean?
Yeah definitely ha ha
So who would you say are some of your biggest influences?
Well as a band our influences go right across the board.  I guess fundamentally we play accessible rock but we all grew up listening to Metal and going to hardcore shows and that was always part of the world that we lived in, we were all kind of immersed in and that was one of the things as a group of people that allowed us to connect at first.  Although it may not sound like it but those worlds are a very big influence on the way we play and the way we write and I'd like to think for us you know we always try to think how to bury heavier elements into our music in not really like an avert way you know.  We're not like a screaming verse melodic vocal chorus kind of band but I'd like to think within our music itself there's an obvious heavier element that we just hopefully merge it quite well.  For me personally I mean growing up my favourite bands were Metallica, Slayer, Fear Factory, stuff like that.  Lyrically I took more influence from bands like Nirvana and things like that who I grew up listening to through my brother, but our influences are right across the board man.  In our van we listen to Katy Perry or Lady Gaga as much as we'll listen to Anthrax or Metallica or more modern stuff like Architects or Lamb of God or whatever, good music is good music and I think that kind of transcends genre you know.
I always say, a good song is a good song and it doesn't matter who sings it…
Precisely and I think that is completely true you know and a good song can be any style of music or anything, a melody is a melody, a riff is a riff, if its good its good and I guess that's kind of within reason a rule we kind of live by.
So for those that may not be aware of Young Guns or have never seen you live, tell us in 25 words or less, well maybe a few more why people should come and see you on the Soundwave Revolution shows…
I think you know, we're a relatively new band, there's nothing better than going to see a band you haven't seen before and really enjoying it and in the process getting a new band you really like, we put everything we can into our live show and our end goal is to make sure everyone watching us has a good time, so best thing to do is to come down and party with us, we're over there to try and have some experiences we're never going to forget and that definitely is the goal.  I think it's going to be good man; I've got a good feeling in my bones about it.  Very positive so just come down and party with us.
Well I'll definitely be seeing you in Sydney.
For sure man, come down, we'll have a beer.  That'd be great.
Essential Information
From: UK
Sounds like: Rock
Band: Gustav Wood – Vocals, John Taylor – Guitar , Fraser Taylor – Guitar, Simon Mitchell – Bass, Ben Jolliffe – Drums
Websites: http://younggunsuk.tumblr.com & www.soundwaverevolution.com
Recent Releases: All Our Kings Are Dead {2011, Liberator Music}
You can catch Young Guns on the following Counter Revolution dates:
SATURDAY 24 – BRISBANE, THE RIVERSTAGE
SUNDAY 25 – SYDNEY, BIG TOP LUNA PARK
FRIDAY 30  – MELBOURNE, FESTIVAL HALL
SUNDAY 2  – ADELAIDE, JUBILEE PAVILION, SHOWGROUNDS
MONDAY 3 – PERTH, CHALLENGE STADIUM