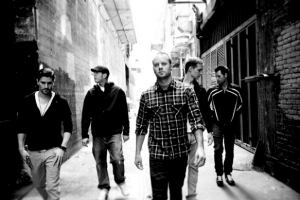 "It was all about the energy of the punk and hardcore bands of the 90's that really made us want to put everything into it (the live show) and run around and do everything possible to make people have fun and to also be into the music as well…"
Story Of The Year are no strangers to Australia, with their third visit in five years coming up in September as part of Soundwave Revolution.  With arguably their finest release, the anthemic The Constant now over a year old, in recent months the band have taken a break to pursue numerous side projects, but are now starting to turn their attention back to playing shows.  Having built a formidable reputation over their 10 years as a killer live band and with the hunger of having not played together for a few months, it goes without saying that Story Of The Year should be one of the must sees as part of the Soundwave Revolution lineup.
We chatted with the bands frontman Dan Marsala about the bands upcoming Soundwave Revolution appearance, the inspiration behind the bands live reputation and his views on what has been "the constant" when it comes to Story Of The Year over the last 10 years.
Hey Dan, thanks for taking the time to chat with May The Rock Be With You!   So how are things going right now?
Everything's going good, we are at home as we have been off for a little bit, so been kind of relaxing.  We have a couple of shows coming up in a few weeks, so just been enjoying some time off until then.
So you have a couple of warm up shows, so to speak, before you hit Australia in September?
Yes, since we have been off for a little bit, it will be good to play a few shows before we head out there in a few months.
You were out in Australia around this time last year and now heading back again in September for Soundwave Revolution, it seems you can't stay away haha!
We love it there, every time we have been it's been great.  We have always heard from all of our friends that Soundwave is the best thing ever and you have to get on it, so luckily we are doing the Soundwave Revolution this year and be a part of it.
Have you had a chance to check out the rest of the Soundwave Revolution lineup, any bands you are personally looking forward to checking out or playing with?
Yes I've been checking it out the last few days and it's a pretty amazing lineup.  There's a bunch of bands we have toured with previously like Madina Lake, Funeral For A Friend, The Used, Yellowcard, Thursday, we have toured with all those bands and they are friends of ours.  So it's going to be great to see a bunch of familiar faces.  Then there's the obvious like Van Halen which is just crazy.  It's one crazy, widespread lineup of rock, but it's gonna be awesome!
You have toured here a few times now, what are some of your favourite memories from your Australian visits and what are you looking forward to about your upcoming visit?
Every time we come it's literally amazing and we always do really well.  The last time we came we toured with Saosin who have been friends of ours for a while and it was really fun to come down with them, which was last year.  We did a tour with Flogging Molly a few years ago, I think it was 2006 and that was amazing as Flogging Molly are a great punk band and it didn't seem right that they were opening for us.  Thats a cool thing about Australia, a lot of different kind of bands can get away with touring together and it works for some reason over there.
What can fans expect from your set this time when we see you at Soundwave Revolution?
We actually rehearsed today for these other shows and we were talking about the setlist and stuff. We always try and do a spread of songs from all the records and at a Festival show you pretty much have to play the fan favourites and keep the tempo going and just ROCK!  We will put a whole heap of energy into the smaller set and go all out, which is what we usually do!
How do you find the whole festival experience, taking your music to a bigger stage, compared to playing the smaller venues?
Well both have their pros and cons.  I love festival shows because you get to play with so many different bands and you get to play in front of a heap of people who may not necessarily otherwise come and see your band.  So there's that potential to gain new fans and win people over.  But then, you get a shorter set and a lot of bands means a lot of competition, so you may not have people coming to check you out.  Smaller club and headline shows are your core fan base, so you know it's going to be insane and people will be singing along a lot more.  But you know, both types of shows are great and it's good to go back and forth doing different things.
You have certainly built up a reputation based upon your live show, who/what has inspired your performance most over the years?
Well to start with there was the late 80's hair metal bands and we would always be like, man their shows were always so big and they would run around and do lots of dumb stuff and that was fun.  But the real thing came from the mid 90's punk bands or even hardcore bands such as Snapcase and then we toured with a band called Goldfinger as one of our very first tours who are always a great live band.  It was all about the energy of the punk and hardcore bands of the 90's that really made us want to put everything into it and run around and do everything possible to make people have fun and to be into the music as well.  You know, it's a combination of all our influences and the live show is always much better if the band is giving it everything they've got!
Is there an area of the world you haven't yet had the opportunity to tour, but is high on your list?
The only continent we have not yet played is Africa and we have had a few offers to play South Africa, but have never followed through with it.  So that's one thing I would really like to do.  I would also like to get back to South America as we have only been there the once.  But other than that, we have pretty much covered the world which is pretty crazy for 5 guys playing rock music.  I never thought I would get to do all of that.
Which leads nicely into the next question, earlier this year you played a special gig in your hometown, St Louis, playing the album Page Avenue in it's entirety.  How was that experience re-visiting that album in a live sense and also the gig as an affirmation of what the band has achieved in it's 10 years?
That was a really great show, in fact probably one of our favourite shows we have ever played.  For many reasons – it was hometown,  so lots of family and friends and people who have loved our band from the very beginning were there.  Then just being able to celebrate being a band for about 10 years now and just the whole night, it was a very special night and very nostalgic for everybody.  It was fun and we hope to take the Page Avenue full record out on the road at some point in the future.
Are you guys still all based there?
Yeah most of us are still based here, except for our bass player Adam, who lives in LA right now, but the rest of us are still here.
I know most of you guys have been busy working on side projects, but has there been any work/talk commenced yet on the follow up album to The Constant?
We've talked about some ideas here and there but no we haven't gotten together and written anything yet.  We have each been busy messing with side projects and working on other stuff and playing music with other people.  Doing different stuff and playing with other people, we have found that it makes us more excited about playing Story Of The Year stuff.  We have purposefully given ourselves a couple of months away from each other so that it's fresh and new again when we do get back writing a new record.
Now that you have had over a year to reflect on The Constant, were there any key learnings from that experience you are looking to capitalise on going into working on the follow up?
On The Constant we did something different that we had never done, we had a set date and we were only going to write for 2 months.  We sat in a room for 2 months and said whatever the end product is, that's what we are going to record.  That's the first time we had ever done that.  Normally we would start writing and about half way through we would be like, that's it we almost have enough blah blah blah.  But we ended up writing 15 songs in that two months and recorded 13 for the album.  The other two were decent songs as well.  It ended working out really well and I think we will try and stick to a similar process the next time.  It was kinda like, everybody just gets in a room and any ideas you have throw it out there and then everybody work on whatever you like.  It wasn't a whole lot of "hey I have this whole song, I think we should play this".  We just all got in a room and jammed together which is more fun I think.
Earlier this year you recorded a version of Nirvana's "Breed" for a Nirvana tribute album, is this any closer to coming out do you know?
Well that was the plan which is why we recorded it, but I haven't heard anymore about a release date or anything, so I haven't heard what the deal is with that.  I don't know if anything happened with that album, I'm not too sure. But either way we need to get our version out there as it turned out really great and was fun to record.
10 years and 4 albums in….rather than asking how the band has changed, what has remained the same with the band?
That's a good one!  Luckily the members of the band haven't changed for the entirety of our career which is pretty awesome.  We all still really, really like each other.  We were all friends first and music just started out as something to do for us.  We hung out and we were skateboarders and we would all just hang out and music was like our hobby, and luckily that became our job.  We all still get along great all these years later and that's something that keeps us going and kept us strong over the years. It's hard to find these days, a lot of bands hate each other, but they still play together to make money.  We've been lucky!
Thanks Dan for chatting with May The Rock Be With You, we look forward to seeing you down here in September!
Well thank you very much and thanks for taking the time for the interview and we will be there soon, it's going to be fun!
Essential Information
From: USA
Band Members: Dan Marsala – Vocals, Philip Sneed – Guitar, Vocals, Ryan Phillips – Guitar, Josh Wills – Drums, Adam 'The Skull' Russell- Bass
Websites: www.myspace.com/storyoftheyear & www.soundwaverevolution.com
Latest Release: The Constant – (2010, Epitaph Records)
You can catch Story Of The Year on the following Counter Revolution dates:
SATURDAY 24 – BRISBANE, THE RIVERSTAGE
SUNDAY 25 – SYDNEY, BIG TOP LUNA PARK
FRIDAY 30  – MELBOURNE, FESTIVAL HALL
SUNDAY 2  – ADELAIDE, JUBILEE PAVILION, SHOWGROUNDS
MONDAY 3 – PERTH, CHALLENGE STADIUM