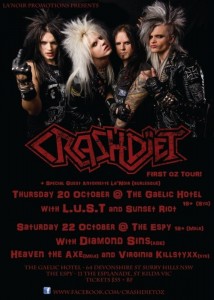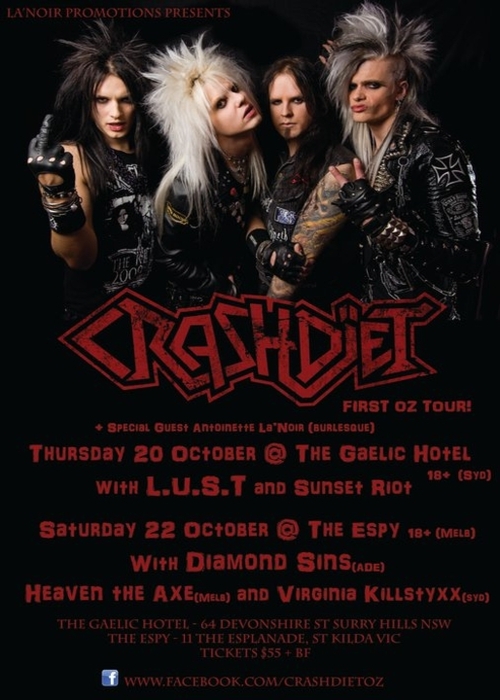 La'Noir Promotions Presents Crashdiet + Special Guest Antoinette La'Noir
Crashdiet (Sweden) A leading force in the Swedish "sleaze rock" scene of the 2000s ? a revival of the glam metal (or hair metal) of the 1980s, but with a more pronounced punk element, often rawer in sound and raunchier in style ? CRASHDÏET formed in 2000, taking inspiration from Skid Row, Guns N' Roses, Kiss, W.A.S.P., and G.G. Allin, and vowing to bring back the big shows and big songs of "unpredictable and dangerous" rock & roll.
In April of 2010 they released their third album entitled "Generation Wild", a masterpiece that pretty much sums up the extraordinary but yet tragic history of a band, determined to never give up their dream.
CRASHDÏET has become known as a band with a huge following of diehard fans, and although its their third time around with a new singer (Simon Cruz), the massive interest for the band never seems to fade.
SUPPORT ACT DETAILS
Antoinette La'Noir (Syd) – Burlesque
Mz Antoinette has been performing for the last 14 years singing and dancing and now at the age of 22 is gracing the stage of Burlesque.
L.U.S.T (Sydney) – Main Support Sydney 20.10.2011
Spewing forth from the gutters of Sydney comes L.U.S.T. with their in your face, take no prisoners brand of underground rock and roll. Musically drawing inspiration from rock bands such as AC/DC, Motorhead, Motley Crue and Guns and roses, with an attitude fueled by punk rock bands like the Sex Pistols, Ramones and Dead Boys. L.U.S.T. rock heavy, loud and hard.
Sunset Riot (Sydney) – First Support Sydney 20.10.2011
Fusing explosive guitars with in your face vocals and pounding drums and bass, Sunset Riot have managed to create a sound that is equal parts swagger and in your face excitement!! The live show is an experience NOT to be missed.
Diamond Sins (Adelaide) – Main Support Melbourne 22.10.2011
A high energy Death-punk band from Adelaide Australia. Formed in 2006 the band quickly had heads turning with their larger than life stage show and loud, raw music. Drawing influences from 1970's punk and the over the top metal of the 80's.
Heaven the Axe (Melb) – Second Support Melbourne 22.10.2011
VRRROOMM! Imagine a hot chick driving a MACK TRUCK…and get a picture of the musical grunt behind new Australian 5 piece band HEAVEN THE AXE. Based in Melbourne, the band is a musical interpretation of rock songs penned by vocalist Phoebe Pinnock, which are played filtered through the brains of metal-head hard rock riffers, hitters and chuggers.  The musicians are an enviable collection of members of pioneering, internationally reknowned Aussie metal bands (such as Damaged, Manticore, House of Thumbs, The Berzerker, Abramelin) who just cant help but to play the tunes tough.
Virginia Killstyxx (Sydney) – First Support Melbourne 22.10.2011
ROCKER'S DON'T GO TO SLEEP… THEY PASS OUT!!! And VIRGINIA KILLSTYXX lives by this motto. Paying homage to their influences 50's Blues, 60s Rock 'n' Roll, 70's punk and 80's heavy metal, KILLSTYXX will leave you soaking wet in real Rock n roll!!!
http://www.myspace.com/virginiakillstyxx