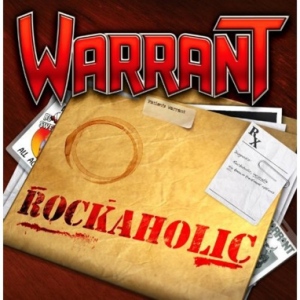 For those that aren't aware, yes Warrant are still around, they do have a different singer and with his inclusion they rock better than ever. 'Rockaholic' is Warrant's first release since 2006's 'Born Again' that featured Black 'N Blue singer Jaime St James, now with St James out, the failed return of Jani Lane and with former Lynch Mob / Big Cock vocalist Robert Mason in, Warrant have found their sound again and to quote a song from the album the 'Show Must Go On.'
The opening riff to 'Sex Ain't Love' gets you prepped for what is a killer song with a big chorus that would kick ass live but it also sets the tone for the other 13 tracks. The sound on this album shows shades of the Warrant of old with that traditional 80's hard rock sound but at times they've given it an updated feel. The band is sounding great and Mason's vocals suit the music perfectly.  It's refreshing to hear new music from a band that still love doing what they do and I guess that's where the title of the album came from, they're Rockaholics.
The album powers through tracks such as 'Snake' and 'Dusty's Revenge' which gives guitarist Joey Allen a chance to showcase his talents. But it's when it gets to the big ballad 'Home' that I'm sold, this song should be a smash hit, or at least in movies, just something to get it heard along with 'That's What Love Can Do' which could be another smash. I'm really impressed with what they've done on this album and I'm not even half way through. The first single from the album is called 'Life's A Song' and I feel this is as close to original Warrant as you'll get, it's a real throwback to that 80's sound with the harmony vocals a real treat. It's a foot tapper that's for sure. My favourite on 'Rockaholic' comes in the form of another big power ballad called 'Found Forever' this is a stand out and should have lighters (I'm old school) held aloft all around the world.
The album continues to give us some more rockers and ballads, it's the perfect mix and when it finishes off with the balls out rockin' track 'The Last Straw' and you've just had your ass kicked from start to finish, you can walk away happy with what Rockaholic has delivered.
Overall, this is a great rock album and it's refreshing to hear bands still making albums like this. The songs are great, the band have a new energy injected into them and let's hope that Rockaholic gives Warrant the credit they deserve once again.
My name is Troy Culpan and I'm a Rockaholic.
Tracklist
01. Sex Ain't Love
02. Innocence Gone
03. Snake
04. Dusty's Revenge
05. Home
06. What Love Can Do
07. Life's A Song
08. Show Must Go On
09. Cocaine Freight Train
10. Found Forever
11. Candy Man
12. Sunshine
13. Tears In The City
14. The Last Straw
Essential Information
Musical Style: Hard Rock
Released: May 13 (International) May 17 (USA)
Label: Frontiers Records, Riot! Entertainment
Website: www.warrantrocks.com
Check it out if you like: Warrant