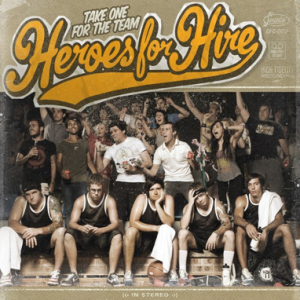 If infectious three minute pop punk anthems are your thing, then the second album from Australian five piece Heroes For Hire, Take One For The Team is what you seek.  Following the experience of recording the first album and relentless touring with some of the heavyweights from the pop & punk genre behind them, Take One For The Team is the sound of a band that has grown it's musical chops and honed it's song style.  A song style where all 12 tracks are anthems and importantly memorable anthems at that.
If lead track, No Milk Will Ever Be Our Milk, driven by a slamming guitar riff and some infectious hooks and melodies, doesn't grab you, then obviously kick ass pop punk isn't your thing.  All Messed Up may be the first single, but believe me there's more where that came from – Secrets, Lies and Sins has hit single written all over it!  Songs laced with humour (check some of the song titles below), some blazin' guitar solo's and jam packed with sing along chorus's, it's got something for everyone…yes there's even a heart wrenching acoustic ballad.
The guys headed to Baltimore, USA to record the album with producer Paul Leavitt (All Time Low, Senses Fail) and I sense its only a matter of time before the band are back in the USA for a tour that will surely stamp their authority internationally as Australia's leading purveyors of pop punk.
Tracklist
1.No Milk Will Ever Be Our Milk
2.All Messed Up
3.You Only Live Once
4.Doonside High School Football Rules
5.Secrets, Lies And Sins
6.That's Not Flying, It's Falling With Style
7.East Coast Blazin'
8.It's Not Too Late
9.A Crash Course In Comedowns
10.The World For You
11.Keep Me Safe
12.Before I Die
Essential Information
Musical Style: Pop Punk
Released: May 13th
Label: Shock Records
Website: www.heroesforhire.com www.takeonefortheteam.com
Check it out if you like: Bowling For Soup, New Found Glory, Bodyjar and anthemic pop punk