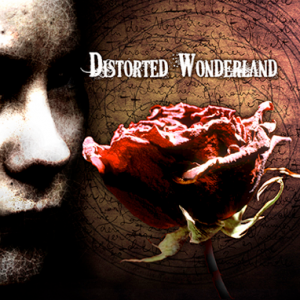 In this digital age and particularly with all the music that comes through May The Rock Be With You, it's a very rare occurence in my world to discover a killer band, the old fashioned way…in a record store!  Props go out to the ever reliable Sash and his store Realm Of Kaos (details below) for putting me onto Distorted Wonderland when I last popped in for a visit.  Within the first minute of hearing opening track and first single Raised on Rock N Roll, I was sold at "Hello, Hello…", check the video clip over to the right and see what I mean.
So let's back track for moment, Distorted Wonderland rose out of the ashes of Swedish glam band Overnight Sensation which came to an end in 2009.  Having sung backup vocals on Hardcore Superstars fourth album, vocalist Olof Lindgren and bass player Axel Karlsson got the desire in their veins to pursue a different musical direction that combined strong melodies with hard and heavy riffs.  And that my friends describes Distorted Wonderland perfectly.  With my favourite Motley Crue album being the John Corabi self titled release, this album really does channel a similar kind of vibe, mixed with the best of the Swedish sleaze rock movement.
Featuring 11 songs of slamming rifftastic hard rock, with some massive chorus's, snarling vocals and a massive production courtesy of Lingdren and Karlsson themselves, the album just doesn't let up, from the opening track Raised On Rock N Roll, a lyric tale of life in a rock band, through to the venomous vocals and crushing riffs splayed all over Never Had Nothing, and the slight industrial feel on one of the closing tracks On The Other Hoirizon.
So just when I thought Sweden had offered up all it's awesomeness for the time being, Distorted Wonderland is another to add to the list.  If the likes of Hardcore Superstar, Chris Laney, Crashdiet and John Corabi are your thing, then you DEFINITELY need to check out this release from Distorted Wonderland, it will rock your socks off!
Tracklist
1.Raised On Rock N Roll
2.Losing It
3.Slave Of My Desire
4.In For A Thrill
5.Never Had Nothing
6.Behind The Scenes
7.Waving The Flag
8.Stand And Deliver
9.Guillotine Babies
10.On The Other Horizon
11.Tangerine
Essential Information
Musical Style: Hard Rock
Released: Out Now
Label: Jamsync music www.jamsyncmusic.com
Website: www.distortedwonderland.com
Check it out if you like: Anthemic metal hard rock and Corabi era Motley Crue