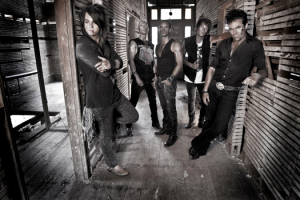 Ten Thousand's sound is a cocktail of outrageous rock 'n roll and explosive style. A dynamic mixture of southern blues, funky latin percussion, epic stadium sized guitar riffs, shredding solos and mysterious eastern melodies, its Sin City meets Led Zeppelin, an edge of your seat action blockbuster which has left audiences and promoters screaming for more…..
Comprising the talents of Jay Bowen (vocals), Marty K and Brandon Valentine (guitar), Mike Rivers (drums) and Luke Mckenzie (bass).. take the journey and enter the world of Ten Thousand…. You will discover a finely tuned machine, an elite force of talented mercenaries unquestionably committed, capable of unleashing tremendous energy & power!  A diverse, dramatic yet sexy blend of powerhouse rock which has shaken the Australian music scene.
Since exploding onto the scene in mid 2010 the band has been busy playing shows supporting the likes of Electric Mary, Jerrico, Tread and Johnny No Mercy.  Already with a music video under their belts and in the process of filming a documentary, Ten Thousand are keeping themselves busier than ever. With a sound thats both provocative, in your face yet completly melodic and accessible the band is poised to take on the music industry head on. With the release of their debut EP set for early 2011 its looking like its going to be a huge year.
* Bio above courtesy of Ten Thousand Myspace Page
The bands singer Jay Bowen tells us all about Ten Thousand and why they might just be one of the best things you've never heard!
Let's start with the basics first – what brought the band together and what is the inspiration behind the band name?
We met the old fashioned way – on the internet!  Marty put the call out that he was putting together a guitar-based, groove driven band to which Brandon and I answered.  I remembered Mike's drumming from working with him years before and thought he might've been interested.  Turns out he was and with the core group of four established, we simply wrote and jammed for close to eight months while looking for a bass player.  All of us were attached to other projects which all seemed to take a back-seat as the bands sound developed into a progressive, southern-roots based sound.  It was not till we found Luke through a mutual friend that the group consciousness just clicked into another gear and we felt whole at last – and with a full bag of tunes behind us!  Looking back, it's a miracle that we got through! It was very humble beginnings let me tell you, getting the line-up right, negotiating our sound…it was down to Marty and I for a while!  All of that stuff is so funny now considering how strong we are as a unit.
As for the name i guess we cant give everything away so we ll leave that for  you guys to work out… haha
You have twenty seconds in an elevator to try and convince someone to listen to your music, what do you tell them?
Remember being a teenager and the rush you would get when seeing the person you had the hots for?  What it felt like running strong with your mates with the freedom and abandon you once knew?  The burning importance of everything you felt at that age?  Dancing crazy for the fun of it, screaming out loud for the love of it.  Imagine all that intensity and passion rolled up into a voice, a song, a sound.  That's our band!!
Can you introduce each member of your band and give us a rock "n" roll fact or myth about each of them?
Marty K – Guitar.  DJ by day, axe-man by night! Lives and breathes music. A certified lady-killer! Survives on an hour's sleep a day!
Brandon Valentine – Lead Guitar.  Youngest member…naaaww!!  A musical prodigy, can talk underwater, has more energy than the greater Melbourne power grid!
Luke McKenzie – Bass.  Freshly relocated to sunny Melbourne from the ship-wreck coast…..corruption underway!  A smiling assassin, he can play a gig completely blindfolded!
Mike J Rivers – Drums.  The Italian stallion! Has faced death and won! A lover AND a fighter! Breathes fire and has arms forged from real adamantium!
Jay Bowen – Vox.  Oldest member, should know better! Horse-wrangler, thespian, international man of mystery! Acid-tongued, acid-washed and powered by Jack!
You have recently released the single 'Devils Dance' from your forthcoming EP.  Can you give us an insight into the song and also the concept behind the incredibly visual single cover?
Devil's dance is about baaaad girls… haha ..girls who do anything to climb their way up the social ladder!! Its about living on the edge and playing with fire… and that one day chances are your gonna get burnt!  We've all been burnt by someone like this…as a guy you cant quite put your finger on how you feel when you're in love or lust with someone who treats you bad.  Sometimes it heightens their appeal, sometimes you just wanna wreak havoc! lol…having said that they is nothing wrong with bad girls though haha!
Our images explore a kind've wasteland…the wasteland of the human mind, where primal, base survival kicks in.  They channel the darker side of human emotion, motivations and behaviour.  We're all huge fans of Grindhouse cinema, Tarantino, westerns and gangster films…so we get a lot of inspiration from that as well.  But ultimately the single artwork represents the immediate danger that these girls face, it;s right there, right in your face but at the same time its masked in shadow and silhouetted so its hard to see who or where its coming from!!
When can we expect more awesome rock music from you to be released such as an EP?
We'll be releasing another single soon with the full EP to follow in the next three months.
In terms of your songwriting, what do you consider to be the most important ingredients that make up a Ten Thousand song?
The groove is important – theres nothing like seeing people groove their arses off to our songs! I guess taking something classic and just flipping it on its head to see where it can go and just trying to experiment like that. Other than that, the call and response between the vocals and the guitars…with a guitar hook that you just cant stop humming.
Is the process of songwriting a whole of band affair, or are there a few key contributors?
Different combinations of the band will bring in different ideas, theres not one person that it all comes from. We spend a lot of time experimenting and exploring ideas and really try to get to the core of the songs.  We ll each bring in ideas, riffs, lyrics, concepts and build songs around them… we spend a bit of time in Marty's home studio and we record hours and hours of jams from which we might get only a single rifff.  I guess its a pretty intense process which gets pretty heated sometimes haha.. we ve had cameras following us around for the last couple months so a lot of it will be featured in a documentary which should be coming out later this year!
What or who inspires/influences your music the most?
I guess our music is inspired by the sound of the big 80s bands like, dare I say, Aerosmith, Bon Jovi, Motley Crue, Guns n' Roses etc… mainly I think because we essentially have a blues and roots core and so did they. But we try not to copy those bands, rather I think we try and capture what they were vibing on and inject it into the music we write without necessarily sounding like them. The largesse of that sound is also something we try to push – big riffs, big notes, see how big we can make it and how much we can get away with.
What bands did you grow up listening to and how did they help create the style of music that can now be heard throughout your music?
I've definitely come back to what I listened to when I was 13 or 14…thankfully I had pretty good taste…I just lived and breathed INXS, AC/DC and Guns n' Roses at that age.  They were everything to me.  I was from a small town in the bush, very isolated.  These songs were the way I learnt about the world outside. It's the band that we'd always dreamed of being in at that age – that's what we went ahead and created.
What kind of movie do you think your music would be best suited to and why?
Definitely action or something with a lot of grunt.  A road movie, a western…any grindhouse horror from the 70's and 80's.  It's the kinda stuff guys wanna play loud and girls wanna dance to…the bad girls!  Haha The dude that saves the world and gets the girl at the end of the flick? Our stuff would be his theme-music. haha… .but in a cheekier, slightly more baddass way haha
For those reading this who haven't yet had the pleasure, how would you describe 45 minutes spent at a Ten Thousand live show?
A real, live, hot, sweaty, fun, sexy,  good-time, rock n' roll affair!!  A big sound served red-hot! Its definately a show….I think you just need to come check it out!
You hail from Melbourne rock city, for those reading this in galaxies far, far away, what do you have to say about the rock scene from which you originate?
Melbourne is such an eclectic, vibrant city, right down the bottom of the world, beating with a massive heart.  Cold outside for most of the year, the indoor night-life is electric!  So easy to meet people who are hot for a good time, so many bars with young bands playing of exceptional quality…its great looking around at our peers thinking "All of these guys ROCK! Who's gunna explode first?".
Of the gigs you have played so far, is there one that stands out from amongst the rest?
I'd honestly have to say we look back on each gig thinking the last one was the best.  Its just so much fun at the moment.  We're just a new, gigging band. We don't have a long list of big names that we've supported.  However, our first gig at Cherry Bar last year, September 11 of all dates, felt incredible.  We had a huge turn out and we pulled out a few new songs that we'd been working on.  There was just a magic in the air that night.  I think maybe it was the first time we each felt, at the same time, that anything was possible for us.
With 2011 already a few months down, here's a chance to gaze into your crystal ball.  In 2011, Ten Thousand will have:
1.  Our first clip!
2.  A song all over the radio!
3.  YOU in the palm of our hands!  lol
Essential Information
From: Melbourne, Australia
Sounds Like: A cocktail of outrageous rock n roll and explosive style
Band Members: Jay Bowen – Vocals, Marty K – Guitars, Brandon Valentine – Guitars, Mike Rivers – Drums, Luke McKenzie – Bass
Websites: Ten Thousand Facebook  Ten Thousand Myspace
Latest Release: Devils Dance (single)