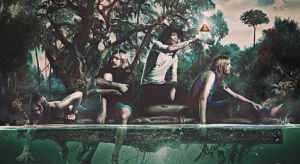 For Sweden's Graveyard, to say it's all happening is a slight understatement right at this very moment.  News just in sees their second album Hisingen Blues hit the Number 1 position in the Swedish album charts, whilst in the summer they will be sharing a stage with metal masters Iron Maiden in Gothenburg….that's a pretty awesome start to the year in my opinion!
So just backtracking, who exactly are Graveyard, some of you may be wondering?  Well one thing that can be said about the band Gothenburg, Sweden is that they certainly stand out from the crowd.  A unique mix of classic rock, blues, jazz, folk and a range of other musical influences to create music that is high in musicianship, lyrics that will stir in the listener a range of emotions and feelings, topped off with a 60's and 70's vibe, but still distinctly modern.
The bands drummer Axel Sjöberg gives an in depth insight into the process the band undertook to record and write their second album Hisingen Blues,
Congratulations on Hisingen Blues, which is your second album, it must be a good feeling to have the album finished and to soon be out playing it live!
Yes indeed, indeed.  It's been four years since our last album, so we have been waiting for quite a while for this one to get out.
You mentioned that it's been four years since your last album, was this how long the process took, or where there delays in the process?
The four years was not just because we write songs too slow, it was the co-ordination of schedules with our producer who also tours with other bands as a sound engineer.  Then we ourselves toured and then we had an offer for another tour that was too good to pass up.  Then it took a while for us to find the right label and we had our manager sorting out the details with Nuclear Blast and so on.
Going into writing and recording for the album, did you have a specific vision in mind with how you wanted the album to be, or did this evolve naturally through the process?
Well our intentions were to make a hell of a rock record and of course there's many ways to do that.  We aren't really a band that thinks too much when we write music as we are a band that jams a lot and we write that way.  If it feels good when we are jamming, then we know we are onto something. If you play around with a riff for example and you don't get a feel for it, then there's no use really continuing with it.
Can you give an insight into the songwriting process for how a Graveyard song typically evolves?  Do you each bring in your own ideas, or is it a couple of key band members, do you write mostly in the studio?
Well it's actually all of those actions!  Because I am the drummer and I don't play guitar, I don't come up with any riffs.  But we all write lyrics and everyone is really involved in the evolution of the songs, even though it might of been just one guy who write the riff.  We are all involved in completing the structure of the song and working out where chorus should go and solos.  The instrumental track on the album, Longing just started out with one riff that we played around with in our rehearsal space, then we took it into the studio and it built up from there.
Being your second album and having benefited from the process of your first album, did you change up the process this time around?  
Yes I think both consciously and unconsciously we were careful this time to work with a song until we were sure it was fully complete.  Not just record it, then add a guitar solo and boom the song is complete.  The circumstances of this album were so different to our first album which was recorded after only three months and three shows of being a band.  We didn't know each other musically that well last time.  This time the album is much more worked through and talked through and well crafted.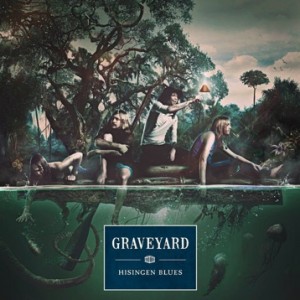 Producing the album, you used Don Alsterberg, who produced your first album.  Can you give an insight into what it's like working with Don and how much involvement he has?
Well it's just like a big wrestling fight haha!  We have a lot of faith and trust in Don's judgement.  Sometimes when he wants to keep continuing with a song we may say, no, the song is done. So it's really all kind of ways and lot's of arguments haha!  He is very much also involved with the song melodies.  He likes old soul a lot.  When we jam and write a song in the rehearsal space, we can get introspective and Joakim maybe doesn't see as much as he needs to.  When you want to put out a good album you have to think if your audience and that's where Don comes into it as he has a much better sense of the overall picture than what we probably do as a band.
What was the inspiration behind calling the record Hisingen Blues?
Hisingen is a part of Gothenburg, it's practically half the city almost. It has a lot of worn down working class areas, there's an atmosphere that's a bit rough and melancholy.  Rik our bass player wrote the song when he was living there and having a down period. Then when we finished the  song and nearly the album, we thought it would be a good title for the song and the album.  We thought that song caught the atmosphere of the album as a whole.
In a lyrical sense, where do you draw inspiration?
We don't have specific themes as such.  Lyrics come from everyday life ups and downs. The only thing I can say is they are not really happy go lucky lyrics, they are sombre and melancholy.
You recently released a video clip for Hisingen Blues, who came up with the concept for the video and were there any interesting stories to tell about it's recording/creation?
It was a friend of our manager who worked for a big advertising company that was doing high fashion stuff.  He got sick of that and came across an old video camera from the sixties and managed to modify it so he could direct the signal straight into the computer as it was originally set up for tape.  We liked the grainy black and white feel of the camera and we discussed it a bit and decided to do a video that had a bit of a Credence vibe who were a band that had nice videos, but we did it just a bit darker maybe.  It's not a Roman Polanski production, it's just a music video, it's kind of lo-fi, but nice.
Now onto the cd cover artwork, how did you come up with that concept and who did the creating?
It's a friend of ours who plays bass in a band from Gothenburg too called Bombus, but he also works as a graphic designer.  It was when we were doing press pictures for promotion and we were after something different.  We had seen the work he had done for his own band which was amazing stuff.  So we took some photos in front of a green screen as he had a loose idea and then he went to work.  Then when we saw the first draft, we were like "this has to be the cover".  He is a great guy, with a great imagination and he gets what we are about so he is able to display Graveyard in a good way.
Do the members of the band all share similar musical influences or are you each rather unique?
Well it's fair to say we each grew up on different music, but now we are pretty common.  I think there's more music that we share and like, than what we dislike.
Hisingen Blues is released by Nuclear Blast, a label with worldwide distribution to places far, far away such as Australia!  Is there much of a focus at this point on touring/promotion worldwide?
Indeed, indeed!  We have actually been over to the USA three times before and now with the support of a big label like Nuclear Blast, touring will be even easier as they are so good with promotion.  Getting back to the USA maybe we can now get a tour support or something like that.
So do you have any firm plans to head back to the USA this year?
Yes in late August/ early September we are headed back again which will be good!  Actually, we were offered a big festival in June or July, but because we are such a small band, the fee we were offered wouldn't have covered the expenses so we had to say no unfortunately.
As far as your native Sweden, is Graveyards style of rock something represented by similar bands to yourself or is Graveyard more of an exception?
I think now it's easier to find bands like ours, or at least inspired by the same stuff.  I think that also depends on how interested in music you are, however.  Since the day we started playing we knew about bands who were into similar stuff and we have friends in bands here in Gothenburg that we set up shows with and stuff.  But it all then gets back to how much attention you get.
Here's a chance to do some crystal ball gazing…what three things will happen in. 2011 for the band? 3 things in 2011….
1. Well I know for sure I will see a lot of the highway haha!
2. I hope that we can live up to expectations people have of this band and the album and they take it to their hearts and appreciate us.
3. I sure would like to come to Australia, but I am very afraid of the dangerous spiders you have over there!
Essential Information
From: Sweden
Band: Joakim Nilsson – Guitar & Vocals, Jonathan Ramm – Guitar, Rikard Edlund – Bass, Axel Sjöberg – Drums
Websites: http://www.myspace.com/graveyardsongs
Latest Release: Hisingen Blues – (2011, Riot Entertainment!/Nuclear Blast)