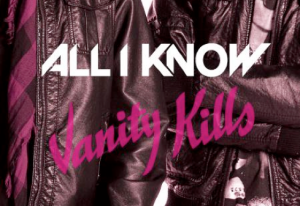 In a May The Rock Be With You first, All I Know are the first band from Belgium to grace these pages.  Having recently released their album Vanity Kills via Melodic Rock Records, All I Know are a band who deliver instantly memorable melodic rock songs.  So memorable in fact, that the Beau Hill (Warrant, Ratt, Winger) mixed Rain and the majestic ballad Asphyxia have quickly shot up the charts on my most played iPod songs and are both already firmly entrenched in my Top 10 songs of the year thus far.
Eager to find out more about All I Know, the bands vocalist Ward, kindly answered my probing questions….
Let's start with the basics first – how long has the band been together and what is the inspiration behind the band name?
AIK started out in early 2005, so it's been 6 years now.  Since music is all we really live for, at the time we thought the name 'All I Know' more than fit the bill.  In hindsight, had cooler heads prevailed we might have gone for something a little more 'rock n' roll'.  In fact, just before the re-release of the album we briefly toyed with the idea of changing the name to 'Vanity Kills'.
You have twenty seconds in an elevator to try and convince someone to listen to your CD 'Vanity Kills', what do you tell them?
If, like us, you haven't heard any new band in over 20 years that doesn't downright suck, if you're just as sick and tired of all the crap on the contemporary radio as we are, and you lose yourself in nostalgia about the late '80's, look no further, AIK will deliver !
Can you introduce each member of your band and give us a rock "n" roll fact or myth about each?
Sam, the drummer, is the new kid on the block.  He first auditioned for the band back in early 2008 when we lost our original drummer, so it took him 3 years to join the band !  Seriously, he can play the drums, sing and spin his drumstick at the same time, so we knew he was our guy.
Michael is our lead guitarist and go-to guy when it comes to recording.  He was trained at Jet Studio, one of Belgium's most renowned studios, and he has worked with some of the biggest names in rock and pop in the country.
Amély plays the bass and she is the Benjamin of the band.  Obviously, the three of us are in it for the girls, but since we want to appeal to as broad an audience as possible, we figured we needed a hot chick to draw in the boys, you know?  She had never touched a bass before joining the band, how rock n' roll is that ?  Eat your heart out, Sid Vicious.
Finally, there's me, Ward, the singer.  At 29, I'm the 'oldest'.  I'm already cultivating my L(ead) S(inger) D(isease), so I'm right on track for rock stardom.
You have recently released your CD 'Vanity Kills', how long did the process of writing and recording the songs take?
The album is actually a re-release of our debut which we released independently at the tail end of 2008.  It probably took about a year to get the songs together, which was a cakewalk compared to the actual recording, which took another full year.  Having zero budget forced us to rely on recording during 'dead time' in the studio where Michael was working as an assistant.  That led to months and months of waiting in between sessions.  If you'd add it all up,  the actual recording took about a month, and another 2 weeks of mixing and mastering.
Your album has been released via Melodic Rock Records, which is based here in Australia.  How did a band all the way in Belgium attract the attention of Andrew McNiece and Melodic Rock Records?
In this day and age, it's not easy getting noticed for a young unsigned band.  So we shopped our independent release around to any and all labels in the world, hoping for someone to take a shot.
I knew about Andrew because of his amazing website (www.melodicrockrecords.com) and I knew he had a lot of connections, so I figured it was worth the shot to try and get him involved.  He liked the album from the get-go, and was convinced he could get us signed with one of the leading AOR labels.  However, like us, he quickly learned that the music industry is in a deep crisis and no one is eager to take a chance on an unknown band anymore, even if most of them were, by their own admission, blown away by our album.  So, in the end, being the dedicated music lover that he is, he took it upon himself to start his own label, and release the damn thing himself!  We are forever in his debt!
In terms of your songwriting, what do you consider to be the most important ingredients that need to feature in an All I Know song?
It all comes down to the melody.  Anyone can write a song, but if the melody doesn't stand out immediately, it's not a hit.  I always go for the hook.  I want to make sure that anyone can hum along to it from the first time they hear it, and have it stuck in their heads.  It also, obviously, needs to rock.  As a band we want as broad an audience as we can get, even your mother should be able to like it.  But we're a rock band, not a pop band.  So it has to have that edge to it.
One of my favourite tracks on the album is "Rain" which the legendary Beau Hill has mixed.  How did you get Beau involved in your album?
In April of last year, we were contacted by Beau out of the blue.  To make a long story short, our album managed to cross the Atlantic, and someone at the US radio station KEGL, who scouts bands for Beau Hill's production company, passed him the album.  He claimed that out of all the bands he gets to hear on a daily basis, a song like 'Rain' was really rare true gem.  He felt he could improve on the mix, to let it reach its true crossover radio potential.  After recovering from the shock of getting such praise from a hero in the genre, we sent him the session tracks, and boy did he deliver!  It opened a lot of doors for us.  It's been a real dream come true, and a definite motivation to keep going, even if the odds were stacked against us.
The track "Asphyxia" is a majestic ballad with some awesome arrangements and musicianship that I almost have on repeat whenever I listen to the album.  What is the inspiration behind this song and do you have any interesting stories to share from the recording/writing of this song?
'Asphyxia' was inspired by a true story of love gone bad.  I'm not going to go into detail, it's kinda personal, and I'd like to leave it up to the listener to get their own message from it.
It's one of the older songs on the album, probably about 5 years old.  It was written on acoustic guitar in no more than half an hour.  As usual, the lyrics weren't finished, and the bridge was completely rewritten at the last minute, right before I sang it in the studio.  The keyboard arrangement was done by David Poltrock, who is a famous pianist and producer in Belgium, and has worked with the biggest stars.  I remember the shivers down my spine when we first go to hear the whole thing.  Definitely a personal favourite, and one of the things I'm most proud of.
We don't get to play it much live, with the intricate arrangement and all.  We've done it acoustically a few times.  In time I'd like to add a keyboard player to the band, to do it justice.
What or who inspires/influences your music the most?
I write two kinds of songs.  They're either fun songs, about chasing chicks and living the life, or they're based on true stories.  Things that touched me emotionally, that I need to release one way or the other.  Songs like 'Asphyxia' or 'I Need You' are prime examples of that.  I've lived those stories, but I always try to make it universal enough so anyone can get something from it.
What bands did you grow up listening to and how did they help create the style of music that can now be heard throughout your album?
My interest in music started at the very beginning of the nineties, so I pretty much missed out on the original wave of late '80s hair metal.  Like so many of my peers, I was heavily into Guns N' Roses, at the height of their popularity during the Use Your Illusion era.  To this day I'm still a fanatic GNR collector.  AIK doesn't have that blues based rock foundation that GNR had, but that was definitely a defining moment on my way to picking up the guitar and being in a band. Other things I picked up on early on were more pop oriented bands like Bon Jovi, Bryan Adams, and even Roxette.  Later on, I worked my way backwards, through Hollywood stuff like Motley Crue and Poison, all the way to the mid '70's origins of AOR, with legends like Foreigner, REO, Journey and Toto.  I'd say throw any of the aforementioned sounds into a blender and add a modern twist, and you're pretty close to the sound AIK is going for.
Having gone through the process of writing, recording and  now releasing your CD, as well as playing live shows….I gotta ask, what's the most rewarding aspect of doing what you do with All I Know?
It never ceases to amaze me how music can reach and touch people in the outer corners of the world.  It's immensely gratifying to see something you've put your heart and soul into, not to mention your hard-earned cash, make waves in far out places like Brazil or Japan.  Signing to Melodic Rock Records helped us reach a truly international audience.  The positive reactions we're getting from all over the globe makes it all worthwile.
 What touring plans do you have during 2011?  Do you have any shows lined up during the Europe summer touring craziness of June/July/August etc?
We're looking into the possibility of doing some of the European rock festivals this summer, and/or scoring an opening slot for a more established band in our genre.  Like I said earlier, it's not easy these days getting noticed, so if the demand is there, don't hesitate to get in touch !
Listening to your album, I certainly can't help but be swept away by it's uplifting musical vibe and endless hooks and melodies, a perfect soundtrack to accompany a happy mood!  Referring to soundtracks, what kind of movie do you think your music would be suited too and why?
Soundtracks can be a perfect vehicle for an unknown band to cross over in a major way.  I think what's happening to Belgian choir Scala after landing the Social Network trailer soundtrack is a perfect example of that.  Obviously we'd open to anything like that, although I still feel paying your dues and starting at the bottom of the ladder is the way to go in the long run.  Going from zero to hero can make or break a band.
As far as soundtracks I would have liked to have been a part of, I'd have to go for '80's blockbusters like Top Gun.  Those synth-heavy melodic rock songs can really take a simple story to the next level!
You hail from Belgium, for those reading this in galaxies far, far away, what do you have to say about the rock scene in Belgium?  Are there many other bands that play similar music to All I Know?
Belgium has an extensive pool of bands that have a shot at crossing the borders, but they're all in the same vein of indie rock or Britpop (and a few dance acts).  There's no audience whatsoever for AOR or melodic rock bands, in fact it's frowned upon very heavily.  It's no big secret we get most of our reviews/interviews from abroad !  As far as I know, at the moment we are the only band doing what we do, not counting cover bands.  If only we were born 20 years earlier!
With 2011 already a few months down, here's a chance to gaze into your crystal ball.  In 2011, All I Know will have:
1. Completed the writing and recording of the next album, due somewhere in 2012.
2. Opened for a legendary rock act.
3. Reached more people than in the first 5 years combined.
Essential Information
From: Belgium
Sounds Like: Killer melodic rock with an almost 80's sountrack vibe!
Band: Ward D – Vocals / Guitars, Michael N – Guitars / Vocals, Amely M – Bass, Sam B – Drums
Website: www.alliknow.be
Latest Release: Vanity Kills – 2010 (Melodic Rock Records)