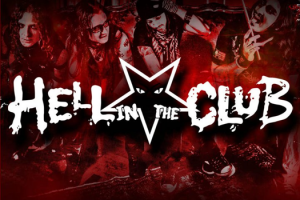 Being no strangers to the Italian scene with the heavier bands with which they are also involved, Hell In The Club was spawned from an idea of bass player Andy Buratto to create a band that delivered kick ass rock songs in the tradition of the classics from the 80's.  Of course in 2011 that concept is nothing new, but some execute such visions better than others.  In Hell In The Club's case the vision is very nicely executed!
One thing that can't be denied about their debut album Let The Games Begin is that it is indeed a 12 song wild ride through everything that lovers of 80's hard rock get off on!  Kick ass riffs, some massive chorus's, goodtime lyrics, it's all there!  If first single the ultra catchy anthem On The Road doesn't stay stuck in your head on first listen and beg you to check them out more, then you obviously aren't 80's enough in the first place!
With the help of vocalist Dave and bass player Andy, may we let the games begin and find out more about Hell In The Club….
Generally speaking, joining up power metal and progressive backgrounds, you wouldn't expect to create a great mix of glam/sleaze rock.  What was the burning desire to create such a band?
DAVE:  The burning flame was to play anything that wasn't power or progressive anymore.  Hehe I'm kidding!  Actually we all grew up with this music and it was our main influence throughout all these years.  We have listened to bands like Kiss, Motley Crue, Guns 'n' Roses, Queen, AC/DC etc since we were kids and we still follow the modern scene with bands like Hardcore Superstar, Crashdiet, Wig Wam, Hinder, Nickelback, Papa Roach, Buckcherry and many many others.  Finally we had the chance to put up this band, everything was in place, the right people, the right songs… so it's kind of a big dream come true for all of us!
What was the inspiration behind the band name 'Hell In The Club'?
ANDY:  I took the inspiration from the Wrestling show called "Hell In The Cell" where the wrestlers fight in a ring inside a big cage!  Like them, here the musicians create a show on stage! It's just a funny idea 🙂 It's a way to say : "ok guys. let's get the party started"!
Can you introduce each member of your band and give us an interesting rock n roll "fact" about each!
DAVE:  Well….let's start with Andy. He is the bass player and he is the one who started it all.  He is always sober and he is an extremely serious guy. Then we have Picco, the guitar player. He is extremely good with his instrument…the most patient and gentle one in the band. Then we have Fede, the drum player. He doesn't like to eat much but still he's so powerful on the drums. Then there's me… I like to have a healthy life, I don't drink, don't smoke.  I am a strict catholic guy. This is Hell In The Club!
ANDY: the real name of my singer is Pinocchio:-))) right now his nose is so long….:-)
We are a good team, there is a great feeling in this band, we are just crazy rock n roll Italian guys:-))
How did you find the recording experience for 'Let The Games Begin', given you also produced your album and as a band you were relatively new in terms of playing and recording together?|
ANDY:  We were lucky to record the album in Fede's studio.  He is also our drummer so we had the chance to take all the time we needed.  The recordings took place in a fantastic atmosphere full of enthusiasm and without any tension!  It's awesome because we understand each other perfectly and no one comes out with ideas the others don't like…it's great to work this way!
With bass player Andy having already written the songs for Hell In The Club, how much influence did the rest of the band have further developing the songs as we hear them on the album?
ANDY:  All Hell In The Club guys listen to rock n roll / hard rock music, but we are all open-minded.  We like every kind of music that lights up emotions inside of us, we take inspiration from all the magical world called music.  Obviously we prefer hard rock, rock n roll, or metal music but for us it's important to not create limits about inspirations and influences because all different kind of sounds can be a little gift that help evolving our musical abilities!
What or who inspires or influences your music the most, both lyrically and musically?
DAVE:  As I said in the first answer all those bands were the main influence, since we grew up with them.  But that's not the only thing that influences us. We also love the good old rock'n'roll from the 50's – artists like Elvis, Johnny Cash, Jerry Lee Lewis, etc, even punk or pop music…it just has to be cool! 🙂  Lyrically we are influenced by our life, our feelings, the things we love and we live every day.
You have released a video for the first single for On The Road, which is an anthem to end all anthems.  Can you share with us the concept behind the song and what you were aiming for with the video?
ANDY:  We have chosen On The Road for the first videoclip because we think it's a very catchy song and it may draw people's attention pretty well.  There are more potential singles inside Let The Games Begin' but at the moment we picked On The Road,  but there will be some more surprises soon! 🙂
The song is dedicated to the fascination of travelling seen from the eyes of a musician on tour, a thing that can be adapted to every kind of traveller, the magical sensation of being free on the road and facing all the emotional things that can happen, meeting new people, visiting new cities..it's a tribute to freedom!
Your album has been released by the label Avenue Of Allies, which is fast becoming known worldwide for it's awesome hard rock/melodic rock/AOR releases….how did the association with Avenue Of Allies come about?
DAVE: It was pretty simple. We sent the album and they liked it 🙂 We trusted Avenue because we thought that a small label would concentrate on our band and give us all the attention we needed since we are a new act, with a first album, and so on.  So far I see they're doing a good job, people are starting to know us, so we are achieving the first goal, step by step!
What kind of movie do you think your music would be best suited to and why?
DAVE: Actually I think that a big American rock'n'roll road movie would be a good choice for our music (On The Road). I am a big horror fan too, so I would love to add a bit of violence here and there (No Appreciation)– without forgetting the sex of course (Rock Down This Place). Tarantino would be great for this!
ANDY:  Apart from the age of the band:-) I think the perfect movie is Still Crazy…because it's about the passion and the madness in the rock n roll world!!!
You hail from Italy, can you tell us what the music scene is like in Italy, are there many rock/metal bands like yourself?
ANDY:  There are many very good bands here in Italy!  But in our country it's not very easy to get out of the underground rock scene, there's not a big support from the media and this genre isn't supported that much from the masses either.  We don't have a strong rock culture, there are a lot of rockers, but not as in other countries where the rock'n'roll style is more popular and well seen.
In creating Hell In The Club, what did you think that Hell In The Club could offer that is missing from the music scene currently?
DAVE: There are so many bands around…I just hope people will realize we have some good melodies, some great hooks and that we play with the heart.  These are the main features. We are willing to play some great music but we don't have any big ambition to be the most original band, the best band…we just play the music we love and we do it with passion.
If you could play your music to any one of your musical heroes, who would it be and why?
DAVE: I love and respect a lot of artists. But one of the biggest songwriters in rock for me is Paul Stanley, so I'll probably go to him and ask HIM to play for ME! 🙂
ANDY: There are a lot of great musical heroes but now I choose two great singers that we won't see anymore on stage…Freddie Mercury and Steve Lee…R.I.P.
DAVE: Good choice buddy… I really miss them..especially Freddie.
Now here's your chance to gaze into the future, by the end of 2011, Hell In The Club will have…..
DAVE: a new bass player..hopefully….!
ANDY: :-))) Fuck you Dave!!!:-) if you want another bass player I want a female singer with an incredible body!!!:-)))  Anyway..seriously…we hope to have a big success and a pool full of girlssssssss!!;-)))
Essential Information
From: Italy
Sounds Like: Hard Rock
Band Members: Dave – Vocals, Picco – Andy – Bass, Fede – Drums
Website: www.hellintheclub.com
Latest Release: Let The Games Begin (Avenue Of Allies)