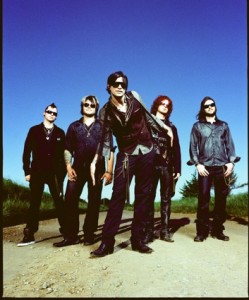 It's now about nigh on 5 years since Oklahoma, USA rockers Hinder blasted onto the radar here in Australia with their worldwide breakthrough smash single Lips Of An Angel off their debut album. Following that up with the killer dose of catchy as hell modern rock debauchery on Take It To The Limits (how awesome is Loaded And Alone!), the band now unleash the heavier All American Nightmare upon us.
Written and recorded mostly on the road, All American Nightmare sees the band deliver some of their heaviest songs yet (Waking Up The Devil), whilst also their most reflective (What Ya Gonna Do). To pursue the darker, heavier vibe of this album the band introduced Kevin Churko (Ozzy Osbourne) into the producers chair at the expense of Brian Howes who had been instrumental in the sound and songs of the first two albums.
Drummer Cody Hanson, also co-producer of the album called in to have a chat a matter of hours before hitting the stage in the USA…
Thanks Cody for taking the time to chat! You are out on tour right now and I see about to play with a favourite band of mine, Lynam!
Yeah it's our first show back since the Xmas break and we are playing at Jackson, Mississippi. It's been a long time since we've seen the Lynam guys and we are all good friends so it's exciting to hang out with them again.
All American Nightmare has been out now for over a month, what songs have you already thrown into your setlist, how are they to play live?
Well we had been playing six songs from the album since we started on this tour, tonight I think we might add two more new ones we haven't played before so we are kind of excited. The new tracks have been awesome to play and see the crowd reaction and then see what pops up on YouTube and peoples comments. Striptease is a new song we are going to add tonight, which is a song that seems to be popular with people online.
It has been documented that you wrote a stack of songs for this album, some whilst out on the road. Did you find the inspiration for songs you were writing changed from when you were on the road compared to the songs you wrote later on?
No I don't think so. Writing for me kinda all depends on your mood that day, or what you are thinking about. You know a lot of different things can influence what you are writing about. You might of seen something on TV that day which may of sparked some memory or thought about something. So I don't really think it matters to much to us if we are on the road or at home or in a writing session in general.
Now onto the album and the lead up to the album….going from touring nonstop for the best part of five years and then taking eight months off and adjusting to life in general…which I guess as a band you deal with on the song What Ya Gonna Do. What was the biggest reality check during this period for you personally?
For me I think it was a bit different to the rest of the guys. I was constantly working on the demos and pre-production and getting the songs in order and ready to record, while the rest of the guys were taking time off and unwinding. We decided to build a studio, which is actually at my house. So I was getting all that ready too during the break and didn't really have that free time.
Given you played a major part in the production of this album in conjunction with Kevin Churko, what were some of the key things you set out to achieve from a production point of view on this album compared to your previous two?
Well we had worked with the same guy on the first two albums and we knew it was time for a change and do some things different. Our main goal was to make our rock songs a little heavier and darker and relevant with what's going on with the rock scene today. Then at the same time we wanted to have the other songs that are very self reflective and melodic and something a little different to what we have done in the past. I think that's what is cool about this album, there's a huge variety of different types of songs. There's not only your rock songs, mid tempo and ballads, but also specialty songs that don't fall into those categories which are more light hearted and funny. You can't always take yourself seriously all the time. We are a pretty stupid group of guys who like to have a good time and we wanted people to musically see that side of us too.
Is producing something you could see yourself doing more of in the future, working with other bands?
Well I am constantly working on recording other projects. During this recent little break I don't think I took a single day off. I am constantly doing stuff, but like you said, Hinder is my priority and been my life for 10 years now so that's always going take the priority over everything else.
Austin's vocals sound the best they have been on this record, wearing your producers hat, do you put this down to 5 hard years on the road toughening up his voice, or did was it something that was focussed on during recording?
I think it's a combination of the two you know. We had been out on the road for a long time and it's given him the freedom to kind of ad-lib at times and strengthen his vocal abilities. This time he was given the freedom even in the studio to play around a bit more and do some things he wasn't normally able to do and have a little more fun with it and it made a big difference as you noted!
A couple of my personal favourites on the album are The Life and Red Tail Lights…any interesting stories to share about the evolution of these songs?
No not really, both of those songs pretty much stayed in line with the early demos we recorded whilst out on the road. The Life is about the story people have seen a million times, where you have a kid from a small town and things are great there, but he thinks that going to that big city is going to change everything in his life. But when he gets there he kind of realises oh wow things aren't always better on the other side, this is a lonely life out here and he realises he had things back home that made him happy all along. That's the story that happens all the time and we all see it and it's something we wanted to touch on. Red Tail Lights is that kind of breakup song which everyone has been through and we wanted to make it a very visual type of story.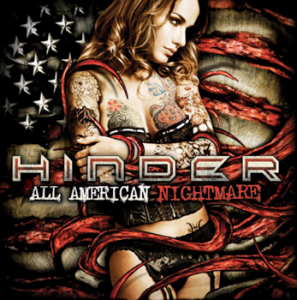 I have to ask about the involvement of the Warren Brothers in the songwriting of this album, who I am familiar with from having a minor hit here in Oz many years ago now. how did this association come about?
Well on this album we really wanted to do things different and in the past we would say ok, we need 10 songs or whatever and that's all we would write and record. This time we decided we will just write as many songs as we could, with as many different people as we could and do co-writes all over the world , which we did, but for some reason the Warren Brothers we just clicked with. Everyone time we would get with them our chemistry was great and our favourite songs would always come out of those sessions. They are super talented songwriters and just crazy dudes overall!
How did you find the process of co-producing with Kevin Churko?
It was a really cool process, as we discussed earlier we recorded over 50 songs while we were on the road, myself and Marshall Dutton the other co-producer, so we got the songs to a pretty high standard already. It was good when we brought in Kevin to have that third persons perspective, which then took the songs up to another level. It worked out great and I am extremely happy with how it all turned out.
Thanks for the song Striptease which certainly captures my own personal thoughts on the whole infatuation media has with nobodies these days, it's no different here in Australia….whilst rock music and bands such as the likes of Hinder are either ignored by media or portrayed to avoided like the plague!
Well it started off with everything that's played on pop radio these days with the auto tuned voices etc and that whole thing that's been done over and over getting crammed down everyones throats. So we were sitting there with the Warren Brothers actually and talking about all that and happened to look down and there was Kesha on the front cover of Billboard which was around the time that song Tik Tok was out and we were really, really irritated by that, which I am sure you can tell by the lyrics haha! But not only that, it's all the reality TV crap full of people who get famous and have absolutely no talent. So we lumped all of that together and that's what Striptease is about!
You are doing a run of dates now in the USA, is there any plan at this point to tour outside of the USA later in the year, maybe Australia for example?
We really hope we can tour outside of the USA but that all depends on what we get for support as far as radio play and media however. If somebody can spark some interest in Australia for example, we would be over there in a second! That's one of our favourite places we have ever been. I think our label maybe handled some things wrong over there, were not too sure what happened but we are hoping the new album sparks some interest and we can get back to Australia soon!
What were some of your favourite memories from your time here?
Well we were in Sydney on this big boat going past the Opera House and creeping under the bridge…we were drinking all day and we were hammered. But I don't know why, but the guy operating the boat got the bright idea to let is come in and drive it haha! I am not sure if that was a good idea given it was a full boat, but that was definitely one of my favourite memories.
Are there any plans to release a live DVD at any point in the near future?
At this moment it's not really something on the radar. We have only just released the new album and the first single All American Nightmare is still climbing at rock radio and we haven't even considered the second single! At some point down the road we are going to have to start thinking about some different things to release, so yeah it's always a possibility.
There are many references to the bands influences throughout the album on songs such as Put That Record On, but now it's tine for Cody Hanson to share some of your influences to play the drums, but you can also play guitar right?
That's interesting actually as looking back I really don't have any drummers I look at and go I want to steal that guys style, or I wanna be like him. Whoever I found myself watching at the time I always found myself glued to the drummer and I always wanted to play drums. As I got a little older I started paying attention to Tommy Lee and Lars Ulrich and Vinnie Paul and that's when I started to get a bit more serious I guess.
The whole "party" band reputation certainly dominates the perception of Hinder, but what i want to know is if any of you guys have any weird/wonderful interests outside of music?
Haha that's funny as the answer is no! Aside from myself who has gotten into recording and producing, outside of that everyone else kinda hangs out and drinks all day! Even when we are home we are just partying nonstop haha!
Here's your chance to gaze into your crystal ball, in 2011, will have done the following 3 songs…..
All I can really hope is we can get a few more singles out and on the radio and gather some momentum and build that fan base. Of course we also hope we can stay out on the road for a few years which is the ultimate goal, but especially to play outside of the USA, that's a massive goal. We have done it before and we had some great success overseas with the first album so hopefully people will catch onto All American Nightmare!
Essential Information
From: USA
Band: Austin Winkler: vocals, Joe 'Blower' Garvey: guitar, Mark King: guitar, Mike Rodden: bass, Cody Hanson: drums
Websites: www.hindermusic.com
Latest CD Release: All American Nightmare (2010)