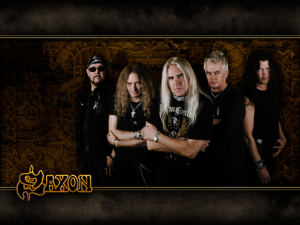 Saxon – one of the pioneers and long lasting bands from the New Wave Of British Heavy Metal (NWOBHM) era that spawned the likes of Iron Maiden and Judas Priest will be soon heading to Australia to take part in the Soundwave Festival tour.  2010 saw the band celebrate their 30th year and sees the Saxon legacy as strong as ever.  Having released the DVD movie 'Heavy Metal Thunder', the band are currently in the studio working on a new album, due for release in early 2011.
Graciously taking time out from recording in the studio to chat, Saxon's legendary vocalist 'Biff' Byford chats about the band's upcoming visit to Australia, next year's Sweden Rock appearance and just why Saxon remain as strong as ever after 30 years!
Well Biff, thanks for taking the time to chat.  So soon you will be having your 2nd time down under….
Yes that's right, this is our second time.
Now that you have been to Australia once,  what are your expectations about what to expect from the tour once you get down here?
Oh the first time was great.  For the first time here we had some good fans come out to see us.  We didn't come to Australia in the 80's and I think we missed a few opportunities to become much bigger in Australia.  But, we are on the Soundwave Festival, so that's fantastic!
Iron Maiden,  Slayer, Slash……then Avenged Sevenfold, Bullet For My Valentine, Sevendust for example, the festival has a mix of old and new metal. 
Well yes there is Iron Maiden who are obviously 'classic' and then a lot of new bands.  It should be a great festival for the audience!
Soundwave has a pretty killer lineup, at least as far as here in Australia goes…both old and new bands. I guess the great  things about these festivals is for a band such as Saxon to be playing to audiences made up of most likely 3 generations of fans….
Well yes definitely.  Given it was our 30th anniversary this year, we have got 3 generation of fans definitely.  There are young fans now who have just gotten into the music and then fans who have been with us from the 80's.  It's a good place to be actually, bands like us and Maiden, Motörhead, Priest, Slayer we all have a huge fan following from all generations.
You are travelling to most of Australia's major cities, I dare say you will get a small amount of time to check out some sights…anything specific on the list? 
Well we might be actually playing a couple of extra shows maybe.  I think they want us to headline a couple of shows, because we are on quite early at the festival aren't we? So that would be good to play a few shows with the longer set.  We had a good look around Sydney the last time, didn't get to Perth however and we get to go to Adelaide this time as well. When we came last time we did Brisbane, Sydney and Melbourne.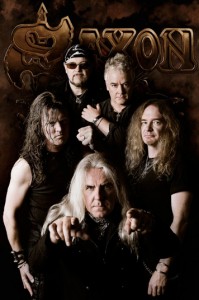 With 30+ years worth of material to choose from….what can we expect to hear whilst you are out here in Australia?
Well we might play a couple of new songs which would be the first time we have played them in Australia which would be kind of cool.  It will be a bit of a mix between the last few albums and the classics from the 80's, a power set really! We won't be playing that long anyway given we are on early, so we will try and squeeze in as many as possible.
Of particular interest to me because I will be there….for Sweden Rock 2011 – I read that you will be playing the entire "Denim & Leather" album and at Monsters of Rock you played "Wheels Of Steel".
Yes we did, which was great!  Oh are you, that will be great, it's an awesome festival Sweden Rock.  That's a very mixed festival as well, very mixed bill. I think we have got the full production there too with the eagle and everything as we are headlining the rock stage aren't we?  It will be a very big gig for Saxon.  The promoter asked as a special favour if we would play the 'Denim and Leather' album as it's his favourite album.  We will be playing some other songs as well, not just that album.
Here in Australia we don't exactly have the metal festivals of Europe which you have played many many times!  What are some of Biff's tips for surviving my first European rock festival haha?
Well you need three things in big supply…water, toilet paper and some beer haha!  That's all you need…
We just dont have that festival culture here!
Well in Europe everyone camps out in a tent.  Each festival has these huge camp sites which they call villages, but they are more like cities.  People have a great three or four days together, then head back to their homes.
How did you come to be associated with Bullet?
Well we had played together on a few festivals and gotten to know them.  They are a good band, good time rock, almost like a Swedish version of your Australian Airbourne, you know what I mean? We know Airbourne, we did a lot of shows with them a few years ago when they first started to rise.  They are good lads, we like them.
You earlier released a mega DVD compilation, "Heavy Metal Thunder – The Movie", with documentary, footage from a show in Germany during 1981, a St. George's Day gig from 2008, interviews from the Crusader era, film of the band recording the Innocence Is No Excuse and Into The Labyrinth albums.
We like that DVD, it's got some great reviews and its just been voted the 3rd best DVD of the year, so yes we are very,very pleased with it!
Ok, looking back over your career…not that I am saying you have already done it all, but what's still high on your list of things you want to achieve from music that you haven't yet done?
Well we aren't really a band that's going to make a lot of surprises really or suddenly change and do a four CD concept album haha!  We are recording the new album with more of a live feel to it, trying to get a bit more passion into the recording.  It's pretty much Saxon through and through really, no big suprises in store.
Is there anywhere that you haven't yet had the opportunity to play live?
We keep getting asked to play various places, with India coming up a lot.  So we might head down there and get a nice curry!
Where many artists have come and gone, what do you attribute Saxon's longevity in music to?  
I think we have the fans to thank for that for sticking with us for so long.  That's what it's all about really.  I think we have also managed to keep the lineup very strong and release strong albums.  We are always pushing to write great songs, we don't just want to write and release a bunch of rubbish.
Biff, thanks for taking the time to chat, and all the best with the visit to Australia and recording the new album!
Thankyou, well remember you will also be seeing Saxon at Sweden Rock!
Yes indeed I shall, I will be getting a double shot of Saxon in  2011!  
A double shot of Saxon haha, just like a double shot of Jack Daniels!!
Essential Information
Fom: UK
Band: Biff Byford – Vocals, Doug Scarratt – Guitar, Paul Quinn – Guitar, Nibbs Carter – Bass, keyboards, Nigel Glockler – Drums
Websites: www.saxon747.com & www.soundwavefestival.com
Latest CD Release: Heavy Metal Thunder (DVD)