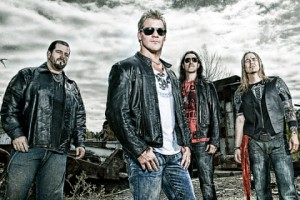 Fozzy, the band featuring WWE Wrestling Superstar Chris Jericho and Stuck Mojo mastermind Rich 'The Duke' Ward have announced that due to overwhelming public demand they will return to Australia for the first time since 2005!  Fozzy, who also feature Sean Delson and Frank Fontsere (Stuck Mojo) and Billy Grey (Dangerous New Machine), will hit Australian shores this December touring in support of the latest and critically acclaimed album 'Chasing the Grail'.
There is no doubt the Fozzy are one of the most dynamic and energetic live acts on the scene. Jericho brings his WWE theatrics to the stage along with Ward's lively stage presence and fretboard wizardry topped off by the technical powerhouse rhythm section of Fontsere and Delson.
Chris Jericho sounds the war cry: "Our fans in Australia are some of the best Fozzyfans in the world and we heard your demands, so we are coming back and we are looking forward to tearing the house down with each and every one of you crazy bastards this December!"
Fozzy frontman Chris Jericho recently chatted with May The Rock Be With You about the upcoming Australian tour….
Hey Chris, thanks for chatting with us!  So you have recently been on tour to UK/Ireland/Europe…how do they love their Fozzy and how do Fozzy love the UK/Europe?
We toured all over the country, Ireland, Scotland, Wales, England and up to France.  The shows were amazing, the crowds were great, the response was great and the new songs were awesome live!  It was a great tour all round, was a lot of fun!
But we are here to chat about your upcoming Aussie tour.  It's been 5 years since you have been to Australia, apart from lots' of rock, what can fans expect from your shows?
Actually what I meant to say before was that whilst the UK has been a great fanbase for us, so has Australia! Five years ago when we came over, the tour was awesome but this time it's going to blow it out of the water.  The Aussie fans were so welcoming of Fozzy and five years may have passed, but we have a lot of tricks up our sleeve now.  I think the new songs have really made a difference to how the shows are live.  Like I said, we are really excited as we have been waiting for such a long time to come back to Australia.  It's a great rock and roll country and as I said before, besides the UK, Australia is our biggest fanbase and record sales per capita is in Australia!
I chatted to The Duke many months ago now on the eve of the release of Chasing the Grail…,..now that the album has been out for a while, what are your thoughts on the response it has received worldwide?
The thing is we took our time with this record because we really wanted to make our mark and we knew we had the chance to take the band to the next level.  That's why it took us 5 years to do the album.  The way that Rich and I wrote the songs and the diversity of songs on the album really took some people by surprise, people who had been fans of the band got more into us and people who had never heard of us got a chance to see and hear what Fozzy does.  It really has been huge for us across the board and it has taken us to the next level all around the world.  Now we are really excited about starting for the next record.
How do you arrive at your sources of inspiration for the songs/lyrics, with topics like Vikings and phobia of Friday 13th on Chasing The Grail?
I always come up with the song title first.  If something captures my imagination I will write down the title and then go back and write some lyrics from there.  When you talk about the phobia of Friday the 13th (Paraskavedekatriaphobia), I saw that word in a magazine car ad and thought what's that crazy word.  When I found out what it meant it really just made it very easy and the song virtually wrote itself.  When you talk about 'Wormwood', I knew it was going to be a long song, I wanted to do a long song and I always wanted to do a song based upon the Book Of Revelations from the bible.  So once again I had to get online and do a bunch of research for that.  I had to do a lot of research for 'Pray For Blood' which is about 16th Century Vikings who ate the hearts of their slain enemies thinking they were going to gain their courage.  Then there are other sings like 'Martyr No More' that is a wordplay song. 'Under Blackened Skies', I wrote that about a relationship gone wrong.  'Let The Madness Begin' is about a guy that keeps screwing up his life.  So all of these songs began with the song title as I said and worked my way backwards from there.  I love working that way as it really is an interesting way to write lyrics.  I always enjoyed listening to a band like Iron Maiden where you would always learn something from listening to their lyrics and that's how I try and write too.
Just touching on the origins of Fozzy, it's kind of ironic that here we are in 2010 with a handful of bands like Steel Panther, Rock Sugar etc with the whole story lines and names and outfits who you could almost say are early era Fozzy on steroids haha?  Your thoughts on this…
It is funny because in a lot of ways we were the original Steel Panther. I always knew that a concept like that could work, the reason why we stopped doing it after a few years was we knew we had some chemistry as a band and we wanted to continue forward and be ourselves.  I always thought a band like that could work as I said, because heavy metal as a whole is very funny, it can be very comical and if you take that element and exploit it as a parody, then I knew someone could do something with it.  I am glad they did, to have Steel Panther playing Download and Donnington is pretty damn cool as far as I am concerned.
You've worked with a number of artists such as Zakk Wylde and Mark Tremonti, but one in particular we're interested in is Butch Walker.  How did you come to work with Butch back in the early days of Fozzy?
Well we were looking for someone to play a solo on that song from the first album, but I don't really remember the reason why.  I'm not sure exactly, we just needed a guest to sing on it.  We were thinking of Sebastian Bach but it just didn't work out.  Butch was a friend of Rich's just from being in the Atlanta scene and this is well before he was the biggest producer in North America that he is now.  So it is funny that he did play and sing on 'Over The Mountain' with us and now he is like super duper star!
Has there ever been a time when you felt that you wouldn't be able to balance your wrestling career and your musical career?
Both of those are things that I have always done and wanted to do and always knew that I would.  I have been playing in bands since I was 12 years old, a lot longer than I have been wrestling for.  Its part of who I am as a person and who I am as a performer.  It's a bit of a juggling act you know, but it's a passion that I have as I have continued playing music through my whole life, even when I started wrestling.  I started Fozzy in 1999.  I have been fortunate that I had 2 dreams as a kid and I have been able to do both of them.
Being a wrestler vs being a rockstar, whilst both are "entertainers"…what do you get from one you don't get from the other and vice versa?
There are a lot of similarities between the two.  I think the fact they are both high energy forms of entertainment with a lot of emphasis on what reaction you get from the fans.  When I started wresting whilst I had a lot of wrestling influences, the likes of Paul Stanley and David Lee Roth were huge influences on me when i first started because of their over the top showmanship and charisma.  When I started I was really small for a wrestler so I thought how can I make the best presence on the show with the biggest personality and be larger than life like Paul Stanley and DLR.  I took that right from the start and had a lot of rock n roll influence on my wrestling.  Likewise there is a lot of wrestling influence when onstage with Fozzy as you need to be able to lead the crowd and dictate the pace of the show.  I think that's why I have been successful as a frontman because I have been leading crowds for 20 odd years.  Show business is show business and wrestling to me has always been show business, it's all about entertaining the crowd.
As a music fan yourself, what are your thoughts on the state of the rock/metal world….right now it's a pretty healthy scene with a lot of the classic bands still going strong!
Absolutely and that's the cool thing, I think it really is a timeless form of entertainment as music really does keep you young and keeps you in that mindset of having a great time and being that little bit of a rebel.  So I think metal has always been great, even because of it having that underground kind of vibe.  That's why I love coming over to Australia or touring the UK as the States is very much based on the latest trend and what's popular.  But you guys and the UK you just like what you like and that's all that matters and that's why I think Fozzy has done so well in both those countries, because we do what we do and people get into it and get excited by it!
Can you share with us your thoughts on your fans, both as Fozzy and also as Chris Jericho the wrestler. 
Both have very loyal fanbases I have found and that's one cool thing about the people who come to see Fozzy, they are Chris Jericho fans too.  Whether they like me from wrestling or Fozzy or the books I have written or whatever, the most important thing is that the crowd have really gotten into who we are as a band, the last couple of years especially.  It doesn't really matter what else I do….all that matters is that Fozzy is here and that Jericho is the singer and that they kick ass.  That's the most important thing and I love the fact that the fans are loyal in that way and I have spent 20 years building that fanbase, so its cool to have that loyalty.
Any final messages for all your Fozzy fans down under?
We are just really excited to be coming back over to Australia.  We have been waiting for a long time and we are really excited to make this work.  The new songs sound amazing live, the vibe is great, the energy is great, the band is on a high and we are really excited to bring the 'Fozzy Madness' over to Australia and hang out with all our friends, it's been a long time!
'Chasing the Grail' is in stores now via Riot! / Warner Music. Or from The Riot Shop
Special Limited VIP Meet and Greet packages are also available!
Australian Tour December 2010
Thursday 2nd December
The Hi Fi – Melbourne
Friday 3rd December
The Factory – All Ages Sydney
Sunday 5th December
The Hi Fi – Brisbane
Tickets On Sale Now!
Sydney tickets: www.ticketek.com.au Phone: 132 849
Melbourne & Brisbane Tickets: www.thehifi.com.au Phone: 1300 843 443
From: USA
Band Members: Chris Jericho – Vocals, Rich Ward – Guitar, Frank Fontsere – Drums, Sean Delson – Bass
Websites: www.fozzyrocks.com
Latest CD Release: Chasing The Grail – March 2010 (Riot!)
www.riotact.com.au 
www.redchapterclothing.com 
www.fozzyrock.com