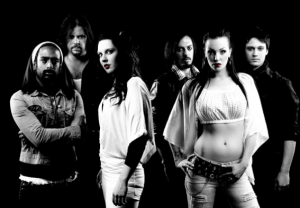 All Ends latest album 'A Road To Depression' is quite possibly one of the albums of the year, at least according to my ears.  Founded back in 2003 as a side project of In Flames guitarists Björn Gelotte and Jesper Strömblad, the band soon turned into much more than just a project. After both had quit their duty as active / touring musicians with All Ends, the band got signed 2006 and released the successful single 'Wasting Life' and soon after their debut album.
Whilst the dual female vocal fronted band suffered a setback in 2009 when their original singer departed the band due to personal reasons, Jonna Sailon was welcomed to the fold and the band soon after commenced work on what we now hear with 'A Road To Depression'.  Recorded in Gothenburg with famed Swedish producer Roberto Laghi, songs like the first single 'Generation Disgrace', uncompromising rockers such as 'I Know Who I Am' or Area 1 or the haunting ballad 'Hear Me Now' are destined to elevate the band to prominence on the worldwide stage.
The bands affable drummer Joey Skansas checked in with us to discuss the evolution of the album, the visual concept behind the band and their plans for global domination!
Congratulations Joey on the awesome new album "A Road To Depression", it's been an eventful few years since your first release, it must be great to finally have the album unleashed on the world…
Yes exactly.  From the very beginning we started with Bjorn and Jesper but they were never in the band, it was just writing songs with them.  With Emma leaving, we now have Jonna of course singing with us and it's all been going great.
Since the last album, there has been a few lineup changes. How has the band settled now?
For the record, today I am actually a little bit fucked up because the thing is, I got the copy of the CD yesterday and for this record we really tried to with the lyrics, we started off writing them first.  We worked with them for 2 to 3 months and then we started to write songs with Jesper, me and Tinna.  And when I just got the copy of the record yesterday, the songwriters listed is wrong!  I don't know why exactly, but for this record we really tried to do this on our own so to speak to establish All Ends away from the In Flames link. That was one of the highest aims of the record which was to really do something that we wanted too.  The audience is not stupid, if it's not honest then it's just bullshit you know!
So exactly what was the musical vision for the album?
Well I come from the rock stage, Tinna comes from the soul, Tina Turner kind of thing and Jesper from the Death Metal scene.  We really wanted to take advantage of the different kind of genres that we are good at.  I wanted for example the loops and the drums and the vocals to be the main emphasis and the guitars with a little bit more rock 'n' roll attitude to it.  If you listen to the first record for me it's just guitars all the way you know….  I think it's really cool with this record we have found some elements from the 80's and that's what we tried to do with the loops and we recorded them all by hand you know, not with the help of protools loops etc.
I assume that the recording process was rather different this time around in comparison to your first album?
Yes it really was.  For the first record Bjorn and Jesper already had like five songs and we put the melody and lyric to them, then we recorded them and did 4 or 5 demos, then a few more demo songs and it seemed like we did lots of demos and felt like a strange process to work.  To me those demos sounded much better than how the record turned out.  We had a producer that was working to what our then label wanted us to sound like, something really commercial and not anything like we wanted to be.  At that time there was a lot of things going on, we didn't even have control over the songs.  It sounds really stupid but it was that way…
So in a way this album is virtually your first so to speak?
Yes definitely!
You worked with the producer Roberto Laghi, what was the connection?
I had met him a lot of times, he has produced Hardcore Superstar and me and Tinna had this really good connection with the guy.  He was telling us what his vision was for the band and what he wanted to hear.  He read the lyrics and formed his own ideas for the sounds of the songs and we really liked it.  We had a lot of parties together and then we decided that we had to work with each other haha!  He is a really great guy and what I love is that he is never satisfied with anything, he never gives up trying to get the best.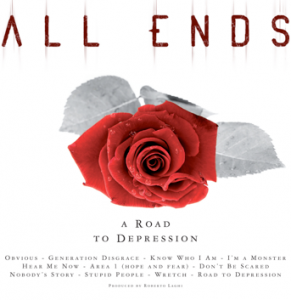 How long did the recording process take?
The drums took about one week, the drums and bass about two weeks.  But then I worked with the loops for nearly two and a half weeks and then we started with the vocals which ended up about two months recording time.  Actually we had a pretty long pre-production as well.
You recorded the album in your hometown Gothenburg, that must of made it easy for you being based at your home?
That was awesome, I was a little afraid about being at home and recording.  We all live in different parts of Sweden, but me and Tinna we live in Gothenburg.  Everyone came in and did their thing you know.  It was really cool.  Me and Tinna were in the studio with Roberto from about 9am everyday, but it wasn't a problem.
Each song is high on an infectious melody/hookline, this is obviously something the band places a high priority on?
I think for me it's really important.  I don't play drums because I want to show off or something, for me the most important thing in the song is the melody.  That's the kind of music that I like and we like to write that kind of music.  This time we really did some songs and a record that we felt was our way of saying this is All Ends you know.  We really wanted to make songs that we liked.
The music and sound of All Ends is not easily described as there are clearly a range of influences.  How would you describe your sound?
It's really hard, but maybe some Foo Fighters, maybe some Thirty Seconds To Mars and then I don't really know.  It's kind if between rock n roll and some mysterious thing you know.  Maybe some 80's into it as well…
The band has the unique, two female vocalists in the band, how does that dynamic work from a songwriting viewpoint?
Sometimes you hear a song and think "this should be Tinna's song and this should be Jonna's song".  but when we write the songs it's pretty natural, sometimes it might be this is the tune for Tinna and this is for Jonna.  We want that dynamic to work of course, otherwise it's just fucked up to have like two lead songs for Tinna, it just doesn't work.  'Nobody's Story' for instance it was pretty natural to have Tinna on the whole song as she has that kind of voice.  Then the song 'I Know Who I Am' is Tinna for example.
What influenced the album in a lyrical sense?
When me and Tinna were sitting down for the first time we talked about how it's really easy to write about things that affect you, but sometimes you take the easy way out and write about love for example.  But I personally really wanted to write about love in different kinds of ways, not like the typical girl/guy, guy/girl thing.  We tried to observe people and look at our lives and what we had been through.  I was having a pretty hard time at that point when we wrote the album and Tinna was also.  So it was pretty easy you know.  It's easier to write when you are fucked up, rather than happy.  Some lyrics are pretty political, but that was a thing we didn't want to be cliched with.  We are not a U2 type band for example.  They do what they do so good.  There are a lot of things going on in the world today and we tried to do lyrics that we felt that we could come up with a really cool line or title that people can relate to.
Visually, the album cover and promo photo's have a very strong appeal, who drives this creative vision within the band?  
All the band members have their say, but with this me and Tinna got the version pretty early.  We wanted something pure, some really innocent theme.  For me, white and red is something I feel are pretty amazing colours together.  I wanted that also as part of our live stage setup also.  Everything is going with the white and red theme.
I couldn't help but think how well this would translate into video clips, are you intending to record any video's for your songs?
Actually I have been sitting here today writing the script for our first video for the single'Generation Disgrace'.  I am done with it today and we are going to shoot it on Monday!  I love this song because it's one of those happier rock 'n' roll songs on the album.  The idea for the song came from a really good TV program we have here that features people that have achieved lots in the world.  Then we have the big brother type shows which I absolutely hate and it's like we have this generation that's so fucked up today with the whole emphasis on 5 minutes of fame…  So 'Generation Disgrace' is a poem to those kinds of people!
What are your touring plans for the remainder of 2010 and then 2011? Is the plan to take on the world?
When we were on Sony/BMG they wanted their bands to tour, bur not really that much you know.  They wanted to sell records!  But for me this job is all about playing live.  When we signed to nuclear blast that was one of the main things, we want to tour and tour a lot.  We want to go all over Europe and Asia, the USA and of course Australia.  We are working on that now actually, we have a new agent that we are meeting next week and he has some really cool plans.  So that's the priority, to tour. the world…
From: Sweden
Band: Anders Janfalk – Bass, Fredrik Johansson – Guitars, Jonna Sailon – Vocals, Joseph "Joey" Skansås – Drums, Peter "Texas" Mårdklint – Guitars, Tinna Karlsdotter – Vocals
Website: www.allends.se
Latest CD Release: A Road To Depression – Oct 15 (Nuclear Blast/Riot!)