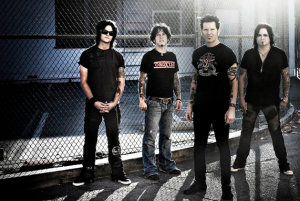 Hitting Australian shores next week is L.A Guns, the line-up led by guitarist Tracii Guns, founding member of both L.A Guns and Guns N Roses.   Fronting the band is former Love/Hate vocalist, Jizzy Pearl, with Jeremy Guns on bass and Chad Stewart on drums.
Forming over 25 years ago, the original L.A. Guns line-up featured a certain Axl Rose as vocalist, who shortly after left the band to form Hollywood Rose, Tracii agreed to join him, merging the two bands into Guns 'N' Roses. However, Tracii's tenure with G 'N' R was short-lived, and he returned to his first love, finalizing what is widely regarded as the classic L.A. Guns line-up.  L.A. Guns went on to sell millions of copies worldwide of their albums that produced the likes of 'One More Reason', 'The Ballad Of Jayne', 'Never Enough', 'Sex Action', 'Rip N Tear', as well as tour with the likes of AC/DC, Def Leppard and Iron Maiden.
Whilst Australia has seen "the other" version of L.A Guns a few years back, a lineup that featured Phil Lewis on vocals, this is the first time L.A Guns with Tracii Guns has performed in Australia.  Having just re-released the 1999 album 'Shrinking Violet', with Jizzy Pearl on vocals and the intent to record new material, it looks like this verison of L.A Guns is stamping their authority as THE lineup.
We checked in with Tracii Guns to chat about the upcoming Aussie shows and what led to the re-issue of the Shrinking Violet album.
Hey Tracii how are things going right now, you just finished up the Triple Threat Tour with John Corabi and Faster Pussycat, how was that?
That was a really good tour because John Corabi hadn't really done anything on his own that was serious for a long time and he really put a good band together and they were the surprise for me on that tour. The audience reacted really good to them, so yeah it was a great tour!
How did the rest of the USA summer festival, touring circuit go?
We only did one festival actually.  Normally in summer there has been a trend in the USA over the last four years where people have been putting on these big rock festivals.  The first year was great, everything went ahead without a hitch.  Then over the last few summers a lot of those festivals did really poorly.  This summer there was really only the one big one, Rock N America.  We did that one and it was really nice, with a really good turnout.  But for the most part we have been playing nightclubs and doing our thing.
Oh you were at that one?  That was the Rocklahoma in 2007 that made everyone think it was going to be easy to do in the future haha!  That one was incredible, everyone was in a good mood and there was so many people there, many who made loads of cash!  Some of the people involved with that first year made off with a lot of the cash, never to be seen again haha.
You arrive in Australia in a week or 2, playing 3 shows.  How did this tour come about?
I've only been to Australia twice.  Once was a long time ago I think it was 1992 or 93.  I did some clinics with Greg Bisonette.  Then I came over with the Brides of Destruction in 2004.  Back in the day there was some sort of myth that the only way an American band can play in Australia was to tour with an Australian band.  So we really never approached it, but now it seems that a lot of promoters are reaching out to American bands and getting people over there.  In this case, my manager had actually worked with the promoter before that we are going with.  They were friends and suggested we go over there.  So it's the first time for me in Australia playing L.A Guns songs!
The last time you were out here was with Brides Of Destruction, how did you find that experience?
That band was such a fireball, no matter where we went the venues were either too small or too hot and the shows were really over the top,  it seemed like we were only there for 5 minutes.  I think we only played in Melbourne and Sydney, but two shows in each city.  But this tour will be really quick too!  We are talking about at some point in the future looking at some of those festivals that happen down there in Australia, that would be something I would really love too.  Play with different kinds of music, it could always be figured out.  This is our first time in Australia so we will see how it goes and if it goes well I am sure we will be back.  We play a lot of countries that other bands don't get to go to and we find making the effort to get these countries makes a big difference for the future.
You sure have been accumulating some frequent flyer miles this year…Australia, Korea, South America, it's obviously cool for you to know that L.A Guns is still an international entity!
End of the year is Europe also, so you are not kidding about those frequent flyer miles!  For us now, it's almost like a ten hour flight is just like a drive to the store.  Sometimes even in the States four or five days in a row we could cover 800 or 900 miles everyday and you really start to get used to it.  I mostly only tour from right before summer here in the USA through until Christmas and I usually have a four to five month break in between.  Then we go out that first week of travel is like "oh my god I could never get used to this" but eventually you do and settle into it.  I kind of like the long flights as you can get some sleep and nobody is calling on the phone, it's awesome haha!
What do you have in store for us as far as setlist goes, any potential surprises amongst the classics?
We keep the show pretty much high energy, with a little bit of a break in the middle.  We play a lot of stuff from those first two records then in the middle of the set we slow things down with 'Dreamtime' off the 'Shrinking Violet', album, then we have 'The Ballad of Jayne'in there and then we close out that little section with 'Over The Edge'. So it's kinda like we punch everyone in the face for a half hour, then we let everybody kinda relax and then for about another half hour we punch you in the face again!  It's pretty straight forward really….and loud!!!
Playing some of the L.A Guns material from way back in the beginning, how do you think it has stood up over the 20+ years?
I think the songs have really stood the test of time with LA Guns fans you know.  I don't really know how well our music has faired with the general public however.  But I definitely know that L.A Guns fans really dig that earlier stuff.  Even admittedly, when talking with our fans after the show, lyrically the stuff is a bit silly for people in their mid 40s and stuff, but it's fun and makes everybody have a good time and at the end of the day I think that's what is important.
So tell us about the recent re-release of Shrinking Violet on Steve Vai's Favored Nations label.  This was an album released about 10 years ago, but wasn't exactly widely available at the time was it? 
Right, you couldn't really walk into a major record outlet and buy that record. When we first put it out, it was through a friend of mine who lives in Texas who had a little label and what he was doing was like a mail order catalogue just as the Internet was starting up.  Mostly his label was really obscure hair bands and stuff.  So we did the record with his label and he was the distributor.  The album goes back to that very first Poison reunion tour, where we had an opening slot and we wanted to have some new music because it was Jizzy singing and not Phil.  So the plan was we would go and do this tour and have a record available and if people like what they hear, then they can buy the record.  We did really well on that tour with the record and over the years, people have constantly asked about it and asked where they can buy it.  People would see it on Amazon for like $25 and I would be telling people "it's not even worth $25" haha!  Then when I started working with Steve Vai and he was asking, well what do you want to do and I said well eventually I want to do a new record but we are not really prepared to do a new one just yet.  So we started throwing ideas around with Dean Schactell who was the General Manager at the time.  I owned the masters for Shrinking Violet so it was an easy thing to do, to get it out there.   I am really glad that it's out there as it's really nice to walk into places and see that record as it's as good as any other L.A Guns record.  It just makes me happy that after 10 or so years it's finally in stores and you can get it on iTunes etc.  So it makes me feel a little more complete, not that I don't feel close to complete at all, but now I am a bit more close to complete!
Can we expect an album of brand new material on the horizon?
Absolutely, that's what we have been taking about all year and this last tour we started throwing around ideas and looking at direction and things like that.  So we are pretty much trying to just get to the end of the year so we can settle down at home for a few months and get an album written and recorded and ready for next summer.  Well that's the plan, but who knows….
A little while ago, prior to Jizzy Pearl rejoining the band, you were writing and recording with another singer, Marty Casey.  What is the status of that material, is it likely to ever see the light of day or has it now been superseded by this current version of L.A Guns?
We actually did a complete album.  It's a bit of a complicated story, Marty was hired to be a songwriter, whilst we were doing a new L.A Guns record with our singer at the time Paul Black and we were up in Canada and everything just went to hell.  So Marty was there and we said, since you are here and since you wrote these songs you might as well sing them!  Then he did me a favour as we had a tour booked so he came out and sang for L.A Guns which was really cool.  The label, which wasn't really even a label, it was just this rich guy who thought he was a label.  Well he now owns half of this record, which I have to say is a pretty impressive record.  Unfortunately however, I don't think it's going to be anytime soon that record sees the light of day.  Marty and I both agree that if we can ever work it out and get it out there, then we will tour for it.
What have you got going on in terms of guitars these days, you have a signature model with Dean don't you?
Yeah yeah, that's been a long time coming, it's a crazy thing.  Back when I was a lot younger and our first album came out, I had a great relationship with BC Rich and they came up with the idea of the BC Rich Gunslinger and to attach my name to it.  The idea back then was to have an American made guitar for under $1000.  I thought it was a great idea and helped put it together and we had great success with that guitar.  The owner of BC Rich, Bernie Rico retired temporarily and licensed the name BC Rich to another company and I then kinda moved on.  I have always looked for another company since then, one that I had a lot of belief in the company.  Now other than Fender and Gibson which are virtually impossible to get anything done with because they are such big corporations now.  To sit down with the luthier that makes the guitar and to come up with the custom type thing for a reasonable price, just wasn't going to happen in those places.  So I talked to Charvel which is owned by Fender and I talked to Dean.  When I was younger I used to play those giant ML's like Dimebag played for his whole career and I became really good friends with Elliot, the owner and this guy Josh Moloney who is their main A&R guy and he is a player himself.  I told him my idea and how the Gunslinger worked at BC Rich and they really liked the idea.  So we put this Telecaster style guitar together, so it's kind if like a telecaster plus!  It's got a Floyd Rose on it, it has an extra fret and has a feel of a really early Charvel style guitar.  But it has single coil pickups that are modelled like a 51 Nocaster.  They are more like a really dark sounding single coil pickup, not really bright like a Telecaster.  Each guitar is also hand painted, so every little pinstripe I design is different. The guitar is really unique to itself and the guitar is selling really really well here in the USA and I am very happy about it.
Well that's time for us unfortunately, hope you have a great tour down under and maybe catch you in Melbourne!
Ok thankyou, we will see you real soon my man!!!
Dates, venue and ticketing information for the Australian September tour include:
2 September 2010  Step Inn, Brisbane
www.oztix.com.au / rocking horse / moshpit / butter beats / www.bigtix.com.au
3 September 2010  The Forum, Sydney
moshtix / 1300 GETTIX (438849) / www.bigtix.com.au
4 September 2010  The Hifi, Melbourne
www.thehifi.com.au / 1300THEHIFI (843443) / POLYESTER RECORDS /www.bigtix.com.au