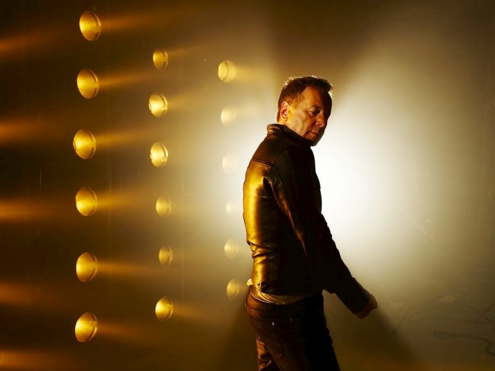 Jim Kerr is of course best known as the singer and front man of Simple Minds a band that have brought as such timeless songs as 'Alive and Kicking', 'Belfast Child' and 'Don't You (Forget About Me)' but now over 30 years into the bands career Jim has taken a big step and released his first solo album titled 'Lost Boy AKA Jim Kerr.' A somewhat departure from the norm Jim has fused rock with electro and produced an album that is so easy to listen to that you couldn't not enjoy it.
About to finish up touring with Simple Minds and hit the road for a number of dates to promote 'Lost Boy' Jim took some time to talk to us about the new album, touring and why we'll probably never get an unplugged set from him in the near future.
The new album 'Lost boy AKA Jim Kerr' is your first solo album, why was now the right time to release your debut effort?
That's a great question! I mean I struggled with it because no one is more surprised at this realization but me because ironically people say "why didn't you do a solo album previously?" and my answer is because I love being in a band and I really do.  But I can't tell you why, I can only tell you why the last couple of years have been the most prolific in my life and from that point of view it was really the music that was appearing, the music that was pushing and if you'd said to me 3 or 4 years ago that this was on the cards I would've said never.  But I'm delighted that it's come to be.
The name, is almost like you're giving yourself an alter ego, was this intentional?
Well it was intentional in the sense that once I knew that the music was coming and I knew I was going to do something, I was a little bit jammed for just a Jim Kerr solo album.  It wasn't getting my juices flowing and I didn't want to go and start another band because I like the band I'm in.  So I said how am I going to work, what's the vehicle here?  Then once the music was coming together I could hear this nostalgic element that was not only taking me back to a style and a period of music, but it was also taking me back somewhat to myself.   Which is weird because I'm not normally a nostalgic person, I'm always thinking of the next idea but that was going on and it was taking me back to the recollection of who I was when I was maybe 18 or 19.  Not quite a boy, but not a man either and I felt that I wonder what that character would make and do things in the studio today and that's maybe stretching it to say that it's an alter ego, but it's not a million miles away either.
The sound leans towards a more electro feel but still maintains the driving rock beat that we are all familiar with from you, was it always the intention to do something a little different for this release?
Well yes, the music was coming through to be frank, there were a few ideas that could've fit in the Simple Minds camp but I also felt there was something growing that would be a bit more distinctive to itself.  I'm already working on the songs for the second album and I think not only is it going to take some time to grow this through the years but I think in growing it, it will become more and more its own thing and indeed it took Simple Minds 2 or 3 albums to have an identity that was much fuller, much, much their own and less to do with our influences and so on and I think 'Lost Boy' will probably take a similar pattern.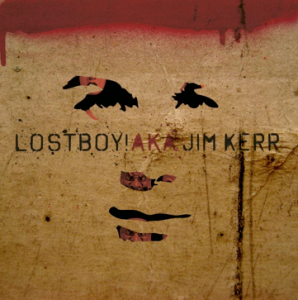 The album has been released for a few months now in Europe, how has it been received?
It's been good, I didn't know what to expect and I had no illusions either.  Well you would expect Simple Minds fans to get behind, but in fact I mean this in a nice way, but fans are pretty conservative people, they like their bands to be the classic line up, they like the classic artwork, they're not great at accepting people splintering off and all that.  I was in Germany last week doing some work with 'Lost Boy' and hearing it on the radio and stuff and when I started off in this I didn't think I'd get that kind of exposure and its nice to be getting it.
Are you excited to now be able to unleash it to the rest of the world?
Well certainly, I'm really into it and part and parcel that is to let people know it exists and it's great to be talking to you about it.
What are the origins of the songs on this album you've said they were written specifically for this album but what inspired these songs in a lyrical sense?
How I work is that I'm always pretty much looking around and always since I was a kid I was always writing things down and playing with words and stuff like that goes on.  But I suppose the kick off stuff is the music and the music that I work with is not only hopefully good melodically, but it usually has a strong sense of atmosphere within itself and it's the atmosphere of the music that provokes what I think will be a lyrical theme or a theme within a song and I try and elaborate on that.
Was it easy to write the songs for this release compared to the 30 years of Simple Minds songs in your back catalogue?
It wasn't hard and to be honest when I'm in the heart of a song, when I'm in the challenge of it, I'm not really thinking of 30 days ago let alone 30 years ago, you're very much in that moment and you're just writing and it's always hard, it's always a puzzle, but it's a puzzle that I enjoy.
Starting off promoting this album I believe you played a bunch of club shows and now you have been back playing stadiums, with Simple Minds, how have you found this transition from small to large stages?
It's a completely different world you know, before I even go on stage with Simple Minds you turn up and the dressing room is bigger than the venue I do with 'Lost Boy' and you know there's lovely things in the dressing room ha ha and assistants to help, with Lost Boy we turn up to these great but grotty little clubs and I'm back where I was 30 years ago and I love that as well.
Soon you'll be out doing some dates but rather than a usual band that you'd normally have, tell us about the 'Electro set' for those that may not be aware of just what that is?
I have a band, a full blown rock band to do the 'Lost Boy' songs and that's very big and done very well but if you can imagine, sometimes you get people who do their album and then they go out with their acoustic and they do their acoustic version of their album and they usually have some intimate little venue or whatever and they play their songs 'Trubador style.'  Well 'Lost Boy' doesn't do the acoustic thing, but this version of that is an electro thing, pretty much, well the keyboards are all played live with another singer so there's two of us, but we play with programmed rhythms and loops and stuff.  So if you look back, some of the early Simple Minds songs were written with sequencers and all that as well.  So its just a version of the album and the centre of the album has that sound at its heart anyway so its another way of doing it and its been getting a very good reaction as well.
In over 30 years in the business, you would've seen so many trends come and go and music change, how do you feel that what you are doing now is relevant in this day and age?
That's a good question!  Well it'll be relevant to some people and it won't to others ha ha!That's the same as 30 years ago, there's no give, some bands can appear today that's just a day old, doesn't make it relevant to anything other than themselves necessarily.  I guess my philosophy is that you try to do great work, you try to do plenty of it and you try and let people know it exists and that's what you do and if your luck's in you may get some feedback and if your luck's out, you won't.
Can we expect to see you tour Australia with this new material?
Nothing would make me happier.  First of all as you said earlier, I am touring, next month we start, I've got 40 'Lost Boy' dates so this is a touring thing and I'm a touring guy.  As you know, my band Simple Minds, my other band had some of our greatest days in Australia, some of our best memories and even if we were there currently just enjoy it so nothing would make me happier.
You've been to Australia more than a few times, as most recent as earlier this year where you played at the Formula 1 Grand Prix, do you have any memories of Australia you can share with us?
Some of the greatest, it is a fact and I never hesitate to underline it.  Australia was the first place that really gave Simple Minds a whole hearted break.  The first place I remember getting presented with a gold disc and all that stuff and we went down there pretty much unknown and we came and supported one of your local groups called 'Icehouse' and people really, really encouraged us.  At the same time we were young and to use sort of laymen's terms we were still learning our trade, so I've got only great memories from that and the multitude of times we've been there since then of course, not only experiences of playing, but as we go everywhere we made a lot of good friends and good mates there so that always makes the experience pleasurable.
Your gig in The "Fete de l'humanit'e" on September 11th in La Courneuve Paris is set to be special in that it will be the last Simple Minds show for the foreseeable future and in reading on your blog on simpleminds.com you are expecting a crowd of up to 100,000. That's a pretty remarkable way to stop the current run of gigs that began nearly two years ago with the 30th anniversary shows in '08, what can fans expect at this show?
Putting it very simple, I was talking about it yesterday, one of the great things about the band currently is that it goes from strength to strength.  We're ending a tour I think fresher and better than we were at the start you see, well we've played a lot more so you should be better you know.  Normally when you do gigs, I don't know how many we've done this year but a few, you would expect a bit of auto pilot to creep in or you would expect a bit of going through the motions.  Not at all.  The band goes from strength to strength and that gig is 12 days away from now I think.  We go into a studio with Simple Minds in fact today working on 3 or 4 new songs and I'm pretty sure that a couple of them will get an airing that day as well, they'll say well that's a bit of a brave thing to do.  Well why would you risk that to play songs that people have never heard but that's how confident we are and that's how good the band is at the moment, so we'll be going at that gig not with the feeling of a count down to a holiday but we'll be giving it our best.
Throughout your career, if you could pick one song from your entire back catalogue that you feel defines you as an artist what would that be and why?
Well there isn't one song, it just doesn't exist and pride is not a word that I use a lot but I'm really proud of Simple Minds have much different styles within their own style you know, go back to the early days of the electro or that band began as an alt rock band and of course we've been a pop band, a stadium band and if you look at songs like 'Belfast Child' some would say a political band.  Whatever, it's a huge experience, so there's not one song I think, there's one song that people can say 'well that's your most famous song' or whatever but there's not one song that defines it.  I'm afraid I couldn't do that for you, maybe somebody else could.
Lastly, I wanted to ask about the legacy of 'Don't you (forget about me)' and how you feel about THAT song?  Are you sick of it?
No, not at all, if we were sick of it, we just wouldn't play it, but we always play it and when we play it we give it 100%.  Its one of those songs we never rehearse, I should say in rehearsals or sound checks you go 'oh not this again'.  It's just one of those but you never feel that in front of an audience, its almost not our song in the sense that it's fair to say that it's a song of a particular generation and its one of those songs that even people who might not like Simple Minds, they like that song.  You know they played it at their wedding or they played it at their Bar mitzvah, I don't know.  You can't let people down, you have to play it and you have to give it 100% and we do.
It's just one of those songs that you put on at a pub and people just goes crazy for it..
They go crazy and listen it's not bad to have one of those in the set huh?
Thanks for your time Jim and we hope to see you in Australia soon.
Thank you. Yeah, that'd be great, see you then.
Essential Information
From: Scotland
Band members: Jim Kerr – Lostboy
Website: http://www.lostboyaka.com
Latest release: Jim Kerr – AKA Lostboy (Riot! Entertainment)