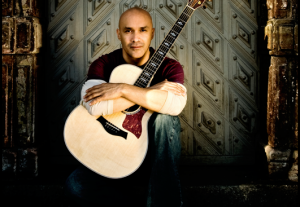 When it comes to talking about a combination of musical and personal journey's, that of Dan Reed is certainly one of the most fascinating and unique that I have personally encountered.  Many of you reading this, would have some familiarity of the band for which Dan Reed was lead singer, 'The Dan Reed Network', who achieved much success in the late 80's and early 90's, with the song 'Ritual' being a Top 40 and MTV hit.  Tours with bands such as Bon Jovi, The Rolling Stones, David Bowie and UB40 took the band worldwide, even to the far reaches of Australia, supporting our very own Baby Animals.
However, a major turning point came when Dan journeyed to India with Bob Guccione Jr. to interview the Dalai Lama for Spin Magazine. It was during this trip that Dan began to hunger for more than what the music scene had to offer.  In late 1993, The Dan Reed Network went on hiatus and in the years that followed Dan followed numerous paths, working on solo projects and pursuing opportunities to act in theatre and film, as well as extending into screenplay writing.  Starting in the late 90's in his native Portland, Oregon, Dan operated a nightclub that eventually led to the next major turning point in his journey.
Succumbing to the darker side of the nightclub business fuelled by alcohol and drugs and ultimately burning out, Dan realised that a change was required and this led to him travelling back to India in 2005.  Befriending a couple of tibetan monks, it was their request of Dan to teach them western music, specifically Queen's 'We Will Rock You', that gave Dan the motivation to once again return to writing music, with the track 'On Your Side' off his new CD, 'Coming Up For Air' being the first track he wrote.  Encounters with Israeli musicians in India led to him venturing to Jerusalem, were further foundations for 'Coming Up For Air' were laid.
With significant touring through 2010, including a performance at the iconic Sweden Rock festival and having recently released the uplifting, majestic and thought provoking 'Coming Up For Air', Dan Reed is now embarking on a new musical journey.  Over the course of a fascinating interview, Dan discussed in depth the new album and the journey that has led him to where he is today.
We also have a bonus in the form of a free download of the track 'Brave New World' from Dan's new album "Coming Up For Air".  Just click the red link to download!DanReed_BraveNewWorld.mp3
Hey Dan, thanks for taking the time to chat with May The Rock Be With You.  So we find you located in Paris now, is this correct?
Yes that's correct.  Paris is a really good base, especially to get to the UK on the Eurostar. All the flights are only a few hours away to anywhere, so it's great!
Before we chat about your latest release "Coming Up For air", I just wanted to ask about your recent performance at Sweden Rock.  From the footage I have seen and what I have read, that sounded like a pretty amazing experience for yourself and the crowd alike…did that take you by surprise?
I was a little overwhelmed to be honest. That reaction wasn't something I expected at a festival where Aerosmith, Guns N Roses and WASP and all these bands were playing and here I was playing solo acoustic. I thought it would be a mellow moment in the festival you know, for people to just kind of take a breath and here I ended up with three encores and it was just overwhelming energy wise. It almost brought me to tears how embraced that set was. It looks like we might be playing there next year with the full band!
Has Sweden always been a strong fan base for you then?
The Network did really well back there in the late 80's and early 90's. Then I toured again with a Swedish band and then I toured there again with a band called adrenaline sky, which was a band I worked with in New York for a while. I've always kept close contact with Sweden and the Network also did really well in the UK too. I'm finding that I'm having to start from scratch in a lot of ways as the new music isn't really like the Dan Reed Network. I mean it might be similar in some of it's intention, but the style of it is different. What has been nice is that the people who were real supporters of the Dan Reed Network have grown up and their tastes have changed a bit as well, which is nice. I am also meeting a lot of people that are bringing their kids to the audience which are now in there 18,19,20yo age range and they're really liking the new music which is great, as well as the old songs played in acoustic fashion. So it's been quiet a thrilling experience.
Now, your new release is called "Coming Up For Air".  How long was this album been in the works for?
It's been a three year project. I started writing it in India in 2005 and then basically started recording in 2006 and it was ready to be released in 2009 bit it took a while to get it out.
What was the turning point so to speak, where you sought a return to creating music and touring once again?
Well that was when I was living in Dharmsala, India where I met a couple of Tibetan Monks that were very kind to me and invited me to live in the guesthouse at the monastery there. One day they were asking me to teach them some rock n rill songs that they had heard on the radio, particularly a Queen song, 'We Will Rock You' which they had heard.  They wanted me to teach them the lyrics, which they said sounded really interesting to them. So I realised then that music is such a great way to communicate across all racial, religious and political boundaries and I had turned my back on that for a long time. So, I picked up a guitar at a little pawn shop there where tourists would sell there stuff to fund the rest of their trip haha! I bought a little guitar for $60 and started teaching them songs. Then I started writing and in fact the first song I wrote coming back into music is the fourth song on the new album "On Your Side".
Can you share with us a little bit of an insight into some of the themes that are throughout the album?
Most of this new album I think is really about coming home to yourself. Coming home to your intentions in life, looking at the mistakes you have made and trying to find peace with them. Them coming back to the light after having been in a very dark place. I think most of the record is about that. It's about the city clouding your mind being connected to nature. It's about drugs and alcohol polluting your soul to the point of where you get lost and lose your direction in life and trying to find your way out of that darkness. It's about trying to make sense of all the different spiritual paths that people argue so much over, rather than come to peace with and make friends with other faiths. It's a record about those intentions and hopefully not preaching about those intentions.
How did you find the experience of working with musicians from vastly different backgrounds and music upbringings, as you did with this album?
I enjoyed that very much, it was a great eye opening experience for me. I went from playing with one band in particular for many many years which was The Network and then experimented with some other musicians. Then I went into this really isolating space where I just worked by myself programming all the drums and keyboards, playing all the guitars and doing the vocals. That was during the late 90's when I was working on electronic music. Then this experience recording in Jerusalem and Florida and back in Portland again working with all kinds of musicians was just liberating in a lot of ways. Writing all the songs, but having them interpreted by different artists. The only co-write on the new record is on the track "The Dictator" where I met a gentlemen by the name of Bradley Fisch in Jerusalem who played the Chinese dither, this really beautiful stringed laptop instrument. He just played the instrument and a number of different chord progressions over the top drumbeat I brought in. I edited the instrument into sections to make a more cohesive chord progression in terms of a song arrangement. Then I ended up doing the rest of the instruments with musicians from Florida and Jerusalem and Sweden and then wrote the chorus and put Charlie Chaplin over the top of it. It's a real collaboration that not only spans different musical tastes, but times given Mr Chaplin is on there who is no longer with us.
With the experiences you have had in recent years, you would have a far different appreciation on music and it's impact upon people.  In what ways have your views on music and the music industry changed today, to say in the days of The Dan Reed Network?
Well, I think a lot of people have been cursing the Internet with everybody getting music for free and illegal downloads etc. I personally think that it's liberating as it allows every artist to have the same access as the biggest artists in the world. You might have some marketing challenges, but you are no longer limited to getting a record deal. Before there were many artists who went unheard as people in the record industry didn't give them a shot. Now if you are just someone with a recording studio in your home, you have the ability to reach the entire world. So, that's very liberating. I think we just need to get more creative now on how you get out there and play and get people to take notice of your music.
Here in Australia we recently went through the process of electing a new Prime Minister, the vote was tied. Drawing a parallel to the recent Presidential Election in the USA, music or musical artists were not a feature in any way here in Australia.  Can you share some of your experience being involved with Barack Obama in the USA election?
I think one of the reasons why I moved back to the states in late 2008 was because Barack Obama was running for president at the time. I got to see him speak in Portland, Oregon in front of about 75,000 people and it gave me the feeling of listening to the old JFK speeches. He was a very inspiring speaker and a very intelligent man and after 8 years of the Bush administration where I think we started a couple of wars that were unnecessary and a lot of civil rights were bring stepped on. Corporate globalisation was on the upswing because of that administration. I think we lifted the bans on any kind of "integrity" where you have corporations raping and pillaging the earth for profit. So Barack and his campaign, his future administration and a dream of that, was something that was quiet inspiring. Now that he has been elected it has been somewhat of a sobering experience that there have been many on the public and right wing side of things that really tried to shutdown many of his policies that he was trying to change whether it's health care, or trying to curb our use of oil.
Different things that obviously politicians are put into office by different companies and their campaigns are funded by different corporations. So their loyalties lie with these kinds of companies. This is the sad state of affairs with the political world in general in that it's hard to trust any positive change coming from the political landscapes simply because most of these politicians are in the pockets of corporations that have everything to gain by raping and pillaging the earth and taking advantage of cheap labour which usually ends up in human rights abuses.  So, I am a little disappointed after he has been elected that there hasn't been more standing up to that corporate thing and seeing that he is indeed a politician. I am very thrilled that he is doing a better job than his predecessor, but I have lost a lot of faith in the process.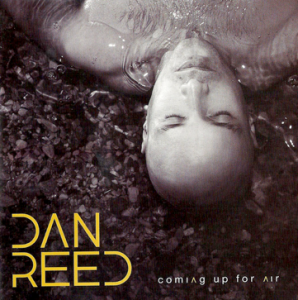 Just listening to you speak then, is it likely that we will see some of your thoughts expressed just now in the form of songs/lyrics on your next album?
Yes, oddly enough I started writing songs just these last couple of months. This Friday I rented a house up in Sweden off the west coast, a little house in a fishing village and I will sit down for a month and start writing for the next album. The next album is going to be little different tones, specifically what we just spoke about. I think it's going to have a little bit more of a pointed edge to it, both musically and lyrically.
How much of your experience with the Dan Reed Network and the heady days of the 80's touring with the likes of The Rolling Stones, UB40, INXS, Bon Jovi, do you think shaped you in a way that influences who Dan Reed is today? 
I was just playing in a town called Bolton in England a few days ago and before I went on and after my set they were playing this thing called Live At Last which was a video taped show of the Dan Reed Network right before we broke up. It was one of our last shows and I got to watch that a little bit more and seeing that I was realising that the Dan Reed Network and those performances back in those days definitely have played a role in me trying to bring these new performances to a stillness, to a point of not performing.  Where I am letting the songs and the intention of the lyrics direct exactly how much I emote on stage. Whereas with The Network I always felt like I had to perform. I had to move, I had to dance, I had to be energetic in stage. Now I am trying to put all that energy into a point of stillness, a point of calmness. I think in The Network days I got to have that platform where I got to express all that physical, almost sexual energy.  The fact I got to do all that then, now I get to experiment in that solitude and people seem to be relating to it a lot. I don't dress up, I don't have a bunch of crazy cool costumes or shirts or wardrobes that I wear. I wear blue jeans and a t shirt and I go out there and just try to rip the soul out of the song and sing it from there. So it's a different kind of experience, but I attribute that The Network has helped a lot to me coming to this point.
You have been playing a range of shows acoustically on your own and now you have built a band around yourself.  WIth your upcoming shows, will your set entirely consist of new material or will you be playing one or two of your earlier tunes?
I definitely still pay tribute to the past. I would say about one third of the set is old songs.
What are your thoughts on the Dan Reed Network era songs today?
How I was just describing the performance, I am more focussed on the intention of the song rather than production. The Network was a lot about production and trying to be unique and interesting and how we treated things like drums and drum machines and different keyboard sounds trying to be innovative.  With the new material and the way I treat the old songs is not about innovation, it's about being very very clear with the intent of the song. That's just a very different approach.
Is there a particular place where you would love to take your music and play some shows?
This last two years has just been a great experience playing small house parties through to Sweden Rock, playing with the band and playing solo acoustic. Playing clubs where people are drinking their heads off to calmer quiet folk festivals. I personally have no vision where this can go, but I do know that if this can get to the point of playing bigger theatre type venues to arenas I would be very honoured and humbled by the fact we can get there and people are relating to these songs. If there's 10,000 people for example that may want to come and hear this music in the future, then I think it's going to be a very good night!
Now I believe you supported the Baby Animals in the early 90's here in Australia? If this is correct, what are your memories of that experience?
Yes that's correct we toured with the Baby Animals down there. I just loved it there, we played in Melbourne, we played in Sydney, we played up at Surfers Paradise. I got a chance to go check out the Blue Mountains, it was just a lovely experience. Right after that tour I came back to visit for a few weeks but I have never been back to play.
You have your own record label Zero One Records, how far advanced is this in terms of having signed/releasing other artists?
There's actually a few artists that we are working with now that I don't mind mentioning. One of them is Rob Daiker and then there is Stephanie Schneiderman she's a great singer songwriter and then there's an artist calked Oracle which us kinda along the lines of the Eurythmics and another artist calked Auditory Sculpture which is all electronic, there's no vocals or anything like that. So we are dabbling in different styles and the purpose of the label is to really do what we were talking about earlier which is to allow artists to have a platform where they can be discovered online and we will bring a lot of these artists out with us on tour so we can start introducing them to different crowds and stuff like that. So basically it's artists that are not only wonderful songwriters and great live, but they are also well intended human beings in their lives and how they lead their lives. All the artists on the label and the goal of it is to resonate positive energy within the music scene. Even if it's heavy metal or hard rock, it doesn't matter what kind of music so long as their intentions and their lyrics are about trying to take us to another level, that's what is important.
Having been left unsatisfied with "music" back in the days of the Dan Reed Network and now choosing a direction back to music, what does Dan Reed in 2010 seek from creating music that he didn't back in the early 90's…and even more so, what do you visualise to be the legacy that your music may leave on people?
Well I think before we always had this impression that you had to come up with 10 songs that would be hit songs on the radio that would impress the record company and that was going to be the next year of your life. So there were always these restrictions, whether they were really there or not, they were in your mind. Now those are gone, I feel free to write what I want to write and sing what I want to sing. So long as people are coming to shows or writing to me online to say that my music has touched them or inspired them or allowed them to let go of a certain pain they had been experiencing in their life, as long as that continues to happen, my soul is fed as far as why I am doing what I am doing. As far as writing goes, I no longer have any of those pre conceived ideas of pleasing people in the industry. As long as I like singing the songs and the lyrics aren't hollow to me and they have some resonating purpose to them, for me personally then I am good to go!
From: USA (now based in Paris)
Website: www.danreed.com
Latest CD Release: Coming Up For Air – 2010 (Zero One)