If you don't know who Slash is, well then shame on you, but I'll give you the benefit of the doubt if you don't. Slash is of course the former guitarist for Guns 'n' Roses and still for Velvet Revolver. But while Velvet Revolver are on a hiatus minus a singer, Slash has stepped out as a solo artist and released his first real solo album called what else but 'Slash' working with some of the biggest names in music on it. In Australia at the moment for a few shows with his solo touring band, we were honoured to be given some time to talk to one of the most influential guitarists of our generation.
Read on as Slash discusses his album, some of his favourite new bands and just what the status of Velvet Revolver is…
We give you the one, the only… Slash
G'day Slash, welcome back to Australia!
Hey man, how's it goin?
Very well thank you so let's kick it off and ask, what can we expect at the shows in Australia? Any surprises planned?
Well let's see. We did a show here for MTV I guess it was in May or something, that was like the second show we've ever played so at this point we've done 8 weeks in Europe and we've just done a tour of Asia. Coming to Australia is very exciting for us because we have a great audience here, so we're just gonna bring the full set which has a lot of stuff that we've never played for you guys before and then we might have a couple of bells and whistles, but we'll see what happens ha ha. It's gonna be kick ass lets put it that way.
What was it that drew you to Myles Kennedy so much so that he ended up being your touring singer?
Oh yeah Myles was a little bit of a revelation, I asked him to come and sing a song on my record having never met him before and only knowing his voice from Youtube. I had this piece of music, actually two pieces of music that I didn't know who should sing these two songs. I had finished the rest of the record and I just was running all these names through my head and nothing fit and then Myles' name popped up and I was like here's this guy that everyone is talking about and I just don't know him, lets just take a chance on it. The first song that he sang was a song called 'Starlight' which was pretty amazing to me. I was really blown away by it so we went and recorded that one proper in the studio then I had him do the second one which is a song called 'Back From Cali' and at that point I realized he had such an amazing range and he was such a really cool guy and so on and so forth so I thought lets ask him if he wants to do some of these dates I've got coming up and fortunately for me he was on a break from 'Alterbridge' so he jumped on it. So it really was a great call, he does all the 'Guns 'N' Roses' stuff, the Velvet Revolver stuff, the Snakepit stuff and like six songs off the new record which four of those are sung by other people and he owns them and they sound like the originals but at the same time he makes them sound like it gives them his own identity so its very amazing to watch.
Talking about the album now, it seems you worked with a who's who of the music industry but were there any artists that you wanted to work with that either declined or weren't available for the album?
I pretty much got everybody on the record that I wanted to work with but there were three people that I either had a conflict with schedule wise. I had one contractual conflict and one person that was just working at too slow a pace and I just had to move on.
On the other side of that was there anyone who you had to say 'sorry, we're full?'
You know ha ha that's funny I think you're the first person that's really asked me that. There were a couple of people that were interested in being on the album but I didn't have anything appropriate for them. The way that this record was put together, was that I just wrote the music first and then would listen to it and sort of imagine the appropriate vocal and that's what dictated the choice of singer on the record.
As a fan of music as you are, are there any new bands on the scene that have made you stand up and take notice that you may want to work with in the near future?
Yeah well I don't know about working with but there's a band that's around, actually an Australian band 'Airbourne' which I think is killer we just did a whole bunch of shows with those guys in Europe and they're just phenomenal. 'Bullet For My Valentine' is pretty good, there's another Australian band called 'Karnivool' that I got turned on to last time I was here that are amazing. You know, here and there there's new bands, you know there's not that flood of exciting rock and roll bands like there was going on in the early 90's and in the 80's and stuff like that, there's not much of a scene, but there are some cool bands. There's a band I just picked up doing this contest in the US looking for a new band, called 'State Line Empire' which is really good.
Are you already working on ideas for the next album?
Right now I'm just writing. I carry my guitar around with me when I'm on tour in my hotel rooms and stuff to keep me from sitting down at the bar all night. I'll start recording ideas, so I'm definitely in that writing mode but I don't know what I'm going to do with the material as of this second. We're going to be touring through next Summer.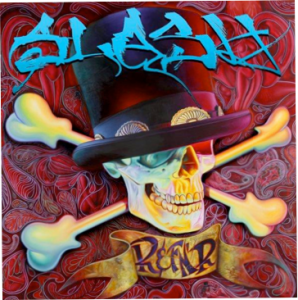 Now obviously, we know the status of Guns 'N' Roses but what is the status of Velvet Revolver? Should we consider it rested and it's all about Slash from now on?
No no, I know it seems quiet but we just haven't found a singer and there's nothing we can do until we find that person and we talk on a regular basis and we listen to stuff on a regular basis we just don't talk about it in public. But we're getting together in October to start going through a long list of singers that could be potentially that we're going to audition them. There's actually one guy from Australia that I know that's coming down, so we'll see if we end up with something that'll sort of pre determine that we're going to make a record obviously and what the rest of our schedules are gonna have to look out for but at the moment we're all just doing different things and coming together every so often to see where we're at.
Just take Myles with you, that'd be easier…
That's what everybody says but the thing is, Myles was somebody that we were gonna get in the band before if we could before but he was already in 'Alterbridge' and that's still the status, but we need somebody that's really committed and permanent so we sort of resigned to not going that route.
You've been to Australia now more than a few times, do you have a favourite memory of one of your trips here you can share with us?
A favourite memory… Well yeah, I've had a blast in Australia pretty much you know every time we've been over here but one particular trip that was did in the 90's we had about a week off up at the Gold Coast and that was really cool, because I'm a big wildlife buff for 1 and for 2 it's just beautiful area and we did a lot of diving and I went out in the jungle and all kinds of stuff so ha ha that was a particularly memorable Australian trip.
Then before we know it, we'll see you again in February for Soundwave, can we expect to see a few of your mates get up and jam with you?
We'll see, we'll see, I just now found out what the bill was, you know who's playing on the bill just a few days ago and it's a pretty awesome line up and there is a chance that I might be able to get somebody to come up and Jam that was on the record so we'll leave it at that for now…
One of the bonus tracks from the album is a reworking of 'Paradise City' with Cypress Hill and Fergie which actually sounded great, have you ever thought of reworking more of your hits in a similar vibe?
No, the only reason that I did Paradise City was because back in 2002, right before 'Velvet Revolver' even started there was this gig that a bunch of musicians got together and did as a benefit for somebody who had passed on. At that particular event, Cypress Hill, myself, Duff, Matt, Steve Tyler and the guys from Buckcherry all got together and did a version of Paradise City and Cypress Hill did the verses right, in that sort of rap way that they do and Steve Tyler did the choruses and so I always thought that was very cool. I did it with Cypress Hill over the years, over the last eight years I'd done it a bunch of times with them and I told them that at some point I wanted to record it. So when I was doing the solo album I decided that would be the perfect opportunity so I went in and recorded the music, they came in and did the vocals and then I had Fergie come in because I had just worked with her the day before and she has the perfect voice for the chorus and it was sort of just for the fun of it. I don't think I really wanted anybody to take it too seriously you know and I definitely wouldn't be interested in trying to rework anymore of the Guns catalogue unless it was for a specific fun reason.
Last one, Australian music fans, how do they differ to those around the world?
Um, well Australian music fans are just really, really into it. It's simple as that, they have a great time, they don't put airs on, you compare an Australian audience to an audience say from Los Angeles or the States, you know they're harder to win over because they've seen everything and they know it and they have to look cool. Where as in Australia everybody just goes and has a few beers and just gets really in to it, it's a very fun environment you know.
Thanks mate, it's been a pleasure I've been a fan since I was about 10, and I look forward to the show on Monday night.
Ha ha ha ha alright, cool, yeah it's gonna be good!
'Slash – Deluxe edition' containing bonus tracks and DVD is available now through Sony Music.
Catch Slash in Australia 11/8 Melbourne, 12/8 Brisbane, 16/8 Sydney.
Essential Information
From: USA
Website: www.slashonline.com
Latest CD Release: Slash – 2010