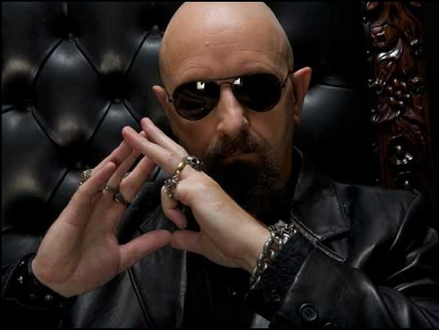 When we last spoke to Rob Halford it was in our summer for promotion of his album"Winter Songs", ironically now that its actually winter here, we had the opportunity to once again talk to the nicest guy in Metal who has just released a new Live CD and DVD film called 'Live in Anaheim.'
The Metal God took some time to discuss the live album with us, his new record coming later this year, a memory or two of Ronnie James Dio and gave me a visual I'll probably never stop laughing about.
Turn it up!
I wanted to ask about 'Live in Anaheim' the official soundtrack has just recently been released and is a collection of Judas Priest, Fight and Halford material, basically a snapshot of your career, almost a best of but in a live environment.  Is this the perfect release of where you are now to showcase exactly who you are and have been?
Yeah it's a little bit of everything isn't it really?  I think was an important gig for me because ironically enough it was the last show I did with Halford 7 or 8 years ago before I went back to Priest, so to finally get around to having the opportunity to release it now is kind of interesting.  Its like a look back but its kind of also focusing on some of the things that the Halford band is doing for the rest of this year before Priest roars out again in 2011, so it's a little bit of everything.
What was it specifically that led you to release this particular show out of no doubt all the shows in the archives?
Well you know, we've got loads of material, we filmed nearly every show that the Halford band and the Fight band was doing.  We had cameras set up on the stage and the sound desk, some of it sounds like crap, some of it looks like crap, a lot of it is brilliant, so its just a case of wading through it all.  There's so much stuff in the vaults, but I think the Anaheim one was valuable.  I mean everything looked good, everything sounded good and in the order of release, since this Metal God records company came into being, we've slowly been bringing out all of this material from the past and setting it up through that way of release and this is pretty much right now the last thing that we have for the foreseeable future because we're gonna move on now with some new material that we want to share with everybody.
The DVD release of 'Live in Anaheim' is due out I believe at the beginning of August?
Yes it is yeah, it looks fabulous, I mean the sound, Roy did a fantastic job on the sound, all the editing, the colouring, everything, its just a really great show to look at. It's got a tremendous amount of passion and fire in the performance and again it's a little bit of Metal history really.
It's actually more of a film that just a performance?
Again you just try and make the whole experience as interesting as you can, so although the film is the main feature there's other bits and pieces floating around as well, you know just to make it entertaining and interesting.
You talk about it being a great snapshot of your career, was that the idea behind making it, to give everyone that perception?
Yeah I mean, there's bootlegs all over the place ha ha as you could imagine, so if you're a real fan and you want to add something to your collection, this is probably the best way to go around doing it, because you're getting something really top class in quality.
You are on the OZZfest bill for the first time since 2004, back then it was with Priest, but you're playing now as Halford.
Yes, I was thrilled about that I put my two pennies in to say I was available if you've got a slot for me and lo and behold I got the news a few days later of come on lets go and have a bit of a knock together and go out and have some fun, so I'm looking forward to that.
What can your fans expect to hear at these shows?
Well we've got the San Francisco show coming this Saturday so that will be on You Tube within about twenty minutes ha ha ha ha ha and you'll be able to kind of get an ear full of the material that we're playing there.  I would imagine we'll pretty much do the same in the OZZfest set, we haven't got as much time actually, I think we've only got about 45 minutes for OZZfest so it'll be the bulk of the show that you'll see from San Francisco is what you'll see at OZZfest and the Montreal Metal Fest which is a week on Saturday over in Canada.
Can we expect any new material to be debuted at these shows?
I'm thinking about it, yeah, I mean we've got this new record coming out in October I think it is, the 'Made of Metal' record and we'll be airing one or two ideas just to give the fans a listen and check that out.  But the new record is very diverse it's all over the place.  I mean that one track 'The Mower' that just came out is not really indicative of the rest of the material, every track is very very different. It's probably the best display of everything in Heavy Metal you know, right from the early blues to the extreme moments like 'The Mower' and everything in between.
With a catalogue spanning over 30 years, how hard is it to put your set together when you are playing with Halford as opposed to a Priest show?
Well I was just listening to the set we're going to do.  I just went for a walk around the park here in San Diego and I was listening to the set list and it sounds pretty solid, it took a while to figure it all out. I mean in essence this is about the Halford band obviously, just to reintroduce the music that I still feel can do the business, also just a kind of to have something to do ha ha, because as important as it is for Priest to take a break this year, it drives me mental.  I have to keep busy, I cant sit around, I want to do something.  So this is why I'm just taking to the opportunity to have a bit of a knock and have a few good times with the Halford band and release some new material and let everyone get a vibe about Metal God records and the clothing company and everything else, more than ever you've really gottta go out and do this thing otherwise its gets lost in the mix.  There's so much stuff going on in the world, you know, in Metal, but if you don't stick your head up and go 'hey have a look over here, check this out' its easy to get, not necessarily overlooked but it's confusing, there's so much wonderful stuff that you get lost in the big ocean of metal you know.  So a lot of combined reasons to just get out and have a knock and have some good times.
To be in the game for nearly 40 odd years, yet your enthusiasm and desires to constantly be innovative/try new things is as strong as ever…. What is it that drives you so strongly?
Without getting too intense on it, I just love living life and I think that it's a blessing to be in any kind of band and to have the support of your fans with you.  I mean I can't do what I do without all the wonderful fans that check out the shows and the music and so forth, so its many, many things really.  This is all I ever wanted to do, this is all I ever wanted to be, and so you just take every opportunity that you can, because it ain't going to last forever.  I mean the music will always live forever but you just face reality and I'm not a young guy any more. I still do my gig as far as what the voice can do and that's the main reason I'm still going out there, I mean when the voice says goodnight ha ha ha ha ha that'll be it mate.  I'll be round the pub ha ha ha.  I mean I'm just having a joke here, I don't really think about it to be honest Troy, I think once you start thinking about how long you've been at it and how much is left you kind of get a bit confused there so I just take it every day at a time and have a great time and do as much as I can for Metal.
You are heading to play Japan's "Loud Park" Festival in October this year, what are the chances of you heading across to Australia for some shows as well?
We're looking at it right now Troy, I mean there's nothing set in stone but I said to management and to the agents, I said look we're over there, we can easily just nip down to Australia even if its only for a couple of gigs, so they're working on it, and as soon as we know what's available we'll put it on our website.
Of course the Metal world was saddened by the passing of Ronnie James Dio recently, how did his passing affect you?  
Well as a personal friend of mine it was absolutely shattering you know, I mean I'd only seen him a couple of weeks earlier at the Golden Gods awards in Hollywood.  We had a bit of a natter, talking about this that and the other, and of course two weeks later he's gone.  It was just like my legs went out from under me like they did for a lot of people, fans and other musicians.  We knew he was ill, we knew he was getting treatment and so I think everybody was kind of optimistic and sadly he was taken from us, and its just terrible.  I was like down in the dumps for days and days and days, all I listened to was Ronnie.  I just listened to all of his music and that was just a comfort as I think we use music in our lives when we have tragedies that we have to get through on a personal level, but anyway, God bless him.  His music and his voice will live on forever.
Do you have a favourite story or experience involving Ronnie James Dio that you care to share?
Just that when we did that 'Hear N Aid' thing all those years ago, it would just amaze me that he was able control it so masterfully, because you had all of this different talent.  You had all of these different high profile people in Rock and Metal and he was like the guy in charge and he just did it so well.  I think that was just a reflection of even then how much he was loved.  People were ready to do whatever needed to be done to give him the best moment in that song, so that's just a really strong memory for me.  And recently on the tour, the Metal Masters tour with Priest, Heaven and Hell and Lemmy, just being with your mates and being out and having a bit of food and a drink is the best feeling in the world really.  May he Rest in Peace.
Yes, definitely.
With Judas Priest kind of being on hiatus this year, well at least visibly… Are there any plans/dates etc slotted into the calendar in the foreseeable future with Priest?
Oh yes, absolutely that why I'm just roaring through what's left of this year and doing as much as I can.  I'll be going back home at Christmas, back to the UK and then seeing the guys and we'll be ramping everything up for Priest to go back out through 2011 and into 2012 again.
I did see the show last time you were here and it was amazing.
It'd be great to come back, we'd love to do the British Steel show for you because I don't think we did that did we?  So there's a lot of countries who would love to see that show.  If you've checked out the British Steel DVD it's a bit of Metal magic that is, so anyway, fingers crossed we'll be seeing you sometime next year.
Now something a little bit different, you leant your voice to a couple of characters in the video game 'Brutal Legend', how did you get approached to be a part of that?
I just got an email from somebody, I can't remember now; I think his name is Troy as well, from 'Double Fine', the software company in the San Francisco area.  But the fact that it was going to be a Heavy Metal game, the main guy had his mind set on some of the players that he wanted to approach and I'd never done anything like that before.  I'm absolutely rubbish when it comes to playing those games, I've got no coordination whatsoever.  The only thing I can do is like that Nintendo Wii, like with us in Priest ha ha we're doing the bowling and the golf, that kind of thing and anything that's a bit frantic.  We can't get our heads around these mad video games that the kids play, but I met this bloke and we talked it through and I could tell that he was sincere and genuine and about his love heavy metal.  So it was all pretty straight forward. It was a bit like recording like I normally do, but it was like talking rather than singing.  You know he would give me the direction and prompt me to perform the lines and so on and I had a good time doing it and I think it turned out really well.
Ha ha I just got the best image of you guys backstage in the leathers playing on the Wii..
Ha ha ha ha ha yeah, it's really funny.
You have a new Halford album coming out later in the year and with your last album being "Winter Songs", can we expect anything out of the ordinary with the new Halford release?
Not out of the ordinary I don't think, no.  You know I think I can honestly say that I've done it all. I don't have anything left to prove really in terms of what we're trying to do in music.  If anything if I'm proving anything that's left to prove its that I'm still committed and dedicated to being a Metal musician.  So these songs are all over the place and they go from the blues all the way to the extreme feature of that Mower track that came out recently.  It's a good record and interesting songs you know, exciting and puts you all over the place so hopefully you will enjoy it.
Lastly, how has the Metal God Apparel and Metal God records been going? Any new products you wish to plug whilst you have an opportunity for some free advertising ha ha!
Well thank you, Metal God apparel is doing really well, and its ironic really, because in terms of you can't illegally download a T-shirt ha ha ha! I mean I'm sure there's some knock off's in China that I'll find out about but its doing really good thanks.  And the Metal God record company is solid now, I was like the Metal guinea pig now I'm getting it all sorted and all knocked in to shape and we're ready now.  We've been encouraging people from all over the world to send us their music and the next step, probably next year is probably looking at the talent that we want to release on that, so its doing really well thank you.
Thanks Rob for your time.
Cheers mate, all the best and I'll see you soon!