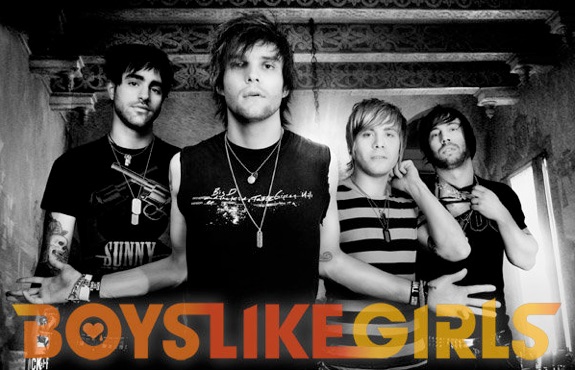 After initially discussing the perfect, almost Halloweenish weather, our mutual love for Butch Walker via my tattoos and tattoos in general, I must say it was a pleasure to sit down and talk to Martin Johnson and Paul Digiovanni from the band Boys Like Girls who are here for their second tour of Australia in support of their newest album 'Love Drunk'out now through Sony Music.
The guys took the time after a big night to discuss the show, the future of the band and just how the internet stops them from only eating bologna.
I give you the Men from Boys Like Girls.
Firstly, welcome back to Australia, I was at the show last night in Sydney and have to say that I loved the energy of the show.
MJ: Thank you so much man.
Especially the 64,000 guitar changes.
PD: too many changes ha ha.
I have to ask, how many picks do you throw out a night?
MJ:  Probably like $20 worth, I need to make sure that everybody gets a chance to grab a pick and can go away with a souvenir and it's definitely something to spice up the show.  Its funny that you like that move as I stole that from Butch Walker, he was one of our first tours and he taught me the pick throw so I was like, I gotta bring this to the show.
I'm waiting for the pick tricks!
PD:  Oh yeah throwing in the mouth and all that
MJ:  I don't know if I'm up to that level yet but I'm working up to Expert Picker
(In a discussion about their picks I then gave the guys each a May the Rock be with You pick and explained that we use them to throw out at shows for people to pick up and go home and check out the site.  They loved the idea).
Now, during the show last night you stopped during 'Heart Heart Heartbreak' because a girl was getting crushed at the front.  Have you ever had to do that before?
MJ:  I think its really important that our fans get to have a really safe show and know that its really important to us that they know that they're safe when they come to a Boys Like Girls show and its like we love our fans to go crazy and people throw each other around and we encourage it, we ask for circle pits and we have people come up on stage sometimes and you know just really go crazy but its just really important that nobody gets hurt, you know if they are and its important sometimes and usually I wont stop the show unless they're having a problem.  There was a problem getting a girl out and it was just important as they were getting a little rowdy and the first part is taking care of each other and have a really good time with your best friends listening to Rock music you know and then going crazy comes second.
Many bands wouldn't do that kind of thing so that was really cool.
MJ:  Thanks man.
I see Bryan flicks his bass around and I do play guitar as a hobby and tried to do that once and almost knocked myself out.
PD:  Me too ha ha.
So have there ever been any injuries?
MJ:  Yeah there's been a couple of injuries, its funny because we've really learned each others space pretty good, the other day Bryan was doing one of those moves and he came up and he kind of looks like Rudolph the Red nosed reindeer right now because he smashed his nose off the microphone, he scratched it pretty good.  Usually its just clumsy stuff, I mean he's more the wild child, he's fallen off stage a couple of times, one time, and you know we have those risers?  Well we call them Ego risers, you get up there and just show them who's boss, well one time I was in Canada, we were in Montreal and I went up and I slipped off and I hit my chin right on the riser and I was seeing stars for a minute.  We were playing an older song called 'Up Against The Wall'and there's a video of it I'm walking around completely bewildered singing the song in a really low octave and then I kind of came too and got into it, I was really worried on stage that I had a concussion so I ended up being alright.
Was that really the first time you'd played 'Go' live last night?
MJ:  It's the first time we played it live; I've never even done it for an acoustic set.  Some girl had come to the meet and greet and the song meant a lot to her, she had just lost her Mom and her friends asked for the song and for us the most important thing when we're playing a live show and a lot of bands its really important to them that they play the new songs or play whatever song will get them the press, what makes us happy is playing the songs that the fans want to hear and what the fans like, because you see the way the fans react to songs and we love every song we play so its up to the fans to choose what we play live and we make sure that we play some of the radio tracks every night and keep everybody stoked and if they have requests we do our best to honour it but that one was just really important for that girl to hear last night and it's a really important song to me and I think it was really cool and we might add it to the set now, it came out really good.
It worked well where it was…
MJ:  Thanks man, we hit them with up tempos pretty quickly so it's good to chill it out for a minute and do a mini acoustic set in the middle and I think we might add it to the set, so thank that girl for the inspiration.
You were here last in February 2008 for the Soundwave festival, how if any way do you feel that as a band you have changed in those 2 and a half years between trips Down Under?
PD:  Yeah that feels like it was about 15 years ago, we've done so much stuff, come out with a  new record, grown as a band so much, its just completely different.  No but that was really cool, it was a fun thing we did with a bunch of our friends, we had a really good crowd, it's really cool to have been gone that long and to come back and we're playing like that show last night was just insane and it was a really cool feeling and I think we're gonna have to start just coming back more and more often now.
The new album 'Love Drunk' is a great record, now it's a somewhat different sounding record to your debut release, was this intentional?
MJ:  I don't think so, I think we were just really trying to up our game you know I think we would've felt like we were treading water if we put out another record that sounded the same and I felt like we've progressed a lot in those 3 years of touring and when we made the first record we were really just trying to define ourselves as a band and find our sound and over 3 years of consistent shows every single night it ramped up, it got heavier it got more intricate but more simple at the same time and we really wanted to bring our live sound to the record.  And we felt the pressure of course, I had a really hard time with, I had the songs, I had a couple of songs and the way we work with songs its all about presentation and a pop song is a pop song on acoustic guitar.  You know it can be trained you can make it into a techno beat you can turn it into a remix, give it a native backbone, you can make it really modern and pop, you can make it a piano ballad and you can pretty much do anything with it and it was like how do we want to sonically speak so we went with 2 dualities on this record a lot of the old record is mid tempos we wanted to really go for dualities and speak to total pump up jams and then like the down tempos that really spoke to you lyrically and then hopefully it came across in the right light and I'm really, really happy with what we did and excited to do it again with a new record and totally bring it in a different direction.
Its gone platinum I believe?
MJ:  It hasn't gone platinum in the States, the first one did world wide but we don't really think about the numbers that much its not really important to us you know so many kids have it from file transfers and downloading and that's what's important is that the kids actually have the music.  Obviously we'd love to live in an era where everybody still buys records but its just not the case so you have to embrace the fact that fans still have the music because that's what's important is that they have the music, they love it they share with their friends and they come to the shows.  So we just accepted the fact that its 2010, its time to rock and roll with it, we don't really think about the numbers we think about the kids that are at the shows.
Are you filming this tour for plans of another DVD release?
MJ:  We have some footage that we're working on a couple of projects film wise and it's still up in the air and we're writing and touring and working on the new single 'Heart Heart Heartbreak' worldwide and just excited to continue to open people's ears.  We have some footage that's been done and we're kinda at a little bit of a crossroads right now beginning to write the third record and continuing the touring cycle for this and figuring out how we're going to wrap it up correctly.
Now I've had a couple of people ask me to ask when you're going to update you 'Martinsays' blog?
MJ:  When I'm nice and ready it will be updated and I've been thinking about bringing a new entry for a while but I feel like there's a lot of pressure because I haven't updated it in a while.
PD:  Its gonna have to be a real good one.
MJ:  It's gonna be a good one and I've kind of come into a little bit of a new mind set so we'll see what happens.
The internet has been a major factor in the bands success in getting signed and you mention file transfers before, how important is it where soon you may not have to release physical records and it's all about the internet?
MJ:  It already is, it's a singles based market, the music industry is completely flip flopping into deals with booking agents and deals with concert things with Live Nation and the script has really been flipped and the age of the boombastic major label deal is done, and people are really starting to see peace and one of the biggest pop stars right now are just releasing shorter records and its scary, and people are starting to put out free music and you know we're just happy to be able to tour and we're gonna do whatever we can do to get music to our fans.  We would've done this for free, its not about having a house in the Bahamas we don't really give a fuck about that, we care about the kids singing along and being able to do this as a living and not eating bologna and being able to see the world and do it and we're just happy to go along with the flow, I mean music is never gonna die, it'll never die, it keeps people alive, it keeps people same, it keeps people happy so whatever we gotta do to bring that we're gonna do it.
I wanted to ask about the 3D video you made for 'Heart Heart Heartbreak' how much fun was that to make and how hard was it to make?
MJ:  It was really different.
PD:  Because it was kind of like a Samsung thing and us and they told us what to do for a lot of it, it was like play up to the camera and swing your shit around and it was cool, like we didn't really know what to expect, we went and watched some of it while we were filming and they said we're the first band to ever do a 3D video so it's a pretty cool thing.
On videos, your clips are always entertaining enough to make you want to watch, perfect for the 3 minute attention span of most people these days.  How much fun is it making videos?
MJ:  Yeah I think its important to really showcase the music and its tough, videos aren't really shown on TV anymore and the budgets are cut in half so you've cant really bring to the table as far as what used to be brought as far as entertainment value, you scrape for it a little bit, I think its important to illustrate a cool story and keep the attention span and really bring the music to life a little bit and bring it to light and some of my favourite songs, I remember the music videos a lot too, I think its important to keep that alive I really thing music videos are important part to give fans a visual.
I have to ask because everyone always does it, when are you going to move to Australia?
MJ:  Hopefully really soon, I fuckin' love it, I just like the attitude, everyone's just down to help, you know the fans are just really grateful and just really stoked to have us here and it makes me want to play 10 times more, you know it's like you come down and you do the 24 hour flight and to be received like that its just people are really stoked to have you here, it really means a lot, there's no entitlement, the people are just really happy to see you play, just really makes us want to come back and do it all the time and become a staple, you know I want Australia to be a staple in our touring routine so, expect to see more of us here and we're really, really enjoying our second trip over here.
As a headliner now, not an opening act?  I mean over the years you have toured with some great artists, and a favourite of ours is Butch Walker.  As a veteran of the industry, did you get any tips from Butch other than pick flicking?
MJ:  Yeah for sure you learn something from everybody we've toured with, you take a little piece, even if a band's opening for you sometimes a band chemistry type deal, how to solve problems, and you find that you imitate and bring it in to your own fashion, from a band that we toured with, you find different pieces that worked for you and let it go, we were all pretty green when we came into this live performance wise and I think just the touring experience and what we learned from watching so many bands live and had a great opportunity to tour with so many good bands and it really helped us a lot.
Lastly, what's next for you guys?
MJ:  We're gonna go home and start working on the third record more full and really flushing out where we want to go with it sound wise, we just continue touring and wrapping up this record cycle, we have a couple of things in the works as far as visual stuff that I cant really talk about so much but we'll surprise you with it, but you'll see it when it comes up, the stuff we're filming and the camera oriented and expect new music from Boys Like Girls really, really soon.
Thank you guys for talking to us.
MJ:  Really, really a pleasure talking to you.