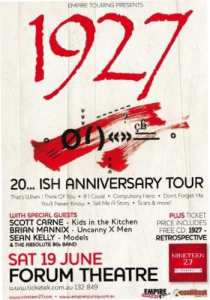 It's been 20…"ish" years since 1927 stormed the charts here in Australia in 1988 with their 500,000 plus copy selling debut album 'ISH'.  Featuring the hit singles "That's When I Think Of You", "If I Could", "You'll Never Know" and "Compulsory Hero", ..ISH, remains one of the highest selling debut albums ever by an Australian band.
Fast forward to 2010 and 1927 is back in the spotlight with the Erik Weideman led incarnation of the band getting ready to celebrate 1927's debut album with the 20…ISH Anniversary Tour set to include numerous shows throughout Australia, with the first being in Melbourne on 19th June.  Following the reissue  of "ISH" in September 2009, fans for the first time have been able to own a copy of …ISH, digitally. On it's release on iTunes, the album peaked at #10. This confirms the band's popularity remains strong today which is also evident by the response from fans to the bands live shows in late 2009 and thus far in 2010 and the reissue of ….ISH.
In the lead up to the Melbourne show, I chatted with Erik Weideman about the upcoming shows and the phenomenon of 1927.  With seventeen or so years having passed since 1927 disbanded not long after the release of their 3rd album, the obvious question no doubt is what has Erik been up to during this time?  "In the last five years or so I have relocated to Perth and been writing some new tunes and trying to get a record out under my own personal name, which obviously hasn't yet happened for a number of reasons".
The last few years has certainly seen a flurry of bands from back in the day re-emerge to the delight of their fans. Here we are in 2010, 1927 are playing shows supported by Wa Wa Nee once again, Hey Hey Its Saturday is back on our TV screens and Big M's are bringing back the classic flavours! It's almost like the last 20 years haven't happened!  Offering his own thoughts on this almost insatiable demand still for the 80's/90's "well perhaps it's because we are bored, I don't really know, either that or we are just trying to relive those days, there's always that attraction with things that are retro.  But when it's across the board, you have to wonder whether people are just bored of all that new age sparkly, Stanley Kubrick we have to meet the aliens kind of thing…it's all a bit boring now isn't it?"
With no new album released since 1992 besides the greatest hits in 1996, it's understandable to learn there was a fair degree of hesitation in bringing 1927 back onto the main stage "absolutely there was hesitation, it wasn't necessarily a question of whether the songs where good enough, the hesitation was wondering whether this music fits anywhere anymore?  It's apparent now that it does, but certainly a few years back it was a really big concern for me, is that kind of music ever going to be acceptable again?  I have now found that it's not so bad after all and it's allowed me to hear the songs again in a different light".
Partly contributing to the "freshness" of the songs so to speak has been the different lineups that Erik has used over recent years under the 1927 banner and also throughout the history of the band. "the original band never even got out of the studio, so the lineups have always been constantly changing".  In the new set, fans can also expect to hear a bunch of new songs.
So with these renewed interest levels in 1927 and given the digital age we live in, it is not surprising to learn that a new era of 1927 fans have emerged at the recent shows. "well I take the time to talk to people after the shows and there have been people that would have barely been 5years old when 1927 was first around and it's very often a parent or a friend of a parent or a friend of a friend that has suggested they check out 1927 and then consequently they have come along to see us perform".
With the legacy of 1927 still obviously having survived over the years and with the music industry being such a radically different beast, I couldn't help but wonder whether in 2010 Erik could see 1927 having the same success if they were just starting out?  "now that's an interesting question….I would have to say that we would probably struggle if we came out now". The reissue of "ISH" will certainly ensure the continuation of that legacy, particularly considering the crazy fact revealed by Erik that the album had long been deleted and out of print. "indicative of how crazy the music industry can be sometimes, the damn thing had been deleted from catalogue, so you couldn't buy it even if you wanted too.  Here was this album that people say was one of the greatest debut albums and it won ARIAS etc, etc….but nobody could even go and buy the fucking CD.  It's just crazy to think that it had been deleted, absolutely insane, I am sure the record company has missed out on a bunch of sales taking the time to re-release it….but who knows?".
Speaking of 'ISH', I am sure many of you have wondered what on earth the cover art actually represented exactly? Designed by Erik, whilst having him on the phone I couldn't resist asking the question.  "well it's actually my representation of an ISH haha, the funny thing was that the album wasn't even named yet.  I have always been a little bit of an artist and at that point in my life I was learning chinese painting and was trying out brush strokes with my new chinese brush and ink.  So that's what that 'slash' is.  Then on top of that I just threw a bunch of letters from a letra set which I am not sure are around anymore, you used to have to rub on letters like what typesetters used to use".
With the upcoming show at Melbourne's prestigious Forum Theatre being no exception, this latest phase of 1927 is certainly giving the songs every chance to shine in a "stadium" type setting, which Erik explains is due to both personal choice and the interest levels from the fans in the shows. "this choice isn't me saying that I am better than a smaller venue, I think that if you are going to bring something like this back, you have to give it every consideration and try and present it in the best possible way and I think that these theatre shows are the best way to present 1927".
You can catch 1927 for a special one-off show at The Forum in Melbourne on Saturday, June 19th 2010 and please check the website link above for dates in other cities.