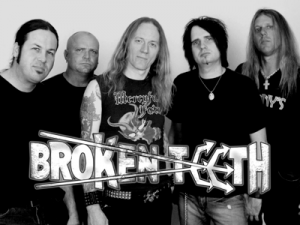 Broken Teeth formed back in 1999 in Austin, Texas when Jason McMaster (Watchtower and Dangerous Toys) recruited former members of Dangerous Toys, Dirty Looks and Pariah for a side project that allowed band members to have some fun indulging their dirty rock influences including AC/DC, Rose Tattoo, Circus of Power and The Four Horsemen. More than a decade later, Broken Teeth has firmly established its own tattered and frayed identity.
The band has just recently released their rocking new album "Viva La Rock, Fantastico", featuring 13 all-new tracks and cameo vocals by Canadian compadre, Danko Jones. "Viva la Rock, Fantastico!" (Perris Records) was written on the road during Broken Teeth's 2008-2009 "Blood on the Road Tour."
Lead singer Jason McMaster checked in to give us all the info we could possibly need to know about the new album and what's in store for Broken Teeth for the remainder of 2010!
Jason, thanks for taking the time to talk to us about the new album Viva La Rock Fantastico" which was released in January.  There certainly seems to be a buzz growing about the album. Has the response so far exceeded your expectations, or were you confident that this album would generate the level of positive response that is so far has?
The buzz on the new record is a nice surprise. we had no idea what to expect, we just knew we had fun putting these songs together and that at least we felt good about it.  At the end of the day, you can only be your own critic and measure your levels on what it is you have just created.  So, anything positive we have gotten was of course nice, but not all out expected.
Having written this album largely whilst out on the road, did you find this environment the kind of inspiration required for the raw and gritty brand of rock n roll that Broken Teeth delivers?
It looks that way when you feel our style, but, not needed to make good kick in the face rock. I believe two songs on the record were only written the night before the last day of basic tracking, "Big Spender" and "Bullet".  The bulk of it I think was written on the road.  I was literally bouncing around in the back of the bus, or vans, or hanging in a hotel room putting riffs and vocal ideas together.  I have a small guitar that I was lugging around, plugging into this little porta studio i had, it pretty much made it so easy and spontaneous.
Taking that question one step further, this album marks the first Broken Teeth album written by the bands current lineup and also without the involvement of guitarist Pail Lidel. How did you find the songwriting process compared to past releases?
We were slightly worried to possibly lose the gauntlet on what we had been writing with Paul's riffs and vibe.  He had a complete hand in it, along with myself, we were creating Broken Teeth from the ground up since 1999, making sure the songs were only a few ingredients deep…one bass line all the way through, steady solid grooves, and complete  firespitting, knuckle dragging, mouth breathing rock.
"Viva La Rock Fantastico" what was the inspiration behind this being the album title?
I love the old french rock band,TRUST. I have covered their songs before, and Anthrax cover the song "Antisocial", anyway, I love the singer, his name is Bernie. I always rediscover that record every that band and my appreciation for them.  Last year I was singing along with a few songs on a trust record called SAVAGE, and the cadence and flow of the vocals are jagged and fast, I believe only because of the crazy French accent.  I told myself that i wanted to do something like that in a Broken Teeth song, and all i could come up with was the silly phrase, "Viva La Rock Fantastico", which is really bad Spanish, or tex-mex, and is just a bouncy sort of spittle of words that i felt resembled what i was trying to borrow from Bernie. I was trying to have the phrase be funny as well as punk, as well as basically say, thank god that Rock N Roll is here saving me from a boring life!  A sort of celebration of the rock n roll. What added flavour to this and the song "Big Spender" is that Danko Jones contributed guest vocals to those songs.  We are very psyched to have him on this record.
When you first put the band together back in 1999, did you think you would still be going strong some 10 years and 5 albums later, not too mention the interest in the band growing stronger with each release??
We had no intention of making this a real band, a touring band, etc.. we were making the record in 1999 as a barter deal for Perris to use his studio for a different project and never intended to play live at all. Here we are ten years later……I am very happy with the results.  It occupied my time, and reminded me how hard it is to write very simple rock n roll, that still packs a punch.
"Something tellin me too…..get your ass back on the road" What are the bands touring plans in 2010 to promote the new album?  Do you see Broken Teeth venturing outside of the USA anytime soon?
I know, the grammar on this record, including the fake Spanish title, is incredibly bad….at least i can laugh at it!  We have a tour of the midwestern states lined up for May and June, also a plan to do another run of dates in the fall before we go on a 5 day cruise in November. We did the cruise last year as well, with Ratt, Tesla, Queensryche and Skid Row.  The cruise is called SHIPROCKED, go to www.getshiprocked.com for info. It's a blast.  I am not sure who the big headliners are this year, but, its a festival type thing, on a cruise ship. Pretty cool idea.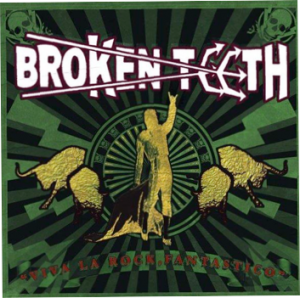 Speaking of touring, for the benefit for those of us that live in galaxies far far away and may never get to see Broken Teeth tear it up on stage, can you describe for us a typical Broken Teeth live show? 
BOOM ….right outta the shoot. A lot of swagger, a fine tuned setlist, that has only changed with the releases of new material.  The staples of our early records are always in the set, always seeming to us like a our own personal faves or a greatest hits set.  We don't have any ballads, or is the song "Stick It In' counted as a ballad?  Sweat, fists, sometimes blood and all the other rock cliche's that you need to make rock n roll are gonna be there.
Outside of America, where have you found Broken Teeth's fan base to largely originate from? Obviously with the Rose Tattoo, AC/DC and Airbourne connection here in Australia there would definitely be a fan base in the land down under to tap into!  Are you aware of many fans down here in Australia?
I know that Aussie fans know Broken Teeth. We don't get a lot of response, but, some. the Airbourne guys kind of filled me on on how they heard about Broken Teeth and my other projects, and anyone who loves real rock over there will find us no matter what, i feel that is true.  But to be able to point at Oz and say "they know our songs and have our records" I think that might seem like an untruth on any scale, i can only dream of oz getting Broken Teeth for a tour over there.
For someone who has been consistently involved in music for over 20 years now, what continues to keeps the fires burning?
It is a part of who i am.  It's my art, and very important to me.  Ones who have high paying straight jobs, wish they had what i have and i don't want what they have.  So, when you look at it, or fantasise it that way, I am what their parents wouldn't let them be.  I tell it in my sermon of rock every performance.  9 to 5 people need rock n roll too, it keeps them sane. Anyone who has a band knows this information. rock n roll chooses you, the songs speak to you.  The radio is not your friend, it is only spoon feeding you a song they are told you will like, never knowing if it is a good song or not.  The way to beat this is to go to shows, buy records you like, and build your own playlists, or library…its called being a fan. a fan, is what i am, before all else.
Jason, we also have to ask you about Dangerous Toys, who in April return to the stage for some shows.  Do you think we will ever see a new album from Dangerous Toys, or at this stage is the intention to only return to the stage?
No new recordings are planned.  We did release a 20th year anniversary dvd/cd set (www.seeofsound.com search Dangerous Toys) in January 2010.  We have been playing shows as a sort of reunion set, since 1999.  We made some records that did not sell well, the audience was so fickle for a time, we decided to play the songs that people wanted to hear, deep cuts, most of the first two records, and run with it.  We have a lot of fun, and the idea of making a record in this day and age under the name Dangerous Toys, makes fans just want to hear the old stuff.  Why make a record that sounds like something you wrote 20 years earlier, might as well just play the songs you're trying to write like.  Or, call it Broken Teeth!!
I stumbled upon an interview you did about 6 years in which there was the following quote from you "being told that rock/metal is making a comeback is only true if they think that rock is dead, its not dead, the fans are there"….so in 2010, do you think this statement still holds true?  
Amen.  Of course it does.   Fans want to be spoonfed and told what to like.  Total bovine. Waiting for your favourite song to be played on a corporate digital timed out computer playlist, the chances are shit.  Real fans press "play".
Whether it be through Broken Teeth, Dangerous Toys or any other of the projects you have been involved, for all that you have given to a life of rock n roll, what do you consider rock n roll to have given back to you?
My sanity.  I am level when i have a microphone or a guitar in my hands. It's therapeutic.
Heres a chance to gaze into your crystal ball and make three predictions. By the end of 2010 Broken Teeth will have….
1.Toured and played shows with danko jones
2.Sold a few records
3.Had a shitload of fun
Jason, thanks for your time and may the rock be with you in 2010!
Essential Information
From: USA
Band Members: Jason McMaster – Vocals, Jared Tuten – Guitars, David Beeson – Guitars, Brett McCormick – Bass, Bruce Rivers – Drums
Websites: www.brokenteeth.com & www.myspace.com/brokenteeth
Recent CD Releases: Viva La Rock Fantastico – Jan 2010