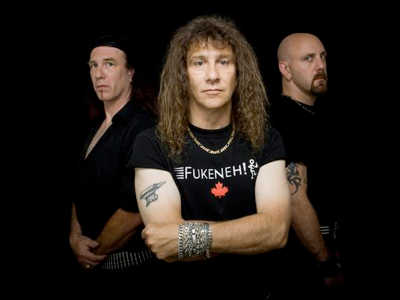 "My advice is the advice I give to everybody including myself right from the beginning.  You have to do this for the right reasons and the right reasons only. And the reason is because you love it.  You do it because you love it not because you want to make money with it.  You do it for the love of music, of playing.  Those are the right reasons."
If you haven't seen the most amazing music documentary ever made, 'The Story of Anvil' then you need to do so immediately.  Anvil are a band that have been around for over 30 years but never made it as many of their peers have, yet they persevered, continued to make music and are now doing what they've always wanted to do.  That is ROCK for a living.  It truly is a heart-warming story that needs to be seen or read.  That will give you the back story you need to understand just what Steve 'Lips' Kudlow and Robb Reiner have encountered on their way back to being rock stars.
On the eve of hitting Australian shores to play as part of the Soundwave festival and their first ever shows in Australia (you can also catch them playing a couple of shows with Trivium in Melbourne and Sydney), we talked to Robb Reiner about touring, determination and he leaves us with his threat against the people of Australia.
We give you Robb Reiner.
You are out here later this month playing at Soundwave.  What are you expecting from your appearance at what is now Australia's premier metal/heavy rock festival?
All that I'm expecting is to I guess enjoy the hot weather that apparently there and were gonna rock for like 150,000 kids that have never seen us and I'm looking forward to every minute of it
You visited Australia in 2009 for a promo tour for the documentary, what was your impression of Australia and Australian metal fans??  
My impression of Australia was that I fell in love with the place, the people and after 6 days I did not want to leave.  I thought the whole place gave me the feeling of a cross between the UK and Canada.  As far as the Metal fans I didn't get a chance to really meet many Metal people there so I don't really have a comment on that, we were just doing promotion for the movie.
Would you have ever thought that one day you would've played in Australia?
I've always hoped that we would get there, that's the best answer I can give you and I believed that one day probably would.  Now it's coming to be and its great and I can't wait.
Now with Anthrax also on the bill, Scott Ian has been known to get up on stage with you a few times, can we expect to see the same happen at the Soundwave shows?
We haven't talked about it, that's a spontaneous thing that happens so you never know.
Speaking now of the "obvious", the documentary.  Obviously it has been instrumental in propelling the band around the world, was there ever a time you thought it may backfire and not be a good idea to release the documentary?
After I saw the movie blow everybody away at the Sundance film festival I knew that the movie was going to blow the entire world away and I didn't have any doubts otherwise.
Who have been some of the more surprising people who have now come forward claiming themselves to be Anvil "fans"?  I think I saw somewhere that Chris Martin from Coldplay is now a fan?
Absolutely.  How about Jimmy Page? How about Paul McCartney?
That must be a buzz for you guys
Yeah the list has been growing so big that pretty soon I'll have to start writing it down.  People have really engaged the story of Anvil you know.
And the book, it's great.
Yeah I know it's great, that tells the whole back story
Take this question as you will, but in the height of the madness surrounding the movie release, did you at times feel you had become/were being treated more as a "movie star" than "rock star"?
No I don't feel like a movie star at all, I feel like that I'm actually starring in a movie, like we're just in a movie.  That's how I feel.  It's always been about the band and the music and the movie was a way to tell the world the true story about the Anvil boys you know?
How have your lives changed since its release, particularly as far as the workings of the band is concerned?  Has Anvil now become that full time job you always wanted?
Oh absolutely, we gave up our day jobs 2 years ago.  We have a real manager, a real agent we have record company distribution, we're super, super, super famous and everything around us have changed.  We internally are still the same people.
With all the touring, have you begun working on a new album yet?  Are there any intentions to maybe re-record some of your back catalogue?
Well the back catalogue is slowly being put out, I think through iTunes and Amazon, it will be eventually domestically released I'm sure.  The new album is all written actually its called 'Juggernaut of Justice' its totally written we just have to record it and I believe we're gonna do that in the fall of this year when we get off the road, we're booked up until sometime in August or something and I believe after that part then we're going to record the album.
When do you actually get to rest?
I'm resting right now ha ha
The documentary is just amazing, and truly does make you feel that there's nothing that can't be accomplished but in watching it the ten or so times I've seen it, I can help but ask was there ever a time you thought that you almost gave up?
No, there's never been a time, quitting or giving up is something I don't understand or relate to or believe in.  When you believe in yourself and what you're doing then you just don't give up on yourself or walk away from yourself so I don't know anything about that, I've never thought about quitting, wanted to quit or was ever going to quit.
So everything in the movie is all genuine?  The arguments, it was all exactly how it was?
Absolutely, the movie is a one take wonder.  They filmed 320 hours of footage and they filmed everything, it didn't matter, we were really just being ourselves all the time, that's all that was required, just be ourselves.
What do you think of where "heavy metal" is at in 2010?  Do you think the true legacy and meaning of "heavy metal' is being carried on through the decades?
Yeah well Heavy Metal never dies or goes away, so it's always there.  I'm not up on current contemporary metal bands and stuff so I have no idea but I know the real metal never ever goes away.  That's there for life.
Where Anvil have been instrumental in influencing some of the stars of today, such as Scott Ian, Slash, Lars and Lemmy who appear in the Story of Anvil….who were some of the true underground metal acts who have provided the inspiration to Anvil?
For me. How about Bloodrock? How about Cactus? How about Captain Beyond, yeah I love them, how bout Montrose, Foghat, the list is endless of bands like that.  Grand Funk Railroad, I wish they'd be kicking a little more the way I'd like want them to be kicking.
For someone who has now been in the music business for over thirty years, what are some of the key pieces of advice for young bands wanting to live the rock n roll dream?
My advice is the advice I give to everybody including myself right from the beginning.  You have to do this for the right reasons and the right reasons only. And the reason is because you love it.  You do it because you love it not because you want to make money with it.  You do it for the love of music, of playing.  Those are the right reasons.
Now you supported AC/DC for a few shows, I just have to ask, how was that?
Playing with AC/DC was amazing, we played 3 shows with them, 2 of them in the States, 1 in Canada.  We played baseball stadium type venues 55,000 people in a few of them and 72,000 in Canada.  It was humbling, it was an honour to share the stage with those guys, they're really great guys.  Angus saw the movie and fell in love with Anvil and wanted to help us.
They're actually here in a week, any chance you might bump into them when you're in town?
Yeah, apparently, the last show we may have the opportunity to go see it.
The story of Anvil was a one off, there would never be a sequel would there?
Everybody's been asking about a sequel, we're living a sequel right now.  The epilogue is being lived in real life as we speak.
Are you filming it as you go?
No we're not filming it.
So you're just living the dream without the cameras in your face 24 hours a day?
Yeah, well you know we don't know what the future will bring, there's so much talk about making a sequel, if they make a sequel what is it gonna be, you'll never make another Anvil movie like the first one ever.  So, I wanna rock, right now its all about making the band rise, the majesty of Anvil is being discovered and that's what this was all about.
What is so good about this is that when you were named on the Soundwave bill there was such a buzz that a lot of people are going solely to see you guys.
It's gonna be amazing, I mean we're looking forward to it you know, the Anvil set every day; we're coming down there to kill.
Appreciate your time Robb, see you at Soundwave.
Thanks for your support and we'll see you on tour.
Essential Information
From: Canada
Band members: Steve 'Lips' Kudlow – Vocals / guitar, Robb Reiner – Drums, Glenn Five – Bass
Website:  http://www.anvilmetal.com/