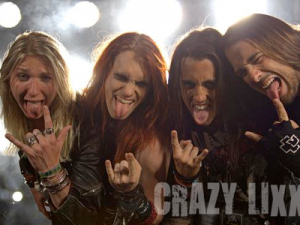 "Crazy Lixx, one of the most exciting bands to come out of the Sleaze-Rock movement renaissance in Sweden are back with the release of the brand new album entitled New Religion.  Formed in 2002 in Malmö, Sweden, the band debuted with"Loud Minority" in November 2007, an album that notwithstanding an underground release, received a great acclaim from the media and fans, reaching position #2 in the national Swedish Hard Rock chart.
The band spent all of 2008 and parts of 2009 touring like hell all over Europe and writing material for the new album, working hard to define their own music style which, even though was often compared to the likes of Def Leppard, KISS, Warrant and Skid Row, has now matured and evolved in a personal and ultra-melodic interpretation of the Sleaze-Arena Hard Rock style.
The final result is "New Religion", which includes a dozen Hard Rock gems recorded at Polar Studios in Stockholm with producer Chris Laney (Europe, Crashd?et, Candlemass).  Setting out with the mission to beat the living s**t out of "Loud Minority" new anthems like "Children of the Cross", "Rock and a Hard Place" and "21 'Til I Die"  the guys can consider their mission accomplished and look at 2010 as a key year to break their talent on to the international markets."
We caught up with guitarist Andy Dawson to discuss the recording of the new album and what's in store for Crazy Lixx fans worldwide in 2010!
Andy thanks for taking the time to talk about the new album "New Religion" which is due to be released on March 19th.  There is certainly a buzz growing about the album. You must be eagerly awaiting the day that it's finally unleashed on the masses? 
No problem, I'm very exited about the album, especially since the process of making it has been so intense and long but of course I'll be relieved when it's unleashed. Last year was very productive for me and the band, but also very though.  Changing record label, writing a lot of material, recording the album and also playing a lot live on new grounds in Italy, Germany and Switzerland.
'New Religion' delivers a more "arena/stadium" rock sound than 'Loud Minority', which could loosely be described as more "glam". Was this a calculated move by yourselves to try and distinguish yourselves a little bit from the abundance of glam bands in Sweden, or was this just the natural evolution of the band? 
Well, we've been focusing on the songwriting first and foremost, but yes, arena rock is what we set out do. Not only to distinguish "LIXX" from other bands of today's scene, but finding ourselves. Personally, my inspiration comes from bands like; Aerosmith, Guns 'N' Roses, Def Leppard and so on. For me, as far as the way "New Religon" sounds, it feels very natural. The first album "Loud Minority" contains songs from a much wider time period, some songs are over six years old and that is the biggest disparity between the two albums i think.
You are now on the roster of Frontiers Records who these days are pretty much THE home of melodic/hard rock. Was this seen as a  necessary step to take for worldwide domination? 
Yeah, of course. With Frontiers Records backing us up and believing in us we've really gotten a huge energy boost. It's been making us stronger and I feel real good about us working together.
From a song point of view, the band has certainly evolved with this album being a very consistent affair and offers a bit more diversity in comparison to 'Loud Minority'. A couple of my favourite songs are 'Children Of The Cross', 'Blame It On Love' and '21 Till I Die'.  What are your personal thoughts on these 3 songs and any interesting studio experiences you can share when recording these tracks? 
'Children Of The Cross' is one of my favorites too. What I really love about that song is the lyrics, I think it's amazing what Danny alone managed to put together there. It's a very pretentious song, a sad tale about child abuse coming from not only Christianity, but religion overall. One part of the lyric I especially like is; "Love taken, God forsaken, Failed by the on they relied on, They are they children of the cross.." Most importantly, this is the only song in the song bank of Crazy Lixx that I really can call timeless to one hundred percent. 'Blame It On Love' is just a great, catchy, softer kinda song with an amazing verse, the chorus is strong but the verse is fantastic. I can't say much about "21", it's a good hard rock song. During the recording of 'Blame' I used a lot of different guitar stuff like a really old Fender amp, probably from the mid 70's, sounded awesome and you can really hear it in the verses playing against another guitar going through a 'rockman box' the first amp-simulator ever made, together it sounds real cool.
Whilst Danny is largely the chief songwriter, I also notice that you share a few songwriting credits. How much input did the rest of the band have into the evolution of the songs on "New Religion"? 
Everyone votes when we pick out the finals but during the songwriting process it's Danny and me working but when done' with a song we play them a rough demo and get feedback from Luke and Joél. Luke is often more aggressive then Joey giving it, hehe. Me and Danny have been working in many different ways, some alone and some together. Starting with sometimes a riff, sometimes a cool lyric thing, a melody or sometimes a whole part. But there were over twice as many songs on the list when picking out the finals.
From a lyrical point of view, where does the band/Danny draw most of it's inspiration? 
I don't really know where he gets it. He's without a doubt a great lyric-writer, I think he's the best songwriter I've ever worked with. Those songs I've been a part of (lyricwise) there's been more then one side to it ending up the way it has, the song 'Rock And A Hard Place' is a song about never giving up, an insight look on our bands struggle, basically a rock n'roll lyric. 'Voodoo Woman' Is more of a mystic, sexual story told from a narrator with anxiety up his throat, this song is about a woman with the strongest ability of attraction, beyond magic so.. Vodoo hehe,  I always been fascinated by african beliefs in witchcraft and voodoo so had to write a song about it. 'What Of Our Love' is based on real life ,real events and stuff I've been through so not all the songs are you know, fiction.
Chris Laney once again produced the album and even more so than "Loud Minority" every song sounds MASSIVE and very polished. What were the instructions to Chris going into recording? 
We made pre-recordings of not all the songs, but almost every song just to fill his head with "Lixx" hehe. We just explained that we wanted a bigger sound, heavier in a way and he made it happened.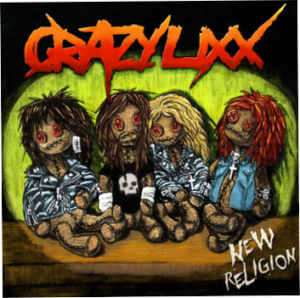 Speaking further of Chris's involvement, how much influence does he actually have on the song structures themselves? 
On this album, almost non at all, but on "Loud Minority" I think he did allot.
What was the significance of calling the album "New Religion"? 
We felt that there was a new line-up, new partners, new music, a new (on some level) sound, and 'New Religion' suited that.
Andy, you weren't part of Crazy Lixx when Loud Minority was recorded. How did you find the experience of being involved in the recording of the new album?
I loved it, some nights we were recording till four, five in the morning but you know.. it was hard work worth doing.
What are the touring plans for the year ahead, particularly outside of Europe? Is there much interest being shown in the band from the likes of Japan, USA or UK? 
I really don't no much about it yet but I hope well get a chance to play outside of europe 2010.
Your guitar playing on this album is one of it's definite highlights.  Who are some of your major influences? 
Thank you! Well, allot of people have been inspiring me not only guitarists, but players like Richie Kotzen, John Norum, Yngwie Malmsteen, and Slash of course have always been a big inspiration. Other then guitarists, Steven Tyler is my number one but other then rock musicians it varies from Lady Gaga to Django Reinhardt.
Heres a chance to gaze into your crystal ball and make three predictions. By the end of 2010, Crazy Lixx will have…. 
1. Grown Big.
2. Played allot all around the world.
3. Given Luke a new bass!
Thanks again for taking the time to chat and Andy, may the rock be with you in 2010!!