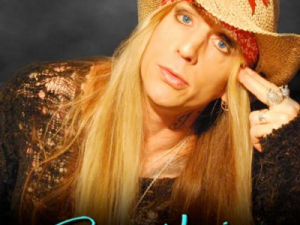 "Steevi Jaimz started playing in bands since about the age of 18. His first real band he joined was Treason. It was the tail end of the NWOBHM, and Treason were a metal band in the vein of Sabbath.  After eventually disbanding Treason and forming the legendary (His own words) Crash Ko together with Phil Vokins and Ace Finchum, they would eventually go their seperate ways.  By 1984, after years on the circuit a call came from Leicester based glamsters China Rogue.  After the band split into different directions, fast forward to the early spring of 85′ and Ace called Steevi to go out to Colorado to again join up with him in local band Idol Threat.  On his return to England in the late summer of 85′, broke and hungry to play in any band he called an ad that was placed in Sounds magazine, said band turned into Tigertailz.  Ace was called as they needed a new drummer. And on they rode… unfortunately Steevi fell at the first hurdle!  Alcohol, fights and drugs took its toll and he was let go after just one single and album (Young & Crazy) a very apt title for him at the time!
Keeping active post Tigertailz with a variety of projects such as St Jaimz, Steevi most recently formed a writing partnership and great friendship with the great Swedish producer Chris Laney and Anders Ringman. The result is to have recorded the best sounding music he's ever done with the killer album "My Private Hell". It still has the glam rock n' roll roots but, the sound is modern and powerful.  And so here you have, once again…Steevi Jaimz!"
The response to "My Private Hell" so far has been great and I must say the album has totally crept up and taken me by surprise….it's killer! You must be damn proud with the album? 
Hi Scott… Yeah, absolutely. Proud as hell so to speak. The response has thrilled us all, we knew how good we thought it sounded but the fans response was what mattered. And it's been fantastic!!
You worked with Swedish based Chris Laney and Anders Ringman, how did this association come about? 
I actually hooked up with Chris via the internet. We just made a connection and the next thing you know we're writing and passing ideas around. I have to say working with Chris was a really great experience, both him and Anders are absolute pros and excellent songwriters/producers. And this is by far the best music i have ever been involved in.
Being someone who personally loves the whole Swedish influenced modern rock sound, one of the appeals of "My Private Hell" is that it draws in elements of this sound.  Was this something you initially set out to do or is it a result of working with Chris and Anders? 
Yeah, obviously the influence of Chris and Anders comes over in the record, as does my own. So i think not only do you get the quality of the swedish sound, but you also get the english side of the sound from me. And that combination really works well. Sweden already has HCSS and Crash Diet,  two bands i really like. There's also quite a few other great new bands over there. So we never really set out to have that same sound, but on the other hand i didn't want another dull English sounding record to my name. Therefore we mixed all these elements into the pot and out came My Private Hell. It's got everything really, massive production, great tunes and plenty of attitude. And it fits neatly amongst those bands records too.
Can you give us a bit of an insight into the songwriting and recording process for the album, with you being based in London and Chris and Anders based in Stockholm. 
The early songs (Still Crazy and Little Sistah) were born over the internet when i first started to write with Chris. He sent over his ideas and i went into a small studio in Cambridge and put down the vocals on those demo's. That's all we originally set out to do were these demo's. They turned out so well that we decided to take it a step further and consequently i flew from London to Stockholm to start writing what would be the album  My Private Hell. We went into Platform Studios, Chris and Anders's studio there and recorded four more tunes (Amazing, Kikk It Down, Kiss Of Death and Something Good Something Bad)  in the time space we had available. But because it had all been self financed i had to return home, wait until i had time etc… and more importantly they could fit me in to their busy schedules, and then fly back over. The last songs we recorded were Don't Say It's Over and I Don't Wanna Walk Away, two of my favourite tunes on the record. It did end up taking a lot longer than we planned, and it was tough waiting and going back and forth from London every few months. But in the end it was worth the waiting 'cos the results are incredible.
The production and sound on the album is MASSIVE, you must be pretty damn happy with the final result? 
Absolutely. When i got the first mixes of the tunes they blew me away. Saying that Polar Studios is an incredible place. All that history, Zeppelin, Genesis, Def Leppard, Abba, the list goes on. And i finally got to work in the same place as the greats. Pretty special for me i tell ya. We actually used the same piano as was used on all the Abba hits on the ballad (I Don't Wanna Walk Away) on my record. So yeah, the sound on this album is fukkin' huge. And i'm so proud of it!!
Ryan Roxie has been who I have personally followed through all of his projects form Electric Angels all the way through to his latest solo album, so I was mighty intrigued by "Don't Say It's Over" which is a song he co-wrote with Chris Laney.  Did you get the opportunity to work with Ryan at all, or was this simply a song that Chris brought into the equation? 
Ryan Roxie is a fantastic songwriter. As soon as i heard Don't Say It's Over i was hooked on it. As i say, it's one of my favourite tunes on the album. The original was a little different, but i think we all did it justice on the record. Unfortunately i never got the chance to work on it with Ryan. I would have loved to but he was busy working on his other projects. That's the only song on the record that neither me or Anders were involved in the writing of. What a great tune it is though, hooks all over it. Kinda reminds me of an Alice Cooper tune too.
You have been out on the road playing some shows recently, with one scheduled in October in Sweden.  Are there any more touring plans on the horizon, either to the USA or Europe if the demand warrants it? 
We'd play everywhere if we could… We're doing a Halloween show in Vaxjo, Sweden on the 30th. We're all stoked for that. Rehearsals have been going great too. So it should be a rip roarer of a show. After that there should be some more European dates, we're talking to venues right now. People everywhere need to hear these tunes live for sure. And as you say. If people want us we'll be there!!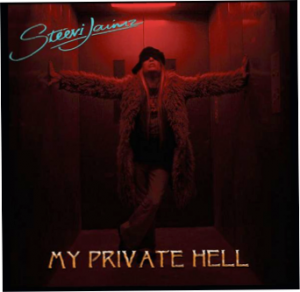 What was the glam rock scene like in London/UK back in the days of Tigertailz? Is there much of a glam rock movement in existence these days in London/UK? 
The scene here in London was electric back in the day. Bands coming out of everywhere, tons of clubs and venues to play. And a guaranteed sell out if you were any good. We (TTz) were the biggest draw by far for an unsigned band. Selling out the old Marquee Club in Wardour Street two nights running. No other unsigned band could touch us or do that. TTz weren't great band, we were just in the right place at the right time doing the right thing ya know. The glam scene here was in full flow when we emerged. And we just spiralled into a huge draw at the clubs. It was a good time to have big hair hehehe. Nowadays it's all changed, but things have to move on. But it has become stagnant again. Not many good upcoming bands here. Well, not any i like so that's just my opinion. But there are very few clubs going on here and if you are a new band trying to sell shows it must be really tough. There's not much of a glam scene, if any at all, in London. Sweden has all the glam going on over there.
The debut Tigertailz album "Young & Crazy" in which you were involved, spawned the Top 40 hit "Livin Without You" which you wrote. Did the success of this single take you by surprise at the time? 
It did yeah, but saying that it is a great pop song.It's by far and away the best tune on the Young & Crazy record. And i still have a big soft spot for it. The chorus in that song is so infectuous. It was inspired by REO Speedwagon's Back On The Road and it was actually the first of two songs, Shoot To Kill being the other, that i wrote in Tigertailz. Must admit i did get a big kick out of writing a Top 40 song. I thought the re-recorded version was really awful though. There was no need for an extra layer of cheese and sugar coating.
Do you take much interest in modern music, if so, who are some of the artists that you have taken a particular interest in? 
I do… Kid Rock's last record was sensational as was Pink's I'm Not Dead. I'm a big fan of her music. I also took my son to a My Chemical Romance show at Wembley a few years back, i didn't expect much, but i have to say they were incredible live.Black Parade was a great record too. I have to say that the last Guns n'Roses-Chinese Democracy is pure genius. Kasabian are great too. But i still love all my 70's vinyl the best though, that's where my roots lie.
Your time in music over the past 20 years has certainly been a journey full of trials and tribulations.  What is it that motivates and drives you to still be involved in the music business? 
Hahahahahahahahahahaha, trials and tribulations, that's an understatement for sure… The business is very different to what it was, the arrival of the internet changed the whole playing field as well. Some of the fun has gone too. Bands need to get back to putting on shows and having more fun a la Steel Panther… Personally, i'm motivated 'cos of my love for the music and writing songs, and i've always loved to entertain people. It's in my blood from way back when, and it'll never leave me 'til i die!
What are your words to those that may judge you on your past, at the expense of checking out and judging "My Private Hell" purely for what is and that's a killer rock album? 
Narrow minded people never change, so whatever i say is wasted on them. And to be honest the only opinions i respect are from the fans. That's why i made this album, not for some knobhead critic to sit behind his computer slating me for something i may have done 20 years ago. I've been villified for so many years now, and it's very very boring and tiresome hearing those same sad old quotes. Those pricks who live in the past can stay there, i've moved on and made an album that stands up on its own. And i don't live for last year, i live for today… If you love good rock n' roll you'll love this album. If not, too bad it's their loss.
Essential Information
From: UK
Websites: www.steevijaimz.com
www.myspace.com/steevijaimz
www.facebook.com/steevi.jaimz
Latest CD Release: My Private Hell 2009