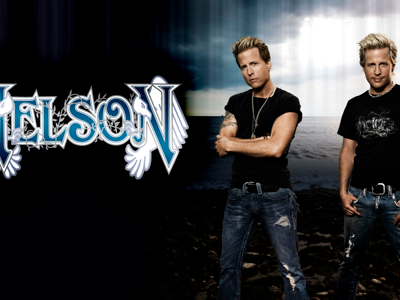 Back in 1990 the band Nelson came blaring through our speakers and onto our TV screens, with the bands two front men Matthew and Gunnar Nelson, with long blonde hair and colourful attire delivering a positive message of hope, fun and perfect harmonies to the world of music that not many bands were doing at that time.  Their debut album 'After The Rain'went on to sell over 3 million copies brandishing the number 1 worldwide hit '(Can't Live Without Your) Love and Affection' and 3 other top 10 singles.
The Nelson family legacy is one stretching over 3 generations and Matthew and Gunnar have continued to make music, having had numerous releases some 20 years on from their debut.  Not just confined to their own releases, Matthew and Gunnar have also kept busy with numerous other projects, including the supergroup of sorts "Scrap Metal".  Only just this year, Gunnar Nelson recently recorded and sang with Yusuf (Cat Stevens) and Paul McCartney on Yusuf's "Roadsinger" album. Gunnar recorded several tracks for "Roadsinger" in Nashville at Blackbird Studios and also performed side-by-side singing and playing acoustic guitars with Yusuf (Cat Stevens) in his first U.S. TV appearance promoting the album on "The Chris Isaak Show".  No strangers to TV, the brothers in recent years have expanded their TV hosting with VH1 and E! channels and Gunnar has just recorded a solo single, "Band in a Van" which is out now on Disney Records which is part of the follow up soundtrack to CARS.
Having just been signed to Frontiers Records, later this year Nelson are due to release a studio album of all new material, their 7th studio album titled 'Lightning Strikes Twice', the follow up to their million selling debut album 'After the Rain'  that never happened back in the day.
Gunnar took some time out from his busy schedule to have a quick chat and fill us in on the new record and just how good Australians are at playing the guitar!
Your upcoming album 'Lightning Strikes Twice' on Frontiers Records is being coined as a sequel to 'After the Rain'. What can we expect from this sequel close to some 20 years later?  Why was now the right time to record it?  Is the album being produced by yourself and Matt?
Well, you know, Matthew and I have gone on and done 10 records since the first album and as Mario and Serafino from Frontiers so lovingly point out to us, we've done a lot of experimenting and they were huge fans of that first record and of course Matthew and I were, not because of the first album we made but because of the times we were in and if you cast your mind back as a couple of guys that were putting together a trip back in 1990 we'd already been playing clubs for 10 years trying to get our record deal at that point and spent a lot of time and a lot of love putting that whole first album cycle together.  We thought we were going to get the benefit of gosh I don't know, 10 records with that band. Nobody could anticipate the shift that was about to happen.  No one saw the whole grunge thing coming at all.  We were there, we were out on tour, we were enjoying a lot of success and then we come home after playing 203 shows and the entire world was wearing flannel.  It had seemed like MTV had changed its agenda, the record company we were on changed what they were doing too, they actually signed Nirvana on our label.  So say if we had of released that record 4 or so years earlier things would've been completely different.   Instead we pretty much went from guys who thought we were going to have another 4, 5, 6 records on that particular line of thought……to guys who were pretty much shelved because it would've been embarrassing for a record company to let us go to some other label perhaps, who hadn't changed their musical agenda.  So they just put us on a shelf and just kept us going back into the studio 5,6,7 times.  By the time we had released our second record our fans had moved on the world had moved on.  I think Matthew and I felt a little deflated because we were constantly being second guessed by the label we were on, rather than being supported.  It was a case of, 'oh no you cant play that' or 'you cant do that kind of music'.
For the first time, these guys at Frontiers came to us and said "hey, we'd love to do a record with you guys, huge fans of the band from back in the day, we love that record, but we only want to do a record with you if you can pretend the whole grunge thing never happened, that it was back in the day when the record company still supported what it was you guys did, when you were at your best and if you can make a follow up to the 'After The Rain' record that everybody really wanted to hear".  So that's what we have been doing.  What started out to be honest with you, was kind of like this little experiment that felt kinda cute to do and this is gonna be fun and let's just put it together quickly and see what happens…   It has instead turned into something that is so much more than that.  This record is really, really good, I mean really good. Its got the same sort of attitude and fun factor of that first album, starting off with the 2 brothers singing together and the pop songwriting with the guitar attitude wrapped around it.  However we have now had the benefit of having played for 20 years since, so the musicianship is better.  We really stripped it down to what it is, when it's at its best, it's all about the songs.  The songs are always so strong and back in the day we always felt there were so many people that released albums that really had no business releasing albums.  I suppose towards that whole movement of confidence rock and the 80's, going into the 90's you know of course there were a lot of people that were kind of phony.  There was no way back in the day for people to get instant feedback from friends. There was no internet, there was no way for them to go into a record store and listen to the entire album.  All they heard was the single they heard on the radio so there were a lot of artists that were going down there and just putting that 1 single on the record and 9 other songs that were crap.  I think kids felt ripped off. I know I did when I went down to buy a record.  So when we made that first album our attitude was, I want at least 10 songs on this record that are single quality. I don't want any filler, I don't want the fans to feel ripped off.  I suppose that's become a standard, especially for the larger releases that are out there.  That's really the way that Matthew and I have approached things and finally with Frontiers we've got a whole organisation full of people that who are not like Geffen was when things didn't work out.  These are people that are fans of the music.  They like me and Matthew personally and its the first time to be honest with you, I know it sounds trite, but the first time we've really felt supported in all those 20 years.  That's why its time to put out this record.
I know incredibly long answer to a very simple question! But psychologically speaking, I know there is a lot going on and unfairly so, you know, shit happened back in the day and we kind of felt attacked.  We felt beaten up and not just by the press that had supported us, even by our own label and we didn't do anything wrong, you know.  So I think its taken all this time to come full circle where being a creature of the 80's and 90's so to speak is not a thing to be ashamed of.  It's something that people really dig and its not just because they grew up with the music.  I think people are really appreciating that style a whole lot more.  They're appreciating the musicianship and the craft and that it wasn't something that other people put together.  Its not like some Ashlee Simpson thing.  Its real music put together by real bands who really played and wrote and toured and I think there's a new found respect for that now.
What are the origins of the songs that will make up "Lightning Strikes Twice", are they songs that have recently been written specifically for the album, or songs that have been with you for a while now which have finally found their home?
No they were written specifically for this album.
The new Nelson line-up consists of your original drummer, the legendary Bobby Rock, international guitar virtuoso Neil Zaza, and former Aerosmith keyboardist Gary Corbett.  How did this line-up come about?
Well pretty organically to be honest.  I mean of course Bobby was with us on the first go around and like Matthew and I he felt somewhat slighted.  He felt like there was so much more left to be said on that trip that got cut short for no reason and by no fault of our own.  As a matter of fact, he heard that Matthew and I were going out with another band that we have called Scrap Metal.  He had heard that we were doing shows and also that the reception of the shows was excellent.  People were really digging them and as a result he called me up a couple of years back and said "hey what do you think, the timing is right now to put the band back together and see how people dig it?"  When he called me a couple of years ago, I said well we can test the waters.
I mean I love playing of course, lets see what we can put together.  Of course we couldn't get Brett because he's down there with you guys in Australia.  He's busy on tour with John Farnham and he was doing your guys version of Dancing with the Stars and he was doing pretty well.  So Bobby was doing a lot of gigs with Neil Zaza who has the same sort of mastery of the guitar.  Of course Neil is absolutely a musician on the guitar and back in that day if you cast your mind back, it seemed that everyone had a guitar player that could beat up on the other guys guitar player.  You know these guys were really, really good.  So that was a super important ingredient and I couldn't have asked for a better person to step in for Brett than Neil because he's so so good and such a great guy and so melodic in his playing.  It's like no one is ever going to beat the Aussie genius that is Brett Garsed, nobody could ever be that guy.   He is, I mean, I say this lovingly, he's a freak!  This is a guy, he's like a savant, he grew up and he was born to play guitar, and no one in the United States plays like Brett.  You know he's just really really really good, but fortunately after I spent all these years listening to him I could hear through where he was going and that's what we've got on this record too.  There's a lot of great guitar work on this, but again, a lot of music really takes a back seat I suppose to the musicianship.  Unless you're a band that prides itself on the songwriting and that's really been the corner stone of what Nelson has always done.  We had to make sure that the songs were strong enough to actually do us justice.  I know a lot of people with some of these melodic hard rock releases lately, some people have a different theory and they'll just send in their demos and call it a record.  That's not what we've done here, this was done with the same reverence that the 'After The Rain' record was made. I mean it was done in real studios with real budgets with real players and the songs were not an after thought so I think people are going to get something that they have been waiting for.
Now you talk about Brett with the Down Under connection and you have always seemed to have a strong association with Australia, with an Australian management, yet you never came here. Are you planning extensive touring to promote the release of this album and what are the chances of Nelson one day heading Down Under?
You know what? There is nothing I would love more than to come play some shows in Australia.  That Australian manager is still in our lives he's still a very good friend and he actually switched over to sports management.  He does a lot of work with a football team and it was funny, he heard about this Frontiers release and I got an email from him a couple of weeks ago and he said 'so what do you guys think about coming down to Australia FINALLY and playing some shows.?  Man there is nothing I would like more and like I said remember how this project started off being a little one off release that we were gonna put out with Mario and Serafino there and how its grown into so much more.
I plan on getting top level management together for this record and touring extensively in Europe in Australia and the United States is actually going to be the last stop with this. Its kind of on auto pilot and because its so good it deserves to be heard.  It really does and were gonna make sure we put together a killer show. I have to say man, if we come down there and tour in Australia, Brett's gonna have to join us.  He wont have the excuse anymore.
Lastly, when is the album due out, do you have a release date for this?
Well unfortunately it's been pushed a couple of times and that's my fault.  We have been touring a lot, my brother and I, because it's summer and all you know.  When we first got approached to do the record I think I was too positive in how quickly I could get it done around the tour dates.  I'm thinking of having this to the guys at Frontiers within 3 weeks, mixed and mastered and it will definitely be out before Christmas time.  We are going to have it sped up and stuff to be released before Christmas and that's about as much of a date that I can give you right now.  This is only because right now I still have a little bit of background work to do.  I'm waiting for the concert master because we're going to have real strings on this thing and I had to wait for the concert master to get off tour with Solomon so he's available in 3 days.  So its that kind of thing, like lets say I could've done fake strings on a keyboard and have been done with this 2 weeks ago.  But I wanted to put a real string quartet on the ballad I co wrote with Mark Slaughter.  It's a song that really deserves that, so that's the kind of thing.
So be patient, definitely by Christmas.
Well there are a lot of fans out there waiting to hear it and we're one of them, so we can't wait.  Hopefully we can talk again when the album comes out.
We'll definitely talk again as soon as the album's out. Rock on!