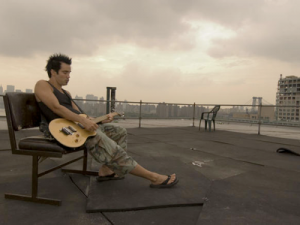 Saying that Steve Brown is one talented mother trucker, to those of us in the know – is an understatement.  Award Winning Guitarist, Singer, Songwriter, Producer, Musical Director….  First rising to prominence as founding member and chief songwriter of the million selling MCA Records Rock Group TRIXTER.  Debut album, TRIXTER, released in May 1990, went on to sell over 1 million copies worldwide, spawning hit's "Give It To Me Good, "One In A Million" and "Surrender", collectively spending nearly 30 weeks on the Billboard charts with MTV video's that trailblazed their way onto TV screens worldwide.  Second album "Hear" was considered by many as one of the era's most criminally underrated albums, a victim of the times…
With post Trixter projects such as "Throwan Rocks" and "Soaked", Steve finally struck 3rd time lucky in 2004 with the infectious melodic power rock pop of "40 FT Ringo".  Released independently, the CD sold thousands of copies worldwide.
With yet another name change to now be "Stereo Fallout", Steve has written undoubtedly his best work EVER.  Continuing on from where 40FT Ringo left off, but adding in some more modern rock elements, this CD epitomises everything we love about music…but pure and simple, it will put a smile on your face and is better than ANYTHING that you might be hearing on your radio's today.
Oh and if 2008 wasn't already looking hot enough with just a matter of time before "Stereo Fallout" no longer stays a guilty secret….the mighty Trixter will be back again in 2008 with tours and a live CD release!
With "The Otherside" having been released in the Fall (Oct 07) in the USA, we are happy to report that this is the PERFECT feel good summer soundtrack.  Songs like "Back In The Day", "Go" and "Shine", those 3 songs eclipse anything we are hearing on radio over here right now.  Ignoring the USA, has there been much interest from other parts of the world in this album?
The CD has been selling all around the world….it's very cool.  But without a real label + promotion you can only reach afew people.
Reading some of the buzz around the traps, the songs have been compared to the power pop/rock phenomenon with the likes of Butch Walker, Goo Goo Dolls and even Bon Jovi, yet there are also elelments on this album that cross over into the modern rock sphere with the likes of Nickleback and Foo Fighters coming to mind. The album really does have tremendous cross-over appeal doesn't it?  Has this been evident in the feedback you have been getting?
I think the STEREO FALLOUT CD is my best work EVER. The comparisons have been flattering. It has all the elements I love about rock.
You brought in a couple of big guns in Skid Mills (Saliva, Sister Hazel, ZZ Top) and Brian Malouf (Lit, Everclear, Bon Jovi) to help with production/mixing duties.   How did you find this process given on 40Ft Ringo's "Funny Thing" you handled most of those duties yourself.  You headed down to Memphis to finish the album, there sure must be some good vibes down there in the BBQ on Beale St!
Making the cd was a blast.We tracked in Memphis w/ Skidd Mills and yes the BBQ was killer…lol. Then Headed out to California to mix w/ Brian Malouf.  I couldnt have dreamed of a better way to make this record.
The direction you've headed in with 40ft Ringo and now Stereo Fallout is one that keeps your foot a tappin and fist a pumpin in the air, is there anyone in particular from days gone by that inspired this direction?
I have always loved music that has great melodies, big guitar riffs and pounding drums. Upbeat positive rock roll!!!
Knowing you as the key songwriter back in the Trixter days and as a shit hot guitarist….what suprised us most when "40FT Ringo" came out were your vocals, which with the more diverse songs are even sounding better again on "The Otherside".  Is singing something that has come naturally to you?  In terms of your vocal delivery, what vocalists would you say have influenced you the most?
I have always sung and it's a part of me that keeps developing.  My favorite singers are Robin Zander, Steven Tyler & Bryan Adams.
If you could write any song past or present, you know, that one song that your hear and say "Damn, I wish I wrote that" what would it be and why? 
"UNCHAINED" by Van Halen. Everytime I hear it it gives me goosebumps.It's so bad ass!!
How did you find the step from lead guitarist to lead vocals where you are the one running the live show?  Was it intimidating taking centre stage or has your side projects playing local gigs around New Jersey etc helped with that?
Everything helps. I do over 275 shows a year, so I'm in shape for whatever comes my way.
In between 40FT Ringo and Stereo Fallout….we stumbled across an awesome band called "Mean Blue Days" for which you were involved with as "producer" of their EP.  Ummm, will this band ever release a full length CD do you think, or is Martino too busy these days breaking "hearts of steel" around New York?
Ha,ha…Martino is a great talent and I had a blast doing that CD! I don't think a full CD will ever come out…But Never say Never!!!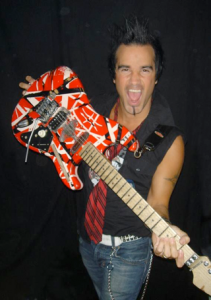 There have been bits and pieces floating around about the Trixter "reunion", but we are not sure we have actually seen an "official press release". Do you have any firm touring plans yet??
Yes, TRIXTER will be back in 2008….details coming in 2 weeks we launch the new website March 4th.
There is the much talked about Live In Japan release, do you intend to work on any new tracks for this CD or do you think there is the possibility of a new Trixter CD down the track?
TRIXTER" ALIVE IN JAPAN" will be out soon. It will have one brand new kick ass tune!!
With many bands, the factors for their demise was always well known.  But with Trixter, it never really seemed to be clear….other than putting it down to the changing of the times.  Was this really all it was?
Yes, our genre was dead and we were getting burnt out!
With "Hear", the band was really hitting it's straps, your songwriting, musicianship, production had all significantly matured and many consider "Hear" to be one of hard rocks criminally underrated albums.  Whilst you released "Undercovers" did you guys ever commence working on a 3rd original Trixter album?  If so, do you think any of those works will ever see the light of day?
Not really..I have a few tunes that I worked on.  I'm releasing 3 cd's later in the year.  STEVE BROWN UNRELEASED…all my songs that were never heard.
vol 1- 1993-1997
vol 2- 1998-2000
vol 3- 2001-2007
along w/ THROWAN ROCKS + SOAKED "greatest hits"
You've been a front man for a number of years now, whats it going to be like letting Pete take the reins again for the Trixter reunion? There wont be any pushing out of the way will there, haha….
No way, TRIXTER is a machine that we all know how to operate…ha,ha. The boys know how to put ON the SHOW!!!
And lastly, we thought it our duty to warn you that there is a 6ft 5 Aussie Trixter freak who will be heading over to the USA to follow you around to every show for any touring that you do.  He was actually wondering whether you might need a roadie or perhaps someone to change your guitar strings, hahaha?  Also, if there is anything that you want him to bring over from Australia for you….now's your chance to put in a request!!!
I am looking foward to a great 2008.  You never know…I might even come to Australia!!!  Thanx for all the fans for the great support…..STEVE BROWN