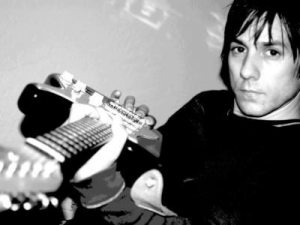 A few weeks ago we caught up with Steve Brown, Trixter co-founder and guitarist and quizzed him about the rumours of a Trixter reunion in 2008.  His response….wait until March 4th and all shall be revealed.  Wait we did, and on March 4th the world learned that the original Trixter line-up was back for a 2008 assualt, which at this stage includes the release of the long awaited "Live In Japan" CD, an appearance at the Rocklahoma Festival and the promise of more dates to come.  With much thanks to Steve Brown for hooking us up, we now have a follow up interview with Trixter vocalist Pete Loran.
March 2008 and who would of thought…the mighty Trixter are back!!  So straight up Pete, how did this all come about? And why now?
The question of would the band ever tour again has been being asked for years, but it wasn't until last years NAMM show that Steve and I went to, where it all started to really brew. We walked around the convention and people were recognizing us and asking where we have been. It was surprising actually, and I have to say it felt good. Steve brought the idea up of touring in the summer of 2008 and I agreed the timing could never be better. It was then a slow process of getting everyone on the same page.
Released very soon we have the long awaited "Alive In Japan" CD recorded on your 1993 Japan tour, featuring a brand spanking new track "Where Do I Stand".  Is the new track going to be a sign of what may come in the future with a CD of new Trixter material, or at this early stage is it a wait and see how the tour goes?
There may be more than one new track and that song may or may not be one of them. As far as more Trixter in the future, only time will tell……
Now before us Australian Trixter fans get excited by the words "World Tour" on your new t-shirts, are there any plans to tour Trixter outside of the USA at the point in time?  Eg. Japan?
As of now there are no plans…would we entertain the idea of that and accept all offers? Well of course we would!
You're on the bill for Rocklahoma, how pumped will you be walking out to over 35,000 people and belting out that 1st song?  
Im totally freaking out actually…..
If we go back to the beginnings of Trixter, you guys were virtually straight out of High School when the first album/tour all happened.  Your first tour was with Christian Rockers Stryper, then you head out with the likes of the Scorpions, Kiss, Warrant, Firehouse, Poison and Dokken.  Looking back now, those must have been some crazy, crazy times…. what are some of the great memories?
Well I will say, some of it remains a blurr…..ha ha.. but all those tours are now really great memories, The tour with Warrant and firehouse was very special though…It was called the sleeper tour of the year…all other shows were doing rotten that year and we were just mowing them all down…low ticket prices brought in the fans night after night…brilliant idea and a great line up. The fact that all the bands genuinely got along also contributed to the success of the tour.
Taking that last question one step further, touring with experienced bands such as Kiss, Scorpions and Dokken….were there any words of wisdom passed down to you from any of those bands that still ring true today?
Those guys didn't really preach to us much. I did hear a great quote from the late Ray Gillen though…One show on the Warrant Trixter Firehouse tour Badlands was on the gig….Ray Gillen was a Jersey guy like we were and we actually grew up watching his bands over the years rehearse across the street from our high school. Now on that tour, every night at the end of warrants set, they would invite the opening acts up to jam….Brilliant idea!!! The crowds loved it…that night I sang right next to Ray, he was wasted but totally on! Ripping loud bluesy vocals…anyway, after the show backstage I was talking to some fans, one female had a pair of short shorts on and as we are talking Ray is coming up from behind and as he is passing us he stops and points to her ass and says to me, "there are a lot of lyrics right there"!!!!
Unlike some bands who often struggle under the pressure of following up hit album, "Hear" is quite often regarded as one of the most underrated albums of the era.  What are your personal thoughts when you reflect on this album today?
If Trixter would have been able to come out in the mid 80's we would have had a much different career. The Hear record was just the tip of the iceberg, we were just starting to get our sea legs….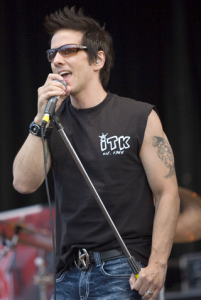 We have a thing going where we try and somehow include a question or reference to Bon Jovi or Butch Walker in all our interviews…so ignore us please!  But is the legend correct that a fellow New Jersey boy in Jon Bon Jovi was one of the first to show Trixter some love back in the very very early days?
I have no idea how you know that but yes it's true. I ran into him at the Hard rock Café in NYC..Actually I knew he was going to be there so I made sure I was too..with our demo tape and press kit. I handed it to him, he looked me in the eye and asked is there a phone number in there? I said yes and that was it. I sat by my phone the entire next day..nothing….so early that evening I went over to rehearsal and when I got home the answering machine light was blinking….Jon had called and left a message..said he though we had lots of potential and to keep up the good work and keep sending him tapes. I thought that was it!! We made it!!! but almost immediately after that Slippery When Wet took off big time.. By the way..you'd think a guy like Jon wouldn't remember that right..Wrong..years later we are opening for the Scorps @ Irvine Meadows in CA..Jon is there at the show and I walk up to him and before I can get remember that time….he says "of course I remember you giving me that demotape at the Hard Rock"!!!
To us at least, there is some irony in the fact the grunge movement effectively ended the run of bands like Trixter…yet, you Pete, were ahead of the times in basically being the man responsible for the grunge "fashion statement" of flannelette shirts and shorts, haha! That was so different to the leathers and spandex going on at the time, so we have to ask what was the inspiration behind that?
Hell yes its true….1989, one of our first photo sessions in LA..I had a Flannel with me for some reason and I tied it around my waist…who would have known!!! It was some different that I kept on doing it and others seemed to have liked it too…
In the past 15 years or so since the demise of Trixter, each of you have continued forging ahead with your various projects.  Pete you have been active as a solo artist, releasing your own album, as well as contributing vocals on a few of the Liberty N Justice releases.  What has Pete Loran learnt musically over the past 15 years in between Trixter?
I actually learned how to sing…our first record I was pretty much clueless….Hear album I was starting to figure it out…and now I totally understand my voice and its limits…
Listening to your vocals on the works we just mentioned above, your voice has certainly matured, which is naturally what one would expect.  What's it going to be like heading back singing the higher pitched songs of Trixter?  
Good question…I will have to work at it…a lot…no worries though…Ill get it!
What's your take on the current music scene today?  Our observation from over here in Australia is that there is a bit of a gradual movement back to the fun filled music days of 20 years ago.   Obviously you guys see a place for Trixter in today's scene??…otherwise we wouldn't be doing this interview right now…
I love a lot of todays scene…lots of good music and lots of bad music too….Trixter and bands from our era are doing what are really called, "an oldies show" im not thinking that we are going to wind up on pop radio and MTV all over again…but we do have our own niche now and its bigger than ever!!
Much has already been said about the "UnderCovers" album, but if you had a chance to release a new 'Under Covers' album 15 years on…what tracks you'd love to record now?
I'd love to do some Foo Fighters!!
Free rein here Pete, any last words for Trixter fans ready to 'Surrender' their hard earned money for a 'One in a Million' opportunity to Hear/see you again?
It's going to be an amazing time for both the band and our fans! It's been 14 years since this band has played together…..it's all brand new again!! Be there!!!
Oh yeah speaking of One In A Million opportunities, lastly, we warned Steve Brown the other day and thought it our duty to warn you that there is a 6ft 5 Aussie Trixter freak who will be heading over to the USA to follow you around on every show on the tour that you may do.  He was actually wondering whether you might need a roadie hahaha….??  Also, if there is anything that you want him to bring over from Australia for you….now's your chance to put in a request!!!
whoa!!! Ill let ya know