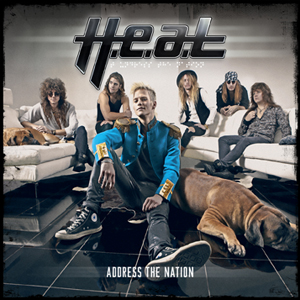 In 25 words or less: "It is the music of H.E.A.T that provides the soundtrack for the utopian world that I, Scott A Smith, Esquire lives, here in 2012."
When I first discovered Swedish melodic rockers H.E.A.T back in 2008 on the back of their self titled, debut release, there was something so magical for me personally in what H.E.A.T delivered with that album, it was one of those moments where after 30 odd years of listening to music, I had finally found my 'utopia'.  Sure, there have been many bands that have come close, very close, but H.E.A.T just had that unexplainable something extra and I have to say the imagery of sunsets, palm trees and airport runways might have just been in it?
Fast forward to 2012 and on the back of big expectations with new singer Erik Gronwall, with Address The Nation, H.E.A.T have delivered an album that is once again pure musical perfection to my ears.  Following the departure of original vocalist Kenny Leckremo after the bands second album Freedom Rock, I was certainly a little hesitant  as to what direction H.E.A.T would head with the introduction of new singer Erik Gronwall.  But the keyboard intro of first single Living On The Run dispelled any concerns I might have had, this was every bit still H.E.A.T, but with a much bigger hit of anthemic melodic goodness and the overall sound courtesy of producer/mixer Tobias Lindell, is simply HUGE.
Over the course of the 10 song journey, H.E.A.T take us on a melodic rock and AOR tour de force, from massive anthems such as Breaking The Silence, Falling Down and Heartbreaker, majestic ballads such as The One And Only, then just because they can, they throw SAXOPHONE into the mix on In And Out Of Trouble, one of the greatest 80's soundtrack songs you've never heard!  Need Her is an out and out pop rocker that wouldn't be out of place on a Roxette or even Hanson album, AWESOME!  Downtown closes the album with a real curveball, it has a real brooding vibe and has 80's movie soundtrack written all over it, reminding me a lot in style of Sheryl Crow's Hundreds Of Tears from the Point Break movie soundtrack.
My name might not be Rufus, but just as his utopian world in 2688 was filled with the music of Wyld Stallyns (reference to the movie Bill and Ted's Excellent Adventure), it is the music of H.E.A.T that provides the soundtrack for the utopian world that I, Scott A Smith Esquire lives in, here in 2012.  This will be my album of the year, without question!
Check out our interview with Eric Rivers of H.E.A.T right here…
Essential Information
For fans of: Melodic rock
Release date: March 2012
Label: earMusic
Produced by: Tobias Lindell
Website: www.heatsweden.com
Comments
comments