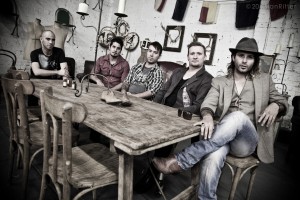 To co-incide with the release of the second single (SHOCK), GASOLINE INC are proud to announce a string of dates around the country that will take in 4 capital cities and some major regional shows. SHOCK, taken from the band's new 5 track EP (THE WANTED ONE) again demonstrates the bands ability to write straight up driving feel good rock songs. Gabriel O'Brien unleashes a powerful vocal with an energy destined to fill venues around the country.
It's been a hectic few months for the Melbourne-via-Perth rock band. With the release of the EP and first single of the same name (The Wanted One), the band hit the streets and filmed a series of monthly webisodes (Cooking With Gas) for their fans, performed for hundreds of new fans at their massive launch show and have been busy making the video for their brand new single SHOCK. To cap it off GASOLINE INC have just kicked off a string of East Coast dates with one of NZ's biggest bands, The Feelers.
"We worked with the directors – Matt and Trevor Holcomb and wanted to come up with a concept that captured the feeling and the lyrical content of the song – which is basically a tribute to some of the bands that have influenced us. We also wanted our fans to see the fun side of us. We are a rock band but we are also friends and we don't always take ourselves too seriously. I think the music video does a great job in capturing this." – Gasoline INC
CHECK IT OUT HERE: 
Scratch the surface of THE WANTED ONE – the second EP release and you'll quickly discover a band with more than meets the eye. Sure, their stadium-sized guitar riffs and slow-burning ballads are nice to listen to and all, but there's an underlying depth that just aches to be explored.
A short lesson on the history of GASOLINE INC should give you some indication as to why this is the case. Old mates Gab O'Brien (vocals) and Matt Sofoulis (guitar) formed the band in Perth in 2008 before recruiting Jason Millar on bass and Les Stuart on drums. Before they knew it, Gasoline Inc was on the rise. They released their debut EP Fuel The Sol to a sold out Rosemount crowd, had their song 'Superstar' syndicated by the AFL and landed a dream support slot alongside INXS in Broome.
It was at this high-water mark in their fledgling careers that Gab had his grass-is-always-greener moment: he knew the band had to get out of Perth and broaden their horizons. The band relocated to Melbourne in 2011 and started work on their new EP. With powerful melodies and driving guitar riffs, THE WANTED ONE proves again the bands ability to write and produce well-crafted insatiable rock songs with universal appeal.
Check out our interview earlier this year with Gab O'Brien…
Gasoline Inc brings a refreshing new rock sound!
PROUDLY PRESENTED BY STREET PRESS AUSTRALIA
Tickets available from the venues
THURSDAY MAY 10th                      VIC, Geelong             Bended Elbow
SATURDAY MAY 12TH                     VIC, Torquay           Torquay Hotel,
FRIDAY MAY 18TH                            NSW, Sydney          The Town Hall, Newtown
SATURDAY MAY 19TH                     VIC, Albury               Astor Hotel
FRIDAY MAY 25TH                            VIC, Melbourne         Revolver Upstairs
THURSDAY MAY 31ST                     NSW, Lismore           Tatts Hotel
FRIDAY JUNE 1ST                             QLD, Brisbane           Tempo Bar
SATURDAY JUNE 2nd                      QLD, Gold Coast        Miami Shark Bar
FRIDAY JUNE 15TH                          WA, Perth                  Rocket Room
Comments
comments