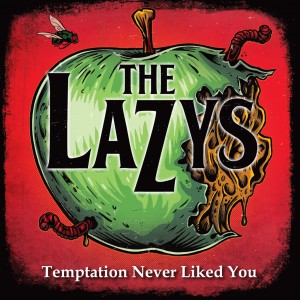 Aussie Rock and Roll has always been a staple in the industry as we've produced just a few names you may have heard of, Rose Tattoo, AC/DC, Cold Chisel and Craig McLachlan & Check 1,2.  Well maybe not the last one, but you know what I mean, the Aussie 'pub' rock scene has always been a big one and with a band like The Lazys, this genre should and hopefully will be kept alive.
The boys have just released their new EP 'Temptation Never Liked You' and it's lucky as I'm not wearing socks as I'd imagine right now they'd be rocked off! Opener 'Really Ready For You?' without doubt is a show opener and would have any crowd going and ready to rock the night away, great riffs and groove, as is 'Society's Whore' the song that is.  Then we have the slower 'Angels Sun' a song where I hear shades of Alice In Chains and it works, a slow building track that kicks in mid way through, I dig this one.  Title track 'Temptation Never Liked You' has a monster riff that drives this EP's namesake and is my favourite on the EP, lyrically it's dark and deep and it sounds killer.  From the last two tracks of almost Alice In Chains feel we get straight back to a balls out rocker with 'My Mumma' which belongs in any pub with the crowd yelling the words back, a great song, great playing and a perfect ending to a kick ass EP.
The only annoying thing about EP's is they're over too quick and that's the case for this one, so here's to a new album soon and much more to come from The Lazys.  I loved the 'diversity' on this EP which obviously gives us a couple of different sides to the band and it works.  Keep it up.
Essential Information
Check it out if you like: Rock and Roll
Release date: Out now
Record label: Sony ATV Australia
Producer: The Lazys and Andrew Crow
Website: http://www.sonicbids.com/thelazys
'Temptation Never Liked You' available NOW on iTunes
Read our interview with The Lazys here…
Track listing:
1. Really Ready For You?
2. Society's Whores
3. Angels Sun
4. Temptation Never Liked You
5. My Mumma
Comments
comments